BIG trials Factory-On-The-Fly to cut time and costs for advanced concrete construction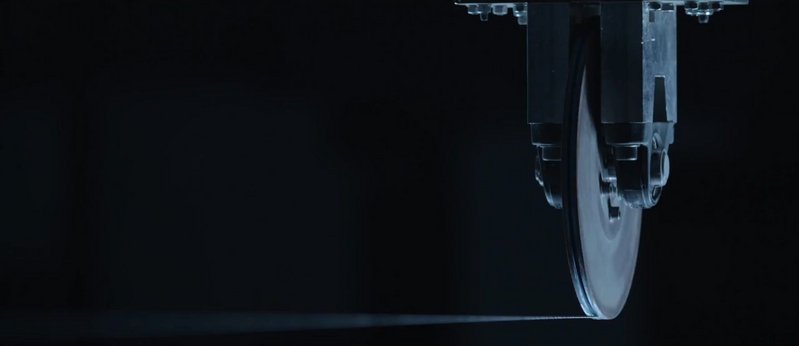 Bjarke Ingels Group is experimenting with a mobile robotic manufacturing platform that, thanks to a £3.9 million injection of public investment, could make its debut on construction sites next year.
Factory-On-The-Fly is the brainchild of Danish tech firm Odico, a robotic system shipped inside a standard shipping container to custom-fabricate building elements with complex freeform shapes, including formwork, insulation, reinforcement or tiles.
The product is designed to save on labour costs and, by automating tasks on site, cut the time and expense associated with sourcing and shipping custom-made products from specialists.
BIG used a small-scale version of Factory-On-The-Fly to explore how craftsman-like qualities could be introduced into robotic manufacturing using artificial intelligence and machine learning. The work formed part of the larger EU-funded research project Innochain.
Giulio Brugnaro, an industrial PhD fellow at BIG, helped programme the robots to chisel wood blocks. The digital process, among others, was used for the production of a large concept model for BIG's 'Humanhattan 2050' exhibit for the Venice Architecture Biennale.
Odico reports that research is ongoing and BIG is in discussion with the firm about future development work, which cannot yet be disclosed.
Factory-On-The-Fly is based on Odico's signature robotic manufacturing system, used to produce geometrically challenging formwork for concrete. Moulds are manufactured by three robots – two dynamically bend a flexible heated blade, while a third moves a block of expanded polystyrene foam through it.
The hotwire cutting method takes just two to three minutes per square metre of formwork, says Odico, compared to up to four hours per square metre using the CNC machines most commonly used to create advanced shaped concrete formwork.
Asbjørn Søndergaard, chief technology officer at Odico, told RIBAJ: 'The price-prohibitive factor for advanced concrete in construction is typically formwork manufacturing, and when you have non-standard concrete shapes the formwork can consume 60% or more of the total cost of concrete works. We wanted to introduce some radically different technologies to formwork manufacture, something that would increase speed and lower costs.'
Odico listed on the Nasdaq First North stock exchange last month, raising around £3.9 million of investment for its Factory-On-The-Fly concept.
The plan is to sell units direct to main contractors, or specialists involved in prefabrication, for between £160,000 and £320,000, depending on the application. The first two units are expected to ship before July next year.
Odico has worked with Zaha Hadid Architects on several projects. Its robots automated the production of 2,500 unique formwork pieces used to cast the aluminium profiles for a double-curved glass facade on the Opus Dubai tower. The practice has proposed to use a version of Factory-On-The-Fly to produce barrel vault-shaped formwork for a rural primary school in Lushan, in Jiangxi province, China.