The Spa at South Lodge near Horsham features a sand-coated Lithium facing brick in three muted tones that echo the stonework of the adjacent South Lodge Hotel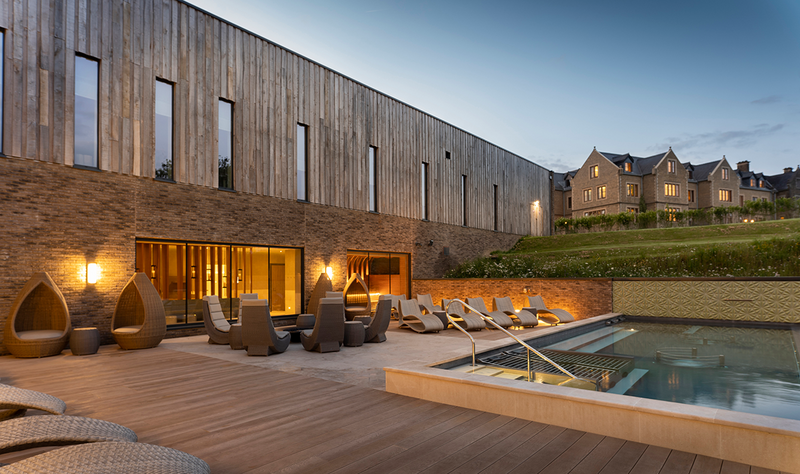 The Spa at South Lodge featuring Vandersanden Lithium facing bricks. The horizontal lines of the brickwork complement vertical oak cladding.
Hove-based practice Felce & Guy Architects has chosen Vandersanden's Lithium brick for its purpose-built spa project in Lower Beeding, near Horsham.
Felce & Guy was commissioned to provide a full architectural design for the new spa within the grounds of the award-winning five-star South Lodge Hotel and was appointed as lead consultant and contract administrator for the 44,000 sq ft build carried out by main contractor Beard.
The architects selected Vandersanden's Lithium brick in a 50mm size for the project. The hand-formed facing brick comprises a sand-coated and grained structure in a muted base grey colour with accompanying shades of buff and black to match the stonework of the main hotel building. Over 100,000 bricks were sourced and supplied by specialist brick distributor NR Taylor of Lingfield.
The horizontal lines of the brickwork act as a softening counterpoint to the vertical natural green oak cladding and large glass panelling that also feature as key elements in The Spa at South Lodge design. Elsewhere, the Lithium brick has been used in the copings, landscaping and dividing walls that create external contours and help separate the terraces outside the building.
The resultant architecture sympathetically responds to the surroundings with the building deep-set into the landscape, minimising its scale yet taking full advantage of the extensive views available over the South Downs. As the landscape falls away, leading to natural water forms, so too does the new building with external terracing leading out to a vitality pool and down to an external swim pond.
In addition to a curving, meadow grass roof, which helps to attenuate rainwater flow, the Spa at South Lodge benefits from other sustainable technologies and finishes. A biomass boiler system has been installed, and all drainage is contained on site using reed bed technology. The existing ponds within the hotel grounds have been modified and extended to benefit the local ecology.
Underlining the significance of the project to the hotel, every member of staff laid one brick as part of their contribution to The Spa at South Lodge.
The Spa at South Lodge features a state-of-the-art gym and spin studio, indoor pool, outdoor hydrotherapy pool and wild swimming pool, a thermal suite and treatment rooms for members, hotel residents and spa day guests. Other highlights include the Ridgeview Beauty Bar and Botanica, a Mediterranean-inspired restaurant.
Vandersanden is building a sustainable future for its business and has invested in renewable solar and wind energy technologies at its major European production plants. The company is committed to a pathway that will see the manufacture of CO2-neutral bricks by 2050.
For more information and technical support, visit vandersanden.com
Contact:
01954 268075
---