Anglia Ruskin University's new campus ultimately expects 12,500 students. With that footfall, putting the right flooring in the right place was essential
Approaching Anglia Ruskin University's new Peterborough campus, south of the city's Norman cathedral precincts, you pass over a wide pathway. It's an expensive consequence of the Ukraine conflict, explains MCW Architects associate Lien Geens, who has been in charge of the £20 million design and build project since the Cambridge firm's appointment in 2019. In the pressured run-up to University House's opening last September, the need to ensure that ARU Peterborough's first phase opened in time for its first cohort of undergraduates meant procuring the warm but robust buff-hued Tarmac Ulticolour floor covering at more than double the originally quoted price.
A lot has been riding on the success of the venture, as bringing a tertiary education institution to the city – the largest after Swindon without one – was a core pledge made by its new mayor in 2016. Perceived as a higher education 'cold spot', Covid 19 brought more challenges. ARU Peterborough's Full Business Case stated that the pandemic's effects were exacerbated by 'education deprivation and the region's low-tech industrial base' – the city is ranked in the bottom 10% nationally for skills levels. So when ARU intervened, with Cambridge and Peterborough Combined Authority and the City Council, to create a new university, it was not before time. MCW was part of a MACE-led multi-disciplinary team that delivered it in under two years – despite the pandemic. The 5,300m² University House has just welcomed its first 2000 students, half of those local or mature students, to its faculties of General Science, Health, Education and Computing.
A wide tarmac path draws students from the old centre to Phase I of ARU Peterborough's new university campus.

Credit: Richard Fraser
Geens explains that the building concept is simple, a 75m by 32m structure of post-tensioned concrete slabs and columns set over three floors. Specialist teaching and laboratory spaces are arranged either side of a central 'heart' space, incorporating a circulation zone and informal learning areas and spaces encouraging social interaction. The north side of the building, facing a busy A road, is a mix of full-height, double-glazed or insulated aluminium panels and opening side vents, with characterful brown, profiled and glazed terracotta demarcating the double-height lecture hall. The cladding is similar on the south side, but here it is set behind a huge, dominating aluminium screen by Sotech. The CNC-cut perforated motif on this 'solar veil' was based on the nearby cathedral's painted timber ceiling, says Geens. As designed, it cuts up to 50% of direct sunlight to the south facade and helps the building attain a BREEAM Very Good rating. This is augmented by a green roof and PV arrays, plus factored-in connectivity to Peterborough Integrated Renewables Infrastructure (PIRI); which will provide fossil-free heat and hot water.
Also part of the thermal strategy is the building's mixed-mode ventilation system. This concentrates high levels of air conditioning in high-demand areas like laboratory and computer science rooms while using low level feeds in more general areas. Secure ventilation panels in the facade allow for night purging, helped by others set at high level in the six light cannons of the central spine, which also double as smoke extract.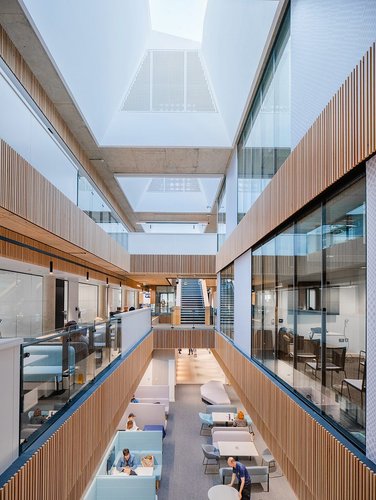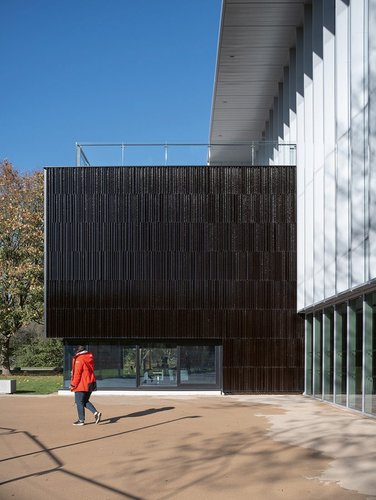 Intrinsic to the strategy for ventilating general lecture areas was the nominal 600mm sub-floor plenum that sits beneath the Kingspan raised floors of the first and second floors, where says Geens, 'there's a lot happening'. She explains that with the plant area at high level on the north side, MCW had to use the 'pinch points' of the central spine bridge crossing to concentrate plenum runs. The process was helped by all the consultants building their models in Revit, which allowed bi-weekly co-ordination via overlay of the models. Large ductwork for floor-fed, low-velocity air feed required acoustic dampers at the glazed wall partitions where the seminar rooms meet the central space, as well as fire-rated and smoke dampers at all interfaces. Fire batts in the floor were installed every 20m to deal with both plenums and runs of data and electricity feeds, not least to the data-heavy computing training spaces. Multiple below-floor fire separation concerns required close working with the contractor to ensure the correct sequencing of services. A Kingspan Airseal raised floor completed the installation using Alpha pedestals. Marlings Burbury 'Granite' carpet tiles with their acoustic attenuation qualities made them a natural choice for seminar and teaching spaces. Also installed in the central spine, their specification in lighter 'Zinc' helps delineate circulations zones from informal study areas in the corners – the sound further mitigated by wall-mounted acoustic panels.
At ground level, there are deep floor voids in areas requiring only low-level feeds such as in the main lecture hall at the north-west side, but high-level, high air exchange plenums are used in areas such as the science, engineering and health labs. In these rooms, says Geens, floor voids are reduced to 250mm to deal with electricity and data feeds on a more robust Kingspan Simploc raised floor. Heavy duty Forbo Surestep Material vinyl anti-slip sheeting in 'Blue Concrete' was specified here to withstand lab desks and machinery being moved. Laid as a sheet roll, its minimal joints reduce the likelihood of spilled liquids or chemicals making their way into the floor void.
Forbo Eternal Material vinyl sheet in 'Beton Concrete' was specified on the heavily trafficked areas of the central staircases. This was as much an aesthetic choice as a practical one – as with the carpet colour demarcating study zones, it creates visual distinction to vertical circulation areas.
Throughout the ground floor common spaces, including café and student hub, MCW selected ST3 Tiles' 1200mm by 300mm ceramic planks in light grey running lengthways into the building. These give students a robust, slip resistant surface once they're past the Forbo Nuway Grid entrance matting in reception. The tiles in this zone sit on a screeded concrete floor.
Outside, the flat roof above the main lecture hall and library space on the building's north-west corner doubles up as a generous terrace with enviable views over to the cathedral and city. This has been paved with coarse textured concrete paving slabs to the contractor's spec. From here observers can see that tarmac path and the courtyard's Scoutmoor Yorkstone slabs leading to the colonnade beneath the south-facing solar veil. Formed of 200mm by 100mm by 80mm Marshalls concrete block paving, this through-site connectivity is part of the university's strategy, giving the public intriguing glimpses past the glazing of the lab areas to its day-to-day activities.
Phase 2 of the development, the £16 million Research and Innovation Centre, has just completed on the other side of the courtyard. Of less conventional hybrid steel and timber structure, it's designed to allow tech start-ups the chance to engage directly with the academia opposite. And just breaking ground to the west and completing in 2024 is the Phase 3 'Living Lab', a £26 million 3000m², all-timber structure that will, alongside more general teaching provision, have dedicated specialist science labs. By 2025, the aim is to have 5000 students studying at ARU Peterborough, with a total of 12,500 by 2030, a £60 million academic hub finally addressing the area's general education deprivation and bringing youthful energy – and economic benefits – to the ancient city on the Fenland's edge.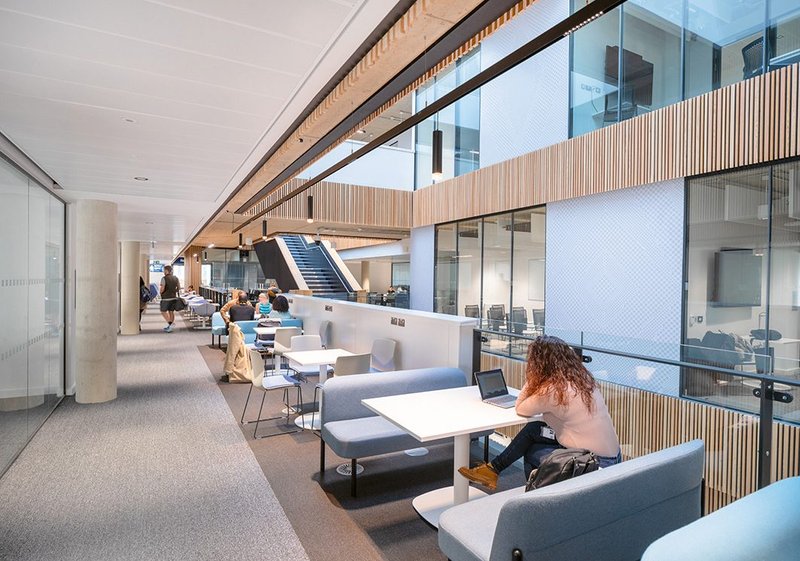 Floor levels are interspersed with seminar spaces and open breakout areas for individual or group study – all carpeted.

Credit: Richard Fraser
Credits
Architect MCW Architects
Client Cambridgeshire & Peterborough Combined Authority, with Peterborough City Council & ARU
Project manager MACE
Cost consultant MACE
Structural engineer Smith and Wallwork
M&E CPW
Landscape consultant LUC
Acoustic consultant Anderson Acoustics
Fire Hoare Lee
Principal designer Safescope
Approved inspector Quadrant
Planning consultant Pegasus
Transport consultant TTC
Main contractor Bowmer and Kirkland