Five times faster drying than a standard screed, five hundred square metres of Isocrete Flowing K can be laid in 24 hours, enabling specifiers to fast track projects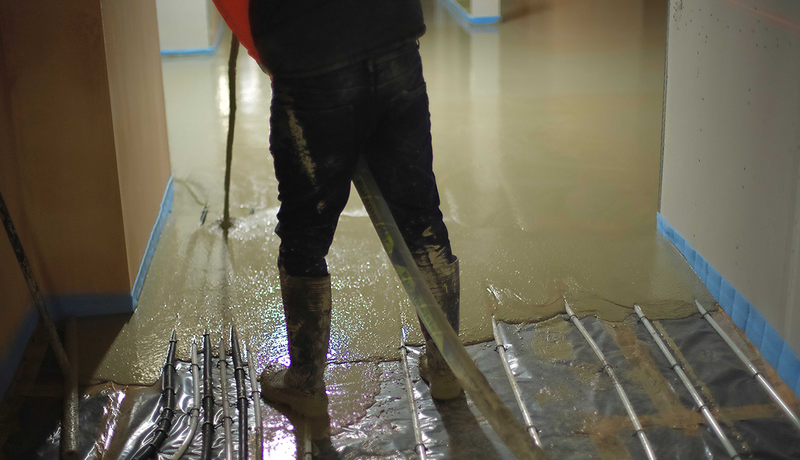 The latest technology in liquid screed: Flowcrete's Isocrete Flowing K is the liquid version of its award-winning K-screed.
Seamless flooring manufacturer Flowcrete has launched a liquid screed called Isocrete Flowing K. It offers all the benefits of the company's market-leading Isocrete K-Screed in a new flowing format.
Isocrete Flowing K is speedy to apply - up to 500m² can be laid in 24 hours, making it five times faster drying than a standard screed. It is available through Flowcrete's licensed contractor network and its unique formulation allows the system to be trafficked in as little as 24 hours, depending on site conditions.
It is available in three compressive strength formulations and can be laid bonded, unbonded or as a floating screed. It has been developed to comply with all relevant Building Standards and to deliver a high compressive strength at a reduced thickness compared with standard screed build ups.
Produced under BS 8204 at Flowcrete's ISO 9001 certified plant, Isocrete Flowing K can be delivered to site through a choice of methods, including plant mix (subject to testing) and a pioneering volumetric mix, which produces Isocrete Flowing K on site to offer the ultimate control in quality, flexibility and speed.
For smaller projects with a fast turnaround, it can also be provided in bags for maximum convenience. It offers a 10-year warranty after installation.
Flowcrete can advise on specification, carry out individual project assessments, help find the best solutions for subfloor combinations and provide installation through its selected network of experienced contractors.
Isocrete Flowing K is part of Flowcrete's Floorzone concept, a floor build-up system that includes underfloor heating and acoustic installations, all delivered under a single-source, single-warranty programme.
Floorzone drives efficiencies in the supply chain of any new-build or refurbishment project by sourcing every element of the floor directly from Flowcrete, with one point of contact and one contractor - all completed under one manufacturer's warranty.
Flowcrete is one of Construction Product Group (CPG) UK's portfolio of leading construction product brands, which also includes Tremco, Illbruck, Vandex, Nudura and Dryvit and Nullifire.
These building materials - including roofing and waterproofing solutions, as well as sealing, bonding, insulation, fire protection systems and modern methods of construction - provide one point of call for specifiers and contractors.
Flowcrete customers have access to enhanced resources, including technical support from industry experts. Full training, including CPDs, application training (practical and theory) and on-site support, such as surveys, complete the service package.
For more information and technical support, visit flowcrete.co.uk
Contact:
01942 251400
---