Thanks to a new enhanced formulation, Flowcrete's Mondeco flooring now offers bigger aggregates, improved UV stability and exceptional strength and impact resistance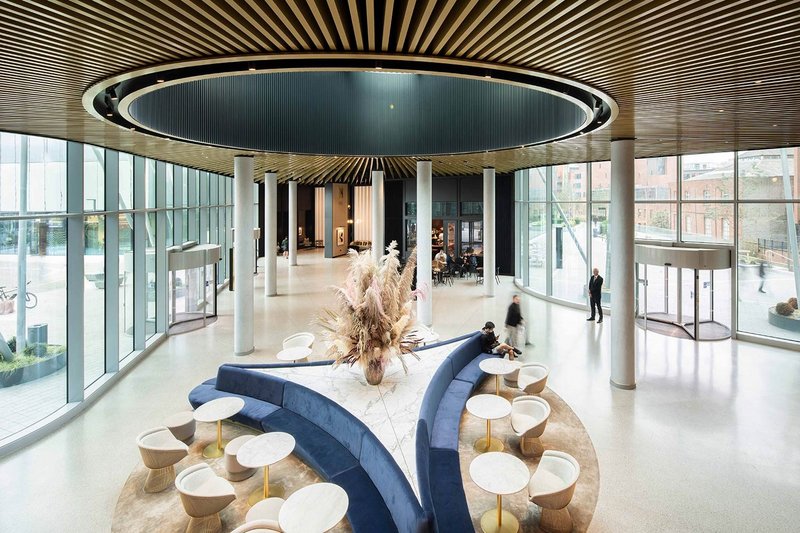 Flowcrete's new Mondeco comprises the seamless terrazzo's best bespoke designs and new trends, created with feedback from architects and specifiers.
Flowcrete, the Construction Products Group (CPG) UK brand, has transformed its Mondeco seamless terrazzo flooring with a new high-performance formulation that gives architects and specifiers long-lasting beauty underfoot.
The formulation provides superior UV stability, the option of larger aggregates for extra visual impact and a choice of 12mm and 9mm thickness options, as well as a more economical 6-7mm version.
With a focus on easy specification, the new range is centred around eight collections, which together offer 32 design options, using a variety of aggregates in a choice of four RAL-coloured resins.
In keeping with the classic origins of terrazzo, the eight collections have Italian names that reflect the individual qualities of each aggregate and resin mix.
These include Moderno ('modern look'), which features a new, contemporary style based on a darker aggregate; Scintilla (sparkly), which features mirrored glass; and Solare (radiant), a stunning design with on-trend yellow and orange stones.
The formulation enables a beautiful finish to be achieved with the whiter designs in the existing Mondeco Arctic range. This range also has a new whiter marble, named Snow, which completes a choice of three white shades in the collection.
Low-maintenance Flowcrete Mondeco offers exceptional strength and impact resistance. It also brings solid sustainability credentials thanks to the longevity of the finish, which can last the lifetime of a building.
It has a low VOC formulation and, depending on the design, up to 60 per cent of Flowcrete Mondeco's composition can be drawn from recycled clear, coloured mirror glass chippings.
Mondeco can be installed in a variety of patterns and precision cut forms using brass or aluminium trims, which are laid on the surface of the floor in a matrix that designates each area of the design.
It can be pre-cast in different moulds and shapes to create stair treads and risers, allowing for a seamless transition between floor and wall.
Flowcrete Mondeco is suitable for a wide variety of locations with very high footfall, from shopping centres to stadiums - anywhere that needs a high performance, attractive finish with reinforced UV resistance and colour stability over time.
It joins other systems in the Mondeco portfolio, completing a total of 12 collections, including fast-curing Mondeco Rapide and electrostatic Mondeco ESD TZ. There is also a version with silver ion-based anti-microbial technology for environments including operating theatres and pharma.
For its new Mondeco launch, Flowcrete has introduced a RIBA-approved CPD seminar called 'Specifying Seamless Resin Terrazzo'.
For more information and technical support, visit flowcrete.eu
Contact:
01942 251400
---