Fosters' LASIMM machine fabricates large structural steel components but resolution of vibration and product certification needed for commercial roll out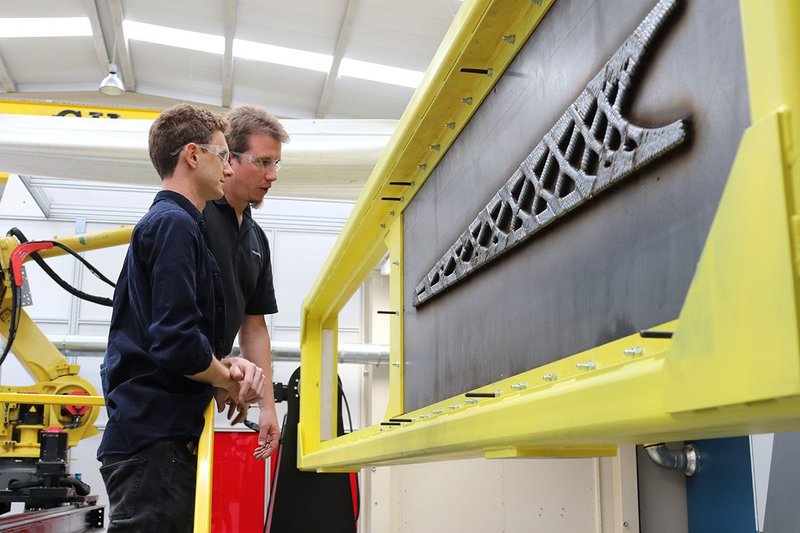 Foster + Partners has designed and printed a 5m long steel truss in an industry first that pushes the boundaries of scale for additive manufacturing.
The triangular cantilevered truss was produced using the dual-robotic machine LASIMM (Large-scale Additive Subtractive Integrated Modular Machine), a prototype developed to rapidly deposit metal, then mill it back to the desired shape.
The research forms part of an EU Horizon 2020-funded project to develop and test industrial uses for LASIMM. Other partners in the research included Aerospace firm BAE Systems, wind-turbine manufacturer Vestas Wind Systems and software developer Autodesk.
The optimised truss required around 40% less material than a regular I-beam section to produce. Material was deposited at a rate of about 3-4kg per hour, versus around 1kg per hour using existing methods of additive manufacture in metal.
Even greater benefits can accrue when the technique is considered in the context of the overall design of a building, says Josh Mason, associate partner, Specialist Modelling Group at Foster + Partners: 'We should think of this as a shifting of resources. You're adding value to a primary element of the building, which no longer needs to be thought of purely as structure. Architects could, for example, leave the structure exposed, remove the ceiling and do something else with the lighting. Projects will have to really look at the holistic design of the space and environment to make this a value proposition.'
Fosters' design for the truss evolved alongside development of the machine, which can print parts up to 2m in diameter, 6m long and 2,000kg in weight.
The project highlighted various technical issues that need refining before the machine can be deployed in a commercial setting. Milling caused vibrations and altered the material's properties over time, which made it difficult to simulate and predict the performance of the truss. The milling process was relatively slow and damaged the surface finish.
Efforts to certify the machine, the design, and any variations for different parts is another head scratch that Fosters hopes to resolve.
Sam Wilkinson, environmental design analyst and member of the Specialist Modelling Group, told RIBAJ: '3D printing allows you to produce customizable parts, but each part needs to be certified separately, to some degree. The only way to achieve that is to create a digital certification process which demonstrates that a simulation result for a specific part is equal to certain physical testing results. That could allow you to produce whatever you require digitally as a one off and then install it straight onto a building. It's a complex process that we're looking at now.'