Paris cement works shows off concrete's all-round benefits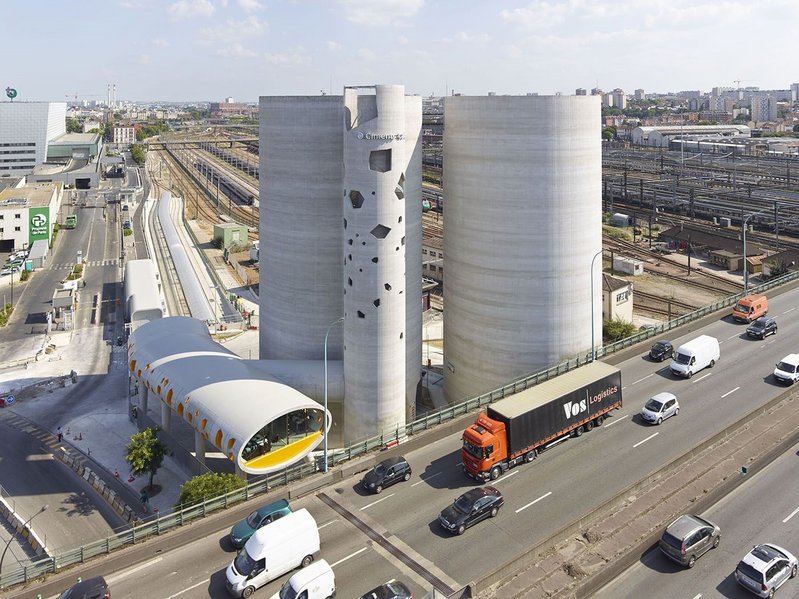 The strength and versatility of concrete, in its many forms, is celebrated in the Silo 13 cement distribution centre in Paris, designed by French practice VIB Architecture.
Located in the new Bruneseau neighbourhood on the eastern fringe of the city, within 5m of one of Europe's busiest roads, the centre comprises a collection of five tubular concrete buildings – two large 37m-high cylindrical silos used for cement storage, a vertical stair and lift tower, and two smaller, flattened horizontal buildings housing offices and a quality control centre.
VIB's design aimed to reflect the industrial use and showcase the many structural and material properties of cement produced by the building's end user Ciments Calcia. The main vertical reinforced concrete silos were cast in situ using a slipforming process needed to provide the high levels of robustness and waterproofing for cement storage. This also created a layered appearance on the surface, reminiscent of saturn's rings. The horizontal buildings were pre-cast in a factory to create a fine, even finish as well as for speed of construction, with the largest – elevated several metres above ground on eight concrete legs – assembled in just 24 hours.
Polygonal windows and openings cut into the walls of the office, quality control systems and stair blocks refer to the molecular make up of minerals used in cement and to the shape of concrete rock fragments.
Counterintuitively, the tube-shaped offices provide a very ergonomic solution for staff, explains Franck Vialet, principal architect at VIB Architecture: 'The cylindrical interiors provide more room at the edges – although we had to design bespoke furniture to make the spaces work – and the curved ceiling feels more like a sky than a flat box. Inside it is really very beautiful.'
Concrete production is a very energy intensive process, but this didn't upset the project's sustainable ambitions, he adds: 'By building the centre within the expanding Bruneseau development and close to the centre of Paris we effectively reduced the number of cement trucks doing long journeys on the road. It also reduces traffic congestion in the city: at 5am we have around 20 trucks parked up ready to pick up cement while the public are still tucked up in bed.'