Repurpose, reinvention, recreation – expert panel at Futurebuild's 'A future for our town centres' debate buzzes with workable ideas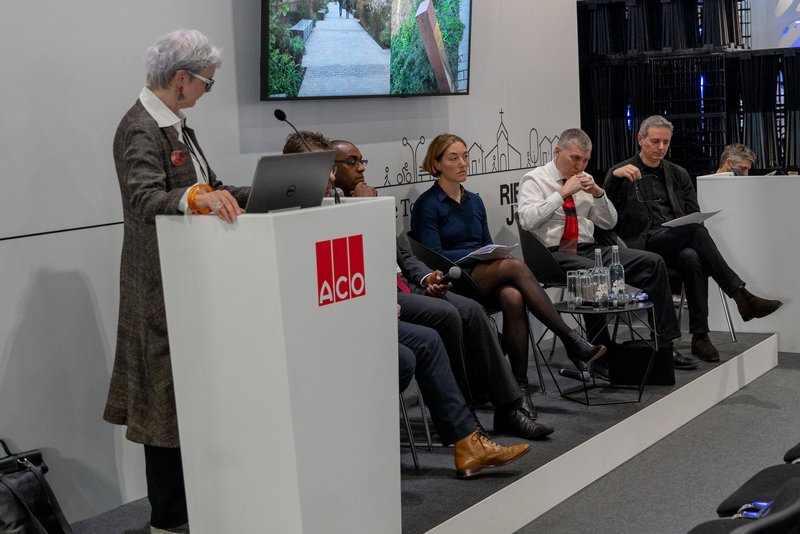 The panellists debate 'A future for our town centres' at FutureBuild 2019. Visible from left: Sarah Weir, Ojay McDonald, Sadie Morgan, Michael Keith and John Prevc.

Credit: Push creative for ACO technologies
A homelessness charity is about to bring down the shutters permanently on two of its shops, in the south coast towns of Worthing and Littlehampton. Even the last retailers standing are, it seems, finding bricks and mortar no longer pay.
Yet as shops empty, funding initiatives aimed at stemming the flow of life away from town centres are growing in inverse proportion. The UK government is making £675 million available under the future high streets fund announced by the Chancellor in last autumn's Budget. The Scottish government is distributing a £50 million similar fund to local authorities, and at a regional level the West Midlands Combined Authority is injecting almost £20 million into local authority plans to regenerate five town centres.
The issue was the subject of a panel debate, A future for our town centres, hosted by RIBA Journal and ACO Technologies at Futurebuild 2019 at London's ExCel on 5 March. The panellists were Sarah Weir, CEO, Design Council (chair); Gary Wilburn, director, HPW Architects; Sadie Morgan, director, dRMM; John Prevc, architect and urbanist; Ojay McDonald, CEO, Association of Town and City Management; and Michael Keith, director, Centre on Migration, Policy and Society, University of Oxford.
Some of the places in need of support have in fact been ailing for many years, said Ojay McDonald, chief executive of the Association of Town and City Management. He pointed to those locations afflicted by post-industrial decline, adding: 'We're still seeing the legacy of that today, and now digital disruption has come into play.' It won't be long before artificial intelligence (AI) brings further consequences for locations now relying on knowledge economies, he cautioned, with the pace of technological and societal change quickening.
Remedies are being found in diverse interventions that include public realm improvements, meanwhile uses, events and adaptation and redevelopment activity to change uses, intensify or introduce homes. But whatever the intervention, its ultimate aim is to attract people, be they residents, workers, shoppers or flaneurs. 'There is often a focus on architecture, but as well as buildings, there are people, and there are things we can predict,' said Professor Michael Keith, director of the Centre on Migration, Policy and Society at the University of Oxford. In shaping the urban environment, we need to look to the make-up, practices and dynamic of the local population, he explained. 'We know there are changing demographics – including people getting older and more diverse – and that changes who is in the town centre and their connections.' Gathering information about changing living, work, leisure and travel practices adds detail to the picture, he said. 'If we are thinking about making town centres better, we can understand them through the lens of the people who go through them.'
And it means, as Jane Jacobs put it, creating 'somewhere where the theatre of life can thrive'. dRMM's Sadie Morgan believes this can come from responses that are 'as simple as making sure that there is a lot of stuff for people to do'. She was deputy chair of the government-initiated Thames Estuary 2050 Growth Commission, which last year set out a vision for placemaking and growth across north Kent, south Essex and east London that included locally driven town centre transformation. 'We tapped into ideas that could be delivered quickly,' Morgan said. 'Often small things can form part of a bigger framework. It's about how you can join the dots, using collaboration, and tap into the good ideas that are already in the community.'
Working with the existing built environment is inevitable, she said. 'Things will change, but infrastructure can't change so quickly, so we have to be inventive about how we repurpose.' One example can be found in The Marlands, a 1990s-built shopping centre in Southampton. With the help of investment from Southampton City Council, its second floor is being transformed into a co-working space for creative, digital and knowledge based businesses, designed by HPW Architecture. The move is intended not only to give the centre a more sustainable future but to nurture economic growth, explained HPW's managing director Gary Wilburn: 'The council hopes it will help encourage the city's graduates to stay in the city.'
Such transformations not only require capital funding, they have to deliver an ongoing return. 'That's an enormous challenge,' said Wilburn. 'If you need to change a store into a climbing wall, there is a question of how you get rental revenue.' Bringing about change requires collaborative action, he said: 'We've got to prepare ourselves for huge change and embrace that, ensuring that the public sector and the private sector work together to develop solutions that respond to that community.'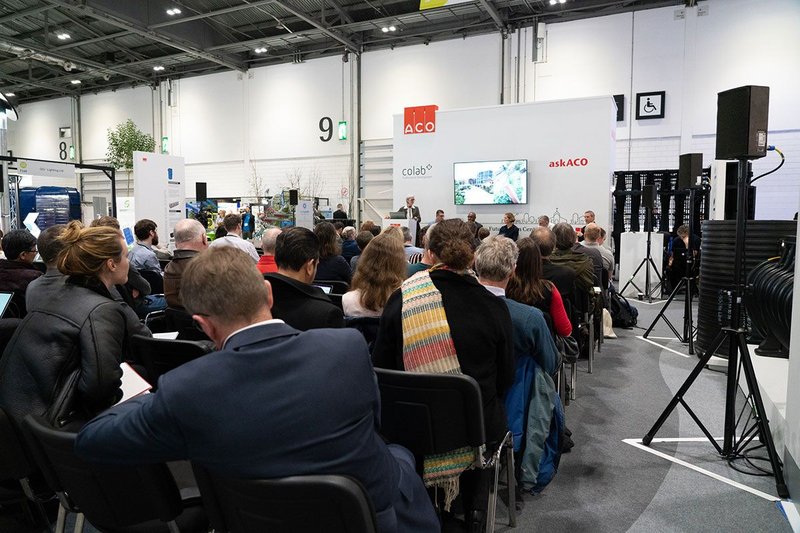 'A future for our town centres' panel discussion at FutureBuild 2019.

Credit: Push creative for ACO technologies
Design Council chief executive Sarah Weir pointed to its design coaching project in Amble, Northumberland. Here, in the wake of the closure of a major factory, a key local employer, in 2010, it worked with the local authority and other stakeholders to promote the coastal town as a food-centred tourist destination. The strategy has included creation of a harbourside village, conceived by Jane Darbyshire & David Kendall, with 15 pods housing micro-businesses selling foods and crafts. The impact of such measures is evidenced by the fact that Amble now features on lists of desirable places to live by the seaside. 'A small change can make a big difference,' Weir said.
That solution, like many success stories, grew out of the town's context and its distinctive characteristics, which can be found in abundance in historic environments. 'In historic towns and cities you don't want to lay flat your biggest assets, but they need to do something,' said architect John Prevc, who sees intensification as a potential solution. 'I want cities to be a lot denser – it brings footfall and life.'
It is also worth noting that today's urban visitors, workers and residents are likely to find more life and interest in a historic town centre than in an out of town retail park. 'We're now increasingly seeking out the more personal, unique and local for our experiences,' said Prevc. 'Urban landscapes like that have that bespokeness.' If he's right, some traditional town centres might just have the last laugh.
RIBAJ's Future Town Centres competition invites architects to redesign the high street in collaboration with ACO Technologies.
---