With retail flagging how can we bring life back into towns? Architects, this is your chance to step up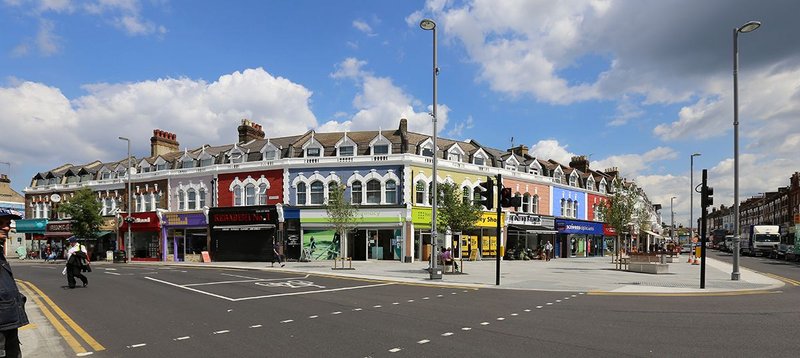 Could a new image help? It has in London's Walthamstow where a critical junction has been remodelled and Jan Kattein has worked on the signage and facades.

Credit: Jan Kattein Architects
Barely a week goes by without a major UK news outlet reporting the demise of the high street somewhere or other. Analysis by the Guardian in Sheffield in February, for example, found that 18% of the city centre's shops had closed in the past five years. The New Statesman nicknamed 2018 the 'annus horribilis' for the British high street, citing the many brands that went bust – Poundworld, Toys 'R' Us and Maplin, not to mention the shaky fortunes of Evans Cycles, House of Fraser, Carpetright, New Look, Mothercare and M&S (again). The Daily Mail published Office of National Statistics research which found 1,772 shops had disappeared from Britain's town centres in 2017. Over the past decade the British high street has become a national obsession, with the figures portraying terminal decline and crisis.
In reality, though, this is nothing new. Since Roman times, the tale of the high street/market town has been one of economic boom and bust. Evidence for the rise and fall of its prosperity can be found in the varying concentration of dates and grandeur of a town's architecture over time – as well as the ideas that were incorporated into its masterplannning and growth.
The 2000s have heralded a similarly poignant era for modern Britain. The rise of ecommerce, 2017's business rates revaluation, continuing austerity, uncertainty around Brexit and the development of major out of town shopping centres has driven a continuous rise in high street vacancy rates and a decline in investment and footfall.
'In many cases, retailers are burdened with too many stores, unsuitable space and inflexible lease structures,' says Richard Lim, chief executive of Retail Economics. He foresees retailer strategy becoming even more digital, presenting further challenges to bricks and mortar business models as the performance of physical assets become increasingly polarised. Equally, research from Centre for Cities shows that the impact of Brexit will hit our urban areas hardest.
The far-reaching economic effect of empty premises is visible throughout the country, as a stroll through a town like Grimsby shows. Listed number one in the Royal Society for Public Health's ranking of the UK's 'unhealthiest' high streets, it is one of the areas worst affected by store closures and declining footfall in the past two years according to research by PWC. Mary Portas' 2011 prediction that high streets could disappear forever might prove correct. However, she thought they could be saved if another magnet to draw people in could be found. And here it seems necessary to turn away from retail.
Timpson's, who chairs the government's retail review panel, says that to save the high street local communities need to create 'their own unique hubs'. He believes the town centre of the future will attract people for dining, leisure, sport, culture and the arts, entertainment and medical services, while empty shops will be used to alleviate the housing crisis. Meanwhile in Scotland, the chair of the Scottish Town Centre Review, Malcolm Fraser, thinks that planning successful revitalisation of a town must involve the community and should take into consideration parks, leisure, culture and homes as well as shops.
The government's £675 million Future High Streets Fund acknowledges that the way we are using our towns has changed. The funding is designed to assist local authorities in evolving their high streets. Similarly, Wales has set up a £7.6 million town centre revitalisation fund of its own.
Architects and landscape designers are well placed to participate in the debate and help conceive how the next iteration of the high street functions, survives and thrives. Take Birmingham, where new infrastructure, placemaking, the refurbishment of derelict old buildings, new housing and office space are transforming an enormous area that not so long ago appeared unsalvageable.
With the Commonwealth Games 2022 preparations under way and the promise of an HS2 station, planning for legacy is at the forefront of development. One reward for this activity is the that UK's largest bank, HSBC, is relocating its headquarters from London to Birmingham's mixed use Arena Central development. Up in Altrincham, ex-CABE commissioner and Yale tutor Nick Johnson revived an old market that has garnered interest from as far afield as New York.
There are many other ideas to be seen across the UK and around the world – new parks above the railway lines in Barcelona, encouragement of cycling and walking in Mini Holland in Waltham Forest, plans to make Copenhagen the world's first carbon neutral capital by 2025, reorienting town centres in Belgium and burying ring roads in Amsterdam.
RIBA Journal, in collaboration with ACO Technologies, wants architects to be part of this conversation, to analyse and imagine the next step for high streets through the Future Town Centres competition. We are inviting architects to redesign a market town (Tredegar), a seaside town (Dover) and an inner city town (Byker), involving the local authorities.
RIBAJ Town Centres Competition is produced in association with ACO Technologies
@acowater