At FutureBuild RIBA will unveil its new stand. PiP looks at the themes behind the design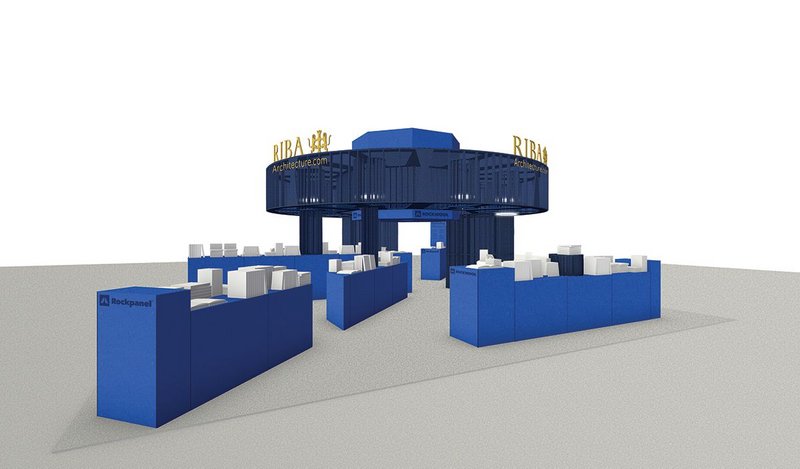 Gundry+Ducker's proposal draws people into the heart of the stand with radiating book displays.

Credit: Gundry + Ducker
It seems strange, for a show called 'Futurebuild', that the winner of the competition to design the RIBA's 2019 stand should have looked so deliberately at old precedents. 'We'd always had an inspirational image of James Lackington's famous 18th century Finsbury Square bookshop in the office and wondered how it might be incorporated into one of our designs; this seemed the perfect opportunity,' says Gundry+Ducker partner Christian Ducker. Arguably the first bookseller to the masses, Lackington's shop contained an imposing upper level book rotunda carved out above the sales floor, helping earn it the moniker of the 'Temple of the Muses.'
All an allusion
As a form of homage to it in the Amazon generation, Gundry + Ducker has echoed this sectional form in its design for the 100m2 RIBA 'Marketplace'. While initially inspired by library rotundas both old and modern, the firm was aware that the primary purpose of a stand is expositional and to sell books, so the 'introverted' nature of a rotunda wasn't applicable. But, as with Lackington's, it could be alluded to. 'We also thought about small town market halls, covered open-air spaces where you could set up stalls beneath,' adds Ducker. Both ideas proved key design drivers for this year's stand.
In plan, book benches radiating from a central point will draw punters into the core stand area. They converge on a hexagonal 'nut and bolt' arrangement above, generating an imposing structural form that, with the RIBA logo running around it, more than tips its hat to Venturi and Scott-Brown. This, Ducker acknowledges, is very much 'building as advertising'. Standing beneath, the nut and bolt should be an architectonic experiences in the best, post-modern sense.
Open and intimate
Portability and ease of construction were major considerations, along with the use of products supplied by sponsors Rockwool and Rockpanel. Ducker adds that 'Rockpanel is routinely CNC cut so we fabricated most of the stand from that and assembled it like a jigsaw.' But the idea was thwarted by hall height limitations (maximum 4m) and the non-structural nature of the panel. The 'bolt' is supported on thin hexagonal Rockpanel columns; the nut similarly, though it's augmented, Ducker says, with two larger, circular Rockpanel structures that constitute the stand's 'reading booths'. Solid on the outside and lined with Rockwool insulating fleece on the inside, they will, he thinks, counter point the open stand with more intimate spaces.
There will also be contrasts of solidity and transparency. A semi-transparent fabric will be stretched over the CNC cut nut – a conceit that will reveal itself once you are standing beneath it. 'Though initially looking the same, the bolt will, in reality, be very different in nature from the 'nut'. We didn't want this to turn into a CNC fetish project; we thought it should be more nuanced than that,' explains Ducker.
Once the panel elements have been fabricated, most of the stand is expected to be slotted together offsite and brought in as larger pieces, though, when PIP went to press, the logistics of raising the central structure on its columns was yet to be decided. But however that's achieved, Lackington's Temple of the Muses will have contributed to what might well turn out be the stand of the show.
---
Futurebuild runs from 5-7 March 2019 at Excel, London. RIBA Marketplace is at Stand D55