Geberit harnesses innovative technologies and clean lined designs for high footfall workplace washrooms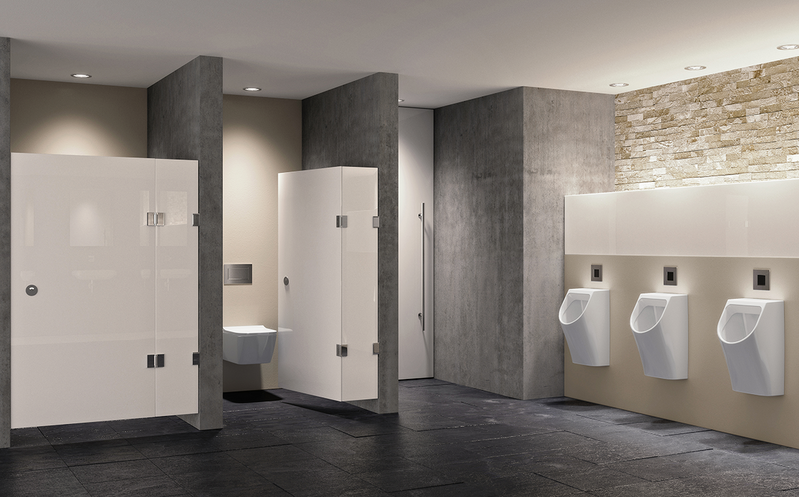 The global pandemic has changed the way we behave and interact with the spaces around us and what we expect from the office and home designs of the future.
A YouGov poll commissioned by the Institute of Workplace and Facilities Management during the first lockdown found that 44 per cent of employees had concerns over hygiene and cleaning standards ahead of a return to work. Two lockdowns later, what are workplaces doing to reassure staff that they are making office spaces as 'pandemic-proof' as possible?
Many firms have embraced homeworking; others have replaced hot-desking with a return to fixed desk allocation. Businesses were already starting to question open-plan layouts in light of a November 2019 study from Harvard that showed they made staff less inclined to collaborate and previous studies that found they make employees less productive.
In its report 'How Will Covid-19 Change Demand For Office Space?', global consulting firm WSP notes that 'if people continue to be the driver for change…businesses will have to provide safe working environments that increase the feelgood factor and ultimately raise productivity and creativity.'
WSP predicts a 'hotelization' of office space as workplaces seek to offer more home comforts, such as plants and soft furnishings, to make spaces more cosy. As one expert notes: 'If offices have a future, people need to feel safe in them.'
The work washroom presents one potential, and understandable, concern for many returning to the workplace.
Manufacturers such as Geberit have been producing touchless products for many years and the renewed focus on hygiene has seen a shift towards touchless technology in private and public spaces.
Infra-red wall-mounted taps, such as Geberit's Brenta and Piave products, optimise hand hygiene in heavy footfall washrooms. Touchless WC and urinal flush controls incorporate innovations such as a sensor that allows the unit to flush as soon as the toilet or urinal has been used, minimising the spread of bacteria.
Other product developments make cleaning easier, such as Geberit's KeraTect Glaze, which creates a non-porous and smoother surface. Such glazes help prevent staining of the ceramics and create a high-gloss effect. Solutions like this enhance the look and feel of the washroom as a 'clean space', helping to reassure staff.
Developments such as Rimfree toilets and TurboFlush technology can eliminate tricky corners and hard-to-reach areas around the pan, with removable QuickRelease toilet seats also helping eradicate any hidden areas where bacteria may proliferate, ultimately reducing cleaning time.
Our relationship with hygiene has changed and now the onus is on firms and manufacturers to work together to design hygienically optimised products that reinforce the perception of a clean space, reassuring employees and futureproofing spaces for the new design era ahead.
For more information and technical support, visit geberit.co.uk/hygiene
Contact:
01926 516800
---