George Clarke's Design Challenge demands a modular home that can adjust to family's changing needs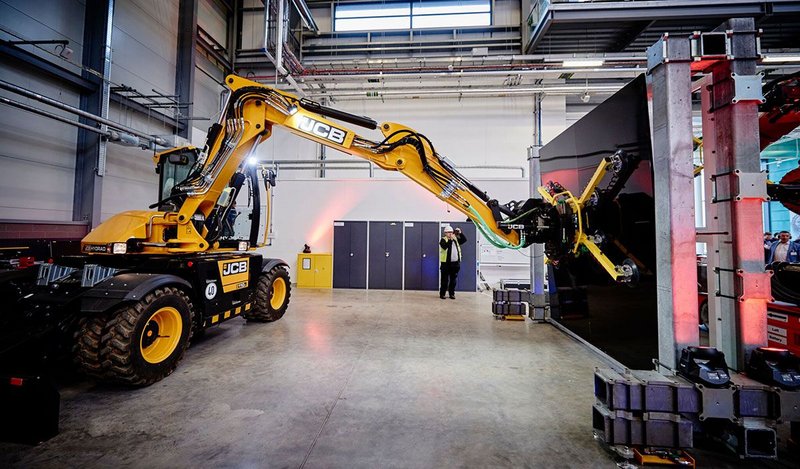 A JCB with a modified end effector places a panel into a frame, demonstrating a semi-automated technique that could be applied in construction

Credit: Daniel Graves Photography
A 'house of the future' designed by pupils in a competition spearheaded by TV architect George Clarke will be manufactured by robots at a prototype factory in Coventry.
The 2019 Design Challenge, launched by the Construction Innovation Hub and Clarke's charity MOBIE (Ministry of Building Innovation and Education), asked students to design a 'home for life' that can be expanded in a modular fashion as a family's needs and circumstances change.
The winning entry will have its components and modules produced and assembled in a specially-converted hall in the Manufacturing Technology Centre (MTC) in Coventry.
The government-funded research facility focuses on delivering bespoke manufacturing systems for different industries. The mini production line is being established to demonstrate the benefits of advanced robotic techniques in construction.
The pupils' design will be developed by architects at MOBIE LAB and professionally structurally engineered. The home will be a modular steel structure comprising a series of cube-shaped pods fabricated from 150mm box section steel. A maximum of 16 pods are permitted which, allowing for wall thickness, will provide an internal space of 96m2, habitable by five people.
It will be a 'plug and play' scheme with all modules designed for manufacture and assembly including all internal services and finishes installed before delivery to site. The maximum length of units assembled in the factory will be 12m (four pods back to back) for ease of transportation.
The Manufacturing Technology Centre in Coventry was set up to bridge the gap between academia and industry and received £72m in government funding at the end of 2018 to push manufacturing techniques into construction.

Credit: Daniel Graves Photography
Neil Rawlinson, strategic development director at MTC, told RIBAJ: 'The ultimate aim is to publicly showcase how these types of components and manufacturing systems can be used to build both homes and schools. MTC will demonstrate high end assembly techniques that use jig, fixture and automation that make it possible to build to tighter tolerances – most construction today is assembled against a poor tolerance brief.'
MTC received a share of £72 million of government funding at the end of last year to push manufacturing techniques into construction. Partner organisations include Skanska, Kier and Willmott Dixon and academic partners include the Universities of Birmingham, Nottingham and Loughborough.
An early benefactor was the Seismic Consortium, set up by MTC, construction consultant Blacc, design practice Bryden Wood and offsite construction firms Elliott and The McAvoy Group, to transform the design and delivery of primary schools.