Ceramic trounced both stone and vinyl to produce a high-quality finish and easy maintenance at this busy leisure centre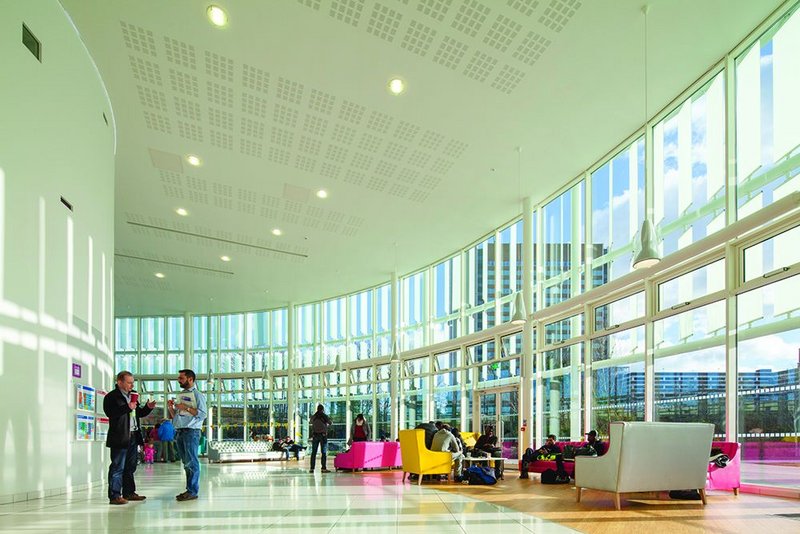 The double height main reception area of the Glass Mill Centre, looking east. First impressions count and LA Architects has concentrated resources here to create a bright voluminous and high quality space.
London's Lewisham seems to be engaging in a game of Tetris on an urban scale. As part of the planning gain for house builder Barratt's dense 760-apartment development by Assael Architecture, the requirement for 35% social housing was extended to include a new leisure facility. Brighton-based firm LA Architects was appointed to design the Glass Mill leisure centre, prominently sited at the corner of the development, which further draws attention to itself with a multi-coloured, pixellated glass facade wrapping around the building. Designed by artist Phil Coy, the 1400-panel skin is interactive, lighting up in response to noise levels generated by passing traffic – creating a night facade in constant modulation.
The facade is interactive to a degree by day too. LA architects has built 18 leisure facilities in the last 21 years, and gained confidence in big formal moves. For Glass Mill, the aim was to ensure that the centre was highly visible to the public realm. So, against that recent, reactive cultural phenomenon of not exposing bare, especially young flesh, to the public, the firm has boldly revealed its eight-lane, 25m public pool to the street with floor to ceiling glazing. On a sunny but bracing spring day, the sight of warmly wrapped people scurrying to station and shopping centre past children bathed in water and warmth is rare and refreshing – a brave move from a small practice, and one it no doubt had to fight to justify to the client.
Associate Leigh Pullan says the building had structural challenges. The £16m centre sits at the foot of a 28-storey apartment block, necessitating a hybrid approach in which the residential block's concrete structure was encased in the leisure centre's steel. This is most evident in the foyer, which sweeps round from Loampit Vale to a park area to the south in a double-height curve of steel columns, between which frosted glass brise soleils hang off a framework, reducing the solar gain. This grandiose foyer, looking out to Cornmill Gardens, is the reception space for two pools, fitness suite, two exercise studios, spa, climbing wall and wet and dry changing areas. Pullan says the emphasis here was about generosity of space and quality of materials, adding: 'Rather than the pool, the fitness suite and spa spaces are the main revenue generators for facilities like this, so material choices are important.'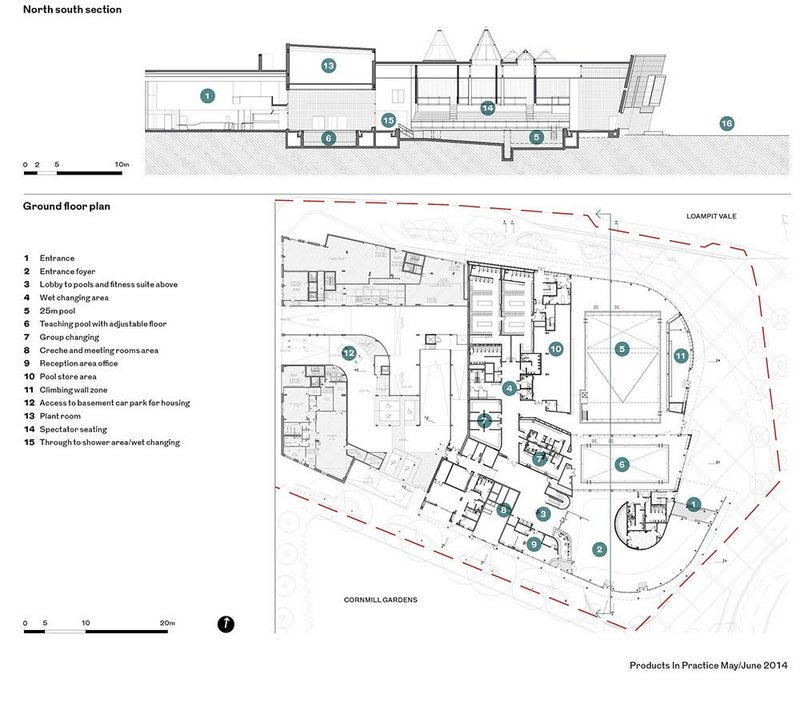 Over the years working in the leisure sector, the firm has spent a lot of time looking at material finishes to make sure they are both fit for purpose and convey the correct qualitative messages. Pullan says the client supported the firm, insisting that specification of all materials, including floor surfaces, was incorporated in the tender. There was no allowance on this job for 'equal approved' items.
With the emphasis on quality, it is curious that no natural stone was specified. Pullan's reasoning is clear. 'We anticipated a yearly footfall in excess of 200,000, so we had to look at flooring not just from an aesthetic angle, but a long-term safety and FM perspective,' he says. 'Experience told us to avoid natural stones. They are far harder to specify, usually require special treatments and invariably need more complex maintenance which FM managers are, with good reason, reticent to adopt.' There was a vested interest too – the firm was required to supply an O&M manual detailing the cleaning regime for every specified material.
So a strategic approach was taken to every floor surface, involving reference to both HSE guidance and the Building Regs before specifying. Interestingly, with no stone, 600mm by 600mm Spectile terrazzo appears in lobby areas as a workable quality alternative, with bamboo planks installed where seating areas sweep alongside the curve of the double-height glazing. Pullan says this went against the general drive of these facilities for vinyl tiling everywhere, but the firm was set on ensuring high levels of finish throughout. Its Polaris white speckled gloss finish certainly contributes to the impression of size.
For the main and teaching pools, the firm opted for 245mm by 245mm KlinkerSire Beach white tiles. 'For wet areas we always specify extruded and fully bonded tiles,' says Pullan. 'With barefoot traffic, Cat C slip resistance and easily maintained tiles are essential.' As it turns out, it was about not just the punters but the installers. Pullan adds: 'We like to use elastomeric grouts, which allow movement, but epoxy's strong odours can be challenging for fitters.' Instead, the firm went for Ardex EG8 grout for reception and all wet zones, which was, he claims, 'less aggressive yet still easy to apply, and worked in a similar way to epoxy equivalents.'
In the pool shower zones and wet changing areas, ceramic tile sizes change to 200mm by 200mm Pietra Serina extruded. It's deliberate, Pullan explains. 'The smaller size allowed us to create falls to the strip gullies by sloping the 75mm screed that they sit on to 1:40, rather then having to cut the tiles themselves. This generally works, although the odd diagonally cracked tile implies the screed isn't adequately laid to falls. Notably, there's far more tile cutting going on in the higher spec fitness suite changing areas upstairs, where curiously the demand was for spot gullies rather than strip. To give a more indulgent feel to the spa and wellness areas, a riven Italigraniti grey ceramic tile was chosen, which came with a requisite R10 slip resistance.
Specifying the fitness suite floors was no easier, Pullan notes: 'The cardio area and free weights room not only need to be high spec, but the market is ever-changing and spaces have to be flexible and open to reconfiguration.' To this end, the engineer recommended a substrate of 3 no. 18mm boards on batons at 400mm centres to run through the fitness suite, with carpet, timber or rubber crumb where desired. This enables future flexibility and sub-floor surface runs, but Pullan is aware of at least one point where the substrate is failing, suggesting baton centres might need reducing where heavy weights might be dropped. Exercise studios have more standard approaches, using Reflex maple and beech timber strip sprung flooring.
That said, LA Architects tried to avoid generic approaches, carving out a characterful circular studio space at first floor, with small coloured glass lights in deep reveals giving the space a vaguely Ronchamp-like quality. It's in details like this that the firm proves it is a step ahead of the general game. 'At Glass Mill we budgeted £2700/m2 for wet areas and £2400/m2 for the dry – the kind of ballpark costs you'll need to deliver a decent level of quality on the ground,' says Pullan, reinforcing the fact that, like the sweat and testosterone addled fitness suite, it's ultimately all about figures.
Credits
Client London Borough of Lewisham
Developer Barratt London
Architect LA Architects
Contractor Pellikaan Construction
Structural engineer AKT II
M&E engineer Hoare Lea & Partners
Suppliers
Structural steelwork Graham Woods Structural
Mechanical installer DiS Design Installation Services
Electrical installer Barrie Beard Ltd, Bromsgrove Electrical Engineering Services
Reception desk & joinery P2 Contracts (Nottingham) Ltd
Lockers and cubicles Prospec
Roofing Voland Roofing
Handrails and balustrades BA Systems
Fabric acoustic screens (pool halls) ReSpace