Looking rather like a giant drill bit, this 246m elevator testing tower will be wrapped in the biggest ever PTFE facade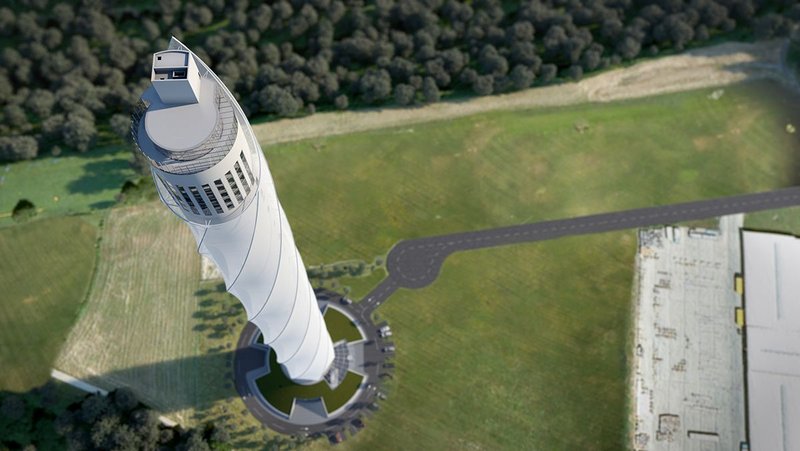 The world's tallest elevator test tower, under construction in Rottweil, south-west Germany, will feature what is thought to be the largest ever polytetrafluoroethylene (PTFE) glass fabric facade.
The 246m tower was designed by Werner Sobek Architects to be the first ever capable of being moved artificially, using a giant pendulum to sway it up to +/- 200mm to simulate the effects of strong wind.
It will be used by lift manufacturer Thyssenkrupp to test advanced elevator designs, including the new rope-free maglev lift system Multi.
The tower's reinforced concrete core will be enclosed by a steel envelope comprised of six steel spiral tubes that corkscrew downwards, each pair spaced 2m apart. These will be covered by around 17,000m2 of PTFE membrane, a highly durable polymer-coated glass fibre fabric that is almost self-cleaning and can protect against intense solar radiation.
The membrane and the steel structure below prevent the tower from swaying excessively, perpendicular to the wind, due to the effects of vortex shedding.
Holger Hinz, project manager at Werner Sobek Architects, says: 'PTFE has been used before to cover stadium roofs, but this is the first time it will be installed so high and as a mesh with different sized openings. Closed surfaces are normally specified to protect interior spaces from weather conditions, which was not a requirement here.'
The surface will appear almost opaque at the bottom and become more transparent towards the top, where the mesh fabric openings widen. The PTFE is produced in 3m strips that are later welded to form bigger membrane sections.
Hinz says assembly of the complex envelope structure is currently being investigated by the specialist contractor, Taiyo Europe, which may carry out installation from two vertically movable platforms at the top and the bottom of the tower.
Taiyo Europe has installed texture architecture on the Millennium Dome in London, San Francisco Airport, the German Pavilion at Expo Milan and the Mercedes-Benz-Arena in Stuttgart.
Research operations at the test tower are due to begin in December 2016 and a public viewing platform at the top will be open from May 2017.
---