Cardboard has become a critical component in jbA's designs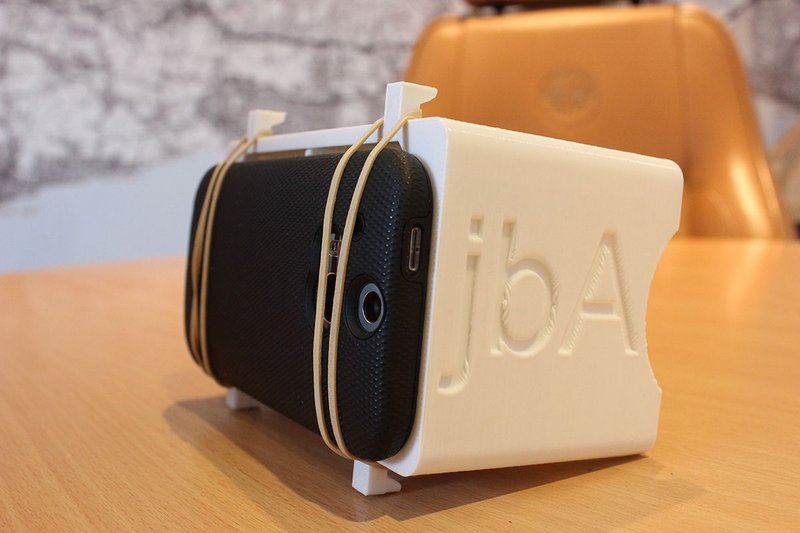 Google's Cardboard Glasses, developed for 3D viewing with smartphones by jbA.
Presenting a client with plans of the kitchen extension can be a disappointing business if the householder struggles to turn a drawing into a mental picture of the finished room. To overcome this, practice jbA has developed its own version of Google's Cardboard Glasses to give clients a virtual reality view of their proposed architectural plans. A headset, customized from a free downloadable template, can be used with Android and iOS mobile devices to create inexpensive virtual reality experiences that would otherwise cost hundreds of pounds.
This new ability to get inside a project and be completely involved in every aspect has made a big difference to jbA's clients. Now, instead of just 3D images, they can see the whole room in 3D at once, and look at it from every angle. They have the opportunity to enter a virtual world where they can visualise their new kitchen, bedroom or any room before it is even built.
By using the latest 3D Panoramic software the firm can create 360° views. It then uses the VR headsets to access the 360 Panoramic from a mobile phone, or can email the client a web link to view it on a home computer.
This advanced technology saves clients both time and money, says jbA, as it enables them to develop clear ideas of how their new proposed space will look. Traditionally, architects created 2D architectural drawings when designing a client's house and while the process is still employed today, it has a number of limitations when used alone. No matter how carefully described, it isn't always clear to a lay person what each design or plan represents.
During the course of a typical project, jbA can give clients number of 3D visualisations and 3D printed models of increasing detail and scale to help them see the intended construction. As a result they are becoming increasingly active participants in their projects. Enabling them to 'see' the design, rather than trying to imagine it from 2D plans, means the end result is far more easily realised as questions about scale, placement or features of the design are easily resolved – smoothing the job for both architect and client.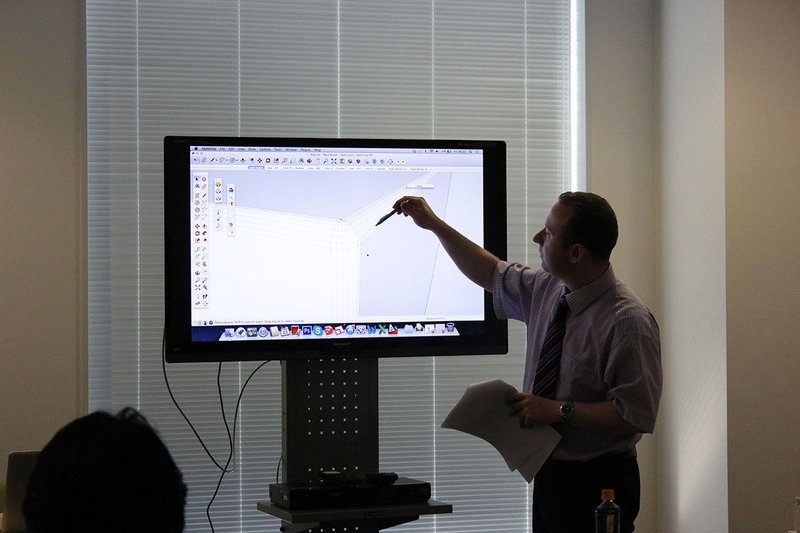 Nat Ellis, jbA head of 3D visualisation.
Development of the Google Cardboard Glasses was done in-house using a state of the art Airwolf 3Dxd printer, and the firm has created its own range of printed PLA plastic virtual reality headsets that clients can take away with them – which has proved very popular. The portable nature of these goggles allows people to examine every aspect of the project without time restraints or distractions, ensuring they are satisfied with their design before the build has even started.
The practice decided to create its own branded version of Google's glasses because it wanted a very specific headset that worked with most smartphones, whatever size. The headset went through several prototypes before the final version was printed but the effort was well worth it.
As well as 3D glasses jbA provides a wide range of 3D visualisation services, and can create detailed 3D printed models. These are made on the AirWolf HDx 3D printer and are achieved by laying down many successive thin layers of PLA plastic. Each layer can be as complex as is required, so moving parts like hinges and wheels can be produced as part of the same object. The printer can output models as large as 300mm by 200mm by 300mm and with a minimal layer height of 0.06mm can achieve the finest detail in its renderings.
3D visualisation with 3D printing is now a standard service at jbA. These new methods of architectural presentation not only benefit the client but also help to ensure contractors on site have a clear understanding of the end-product, creating a far more streamlined process for all involved and reducing the likelihood of mistakes.
Being able to do everything in-house rather than having to outsource these services puts jbA in a very powerful position. The practice feels it is taking the lead when it comes to using 3D technology to help clients fully understand their projects. It has developed a strong reputation in the industry for combining high-quality architectural services with innovative technology, and has spoken about its groundbreaking visualisation services at international conferences, most recently the 3D Basecamp in Tokyo.
Nat Ellis, head of 3D visualisation at jbA
---