Paving tile that makes power from footfall is getting more affordable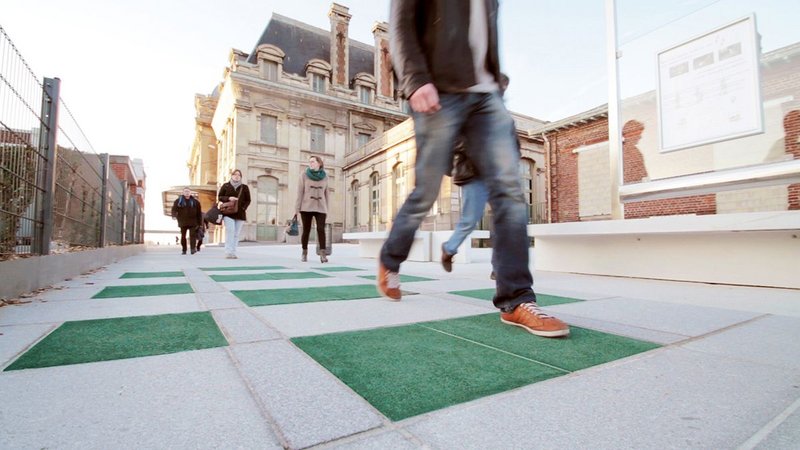 The prospect of lighting our city streets using kinetic energy alone moved a step closer this week when clean tech firm Pavegen revealed it will sell a paving tile that generates power from footfall for under £600/m2 this year, in line with traditional high end paving products.
Pavegen tiles currently generate about 7W of power from every footstep then store it in a battery to power lighting or other street utilities. The start-up attracted over £2 million of crowdfunding investment in 2015, via the website Crowdcube, which it channelled into R&D to develop a cheaper, more efficient tile.
Laurence Kemball-Cook, entrepreneur and founder of Pavegen, comments: 'The capital was needed to upscale and bring onboard leaders in technology, science and the energy sector to take the product forward.
'We now have clout with some of the biggest manufacturers in the world, making it realistic to deliver volumes not possible two years ago. We aim to have our product retailing for sub-£600/m2 this year, while 1m2 of granite floor at King's Cross station costs around £1,000.' The company costed its product at £1,250/m2 in an article in the Guardian last year.
'One of the busiest retail sites in London' will see the first installation of the new product in June. The launch will be followed by installations outside the White House in Washington DC, and other projects in Singapore, South Korea and Australia.
This tile will be more energy efficient than the previous version, says Kemball-Cook, and offer increased data functionality for smart city applications, such as monitoring levels of foot traffic in specific locations and helping drive advertising revenue based on footfall.
Pavegen says it will shortly reveal details of its manufacturing partners. Its ultimate aim is to bring costs down to under £35/m2, making it a viable solution for developing countries.
'We have a data and energy proposition we are really excited about,' he says. 'We can provide a granular look at how people move, which is really important for the smart city of the future ...every footstep has a unique ID, link it to peoples' smartphones (with their permission) and it gets really exciting because you can know who a person is, and where and when they are going.'
Supporters of Pavegen include prime minister David Cameron, celebrity Will I Am, theoretical physicist professor Steven Hawking and Apple co-founder Steve Wozniak.
---