The Häfele light sensor range illuminates furniture and fittings to create feel-good residential and commercial spaces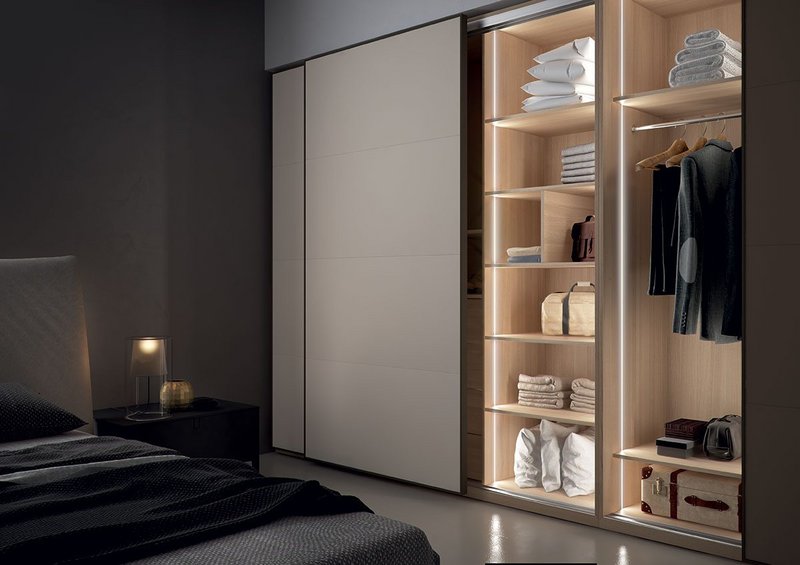 Häfele Slido Power-Chain wardrobe storage with Loox LED flexible plug-in strip lighting.
The Loox LED Light Sensor range from Häfele offers specifiers customisable solutions for illuminating wardrobes, cabinets, profiles and more.
The range is compatible with many furnishings, including Häfele's own Slido Power-Chain and sliding door system combination, which enables permanent electrification and illumination of sliding door fronts.
Typical lighting designs include downlights, strip lights, LEDs with drawer profiles and flexible lighting with charging stations. Motion sensors can be fitted inside storage units so that interiors are illuminated automatically without the user having to flip a switch.
Loox can be specified across living spaces, kitchens, bedrooms and bathrooms to give residential projects a luxurious finish and connectivity. It can also be used to enhance the ambience in workplaces, retail spaces, restaurants and hotels.
Häfele offers a Lighting Design Service that removes much of the process of specification and allows users to add LED lighting sets and sensors to furniture and fixtures during the specification process.
Users can control furniture lighting systems in the Loox range via an app, wireless wall switch or remote control. Colour and levels of brightness can be adjusted depending on the time of day, activity or the desired mood.
Loox lighting comes with a seven-year guarantee on all products. No registration is required. To access the Loox Visualiser interactive tool and view the lighting options for different rooms and settings, visit oa.haefele.de/loox
For more information and technical support, visit hafele.co.uk
Contact:
0800 171 2907
---