Häfele fittings enable architects to open up and close off specific areas in multifunctional layouts and specify space-saving solutions between rooms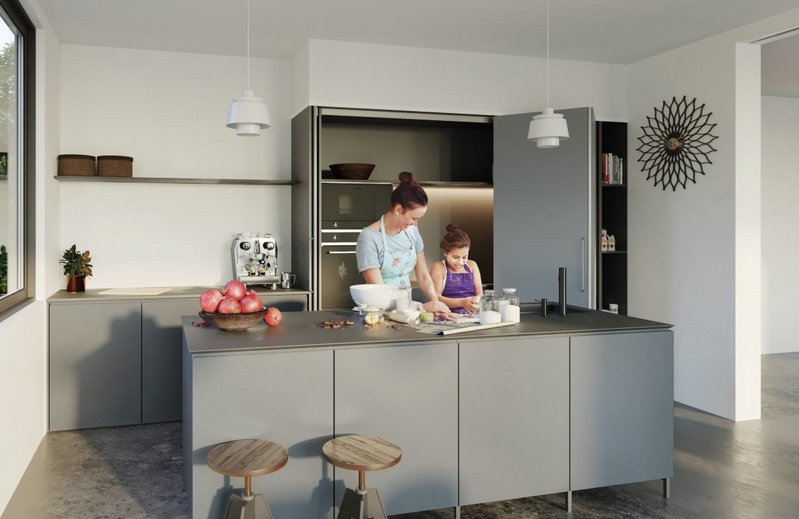 The Häfele Hawa Concepta folding sliding door system can screen off storage and appliances and even whole kitchens in open-plan spaces.
Häfele has one of the widest selections of sliding door gear solutions in the UK.
Now in its 41st year, the company is synonymous with providing fittings, accessories, hardware and ironmongery across the kitchen, bedroom, bathroom sector and beyond, through retail channels and design specification.
Its Hawa Concepta folding and pivot sliding door system is increasingly popular because it allows users to close off areas of their home completely when they are not in use - ideal for multifunctional kitchen/living/dining spaces.
Sliding and pocket doors can be used for delineating boundaries between en-suite bathrooms and bedrooms and for cloakrooms where space is tight. Sliding designs are also popular choices for shower enclosures and wet room areas.
Häfele sliding door gear can be specified to create stylish furniture, including wardrobes and storage systems. Specified alongside its Loox lighting system, Häfele sliding door gear illuminates storage space automatically when wardrobes are opened.
A range of architectural sliding door gear is also available for commercial, hospitality and office space, as well as for exterior use. Sliding glass interior doors provide developers and architects with elegant options that give offices a modern, open feel while maintaining functionality.
The Häfele Projects 360 team has a wealth of experience and access to a wide range of solutions enabling it to supply according to individual specification, budget and time scale.
For more information and technical support, visit hafele.co.uk
Contact:
0800 171 2907
---