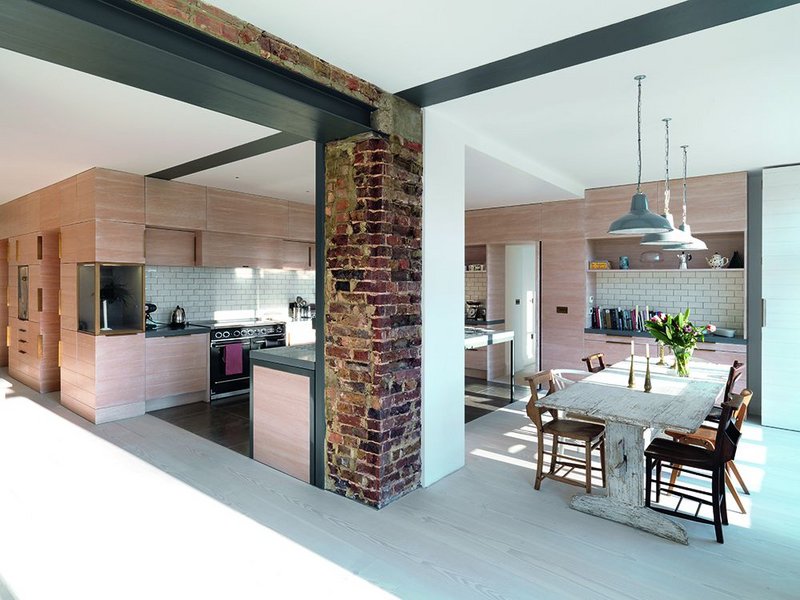 While the main space was stripped back to its original surfaces, new details also make their presence felt. Here, the soffits of the inserted steel beams are left revealed. The kitchen winds around the central column
If the thought of a domestic 'knock through' doesn't usually set an architect's heart racing, it might in the salubrious West London residential street of Hamilton Terrace. Here architect Threefold was employed to take its client's 200m2 lower ground floor apartment in an Edwardian villa, pull it back to its original enclosing walls and completely redesign it. 'Given that this floor would traditionally have been 'below stairs', it was different from the rooms above it in that there weren't the usual mouldings, architraves and features that characterise the upper floors,' recalls Threefold director Jack Hosea.
The relative starkness might have influenced the practice's plan to introduce the decorative element by way of a 'cabinet wall' that not only incorporates different functions according to which direction it faces, but acts as the de facto domestic divide. 'The cabinet wall became a sort of piece of transmuting furniture – a storage wall, glass vitrines, kitchen units, a piece of dining room furniture- an 'amped up' threshold between the reconfigured public and private areas,' he explains.
The floor's new open nature was helped by the fact that, at lower ground, there was no need to provide a dedicated compartmented fire escape to the main door, meaning the cabinet wall was free to wind its way around the open spaces of the flat. Entirely timber clad, it became the defining feature of the space. Hosea says: 'We really liked the rich, red, expressive grain of Douglas Fir that emphasised the wall's horizontal nature'. It also helped to disguise what are in fact basic storage carcasses ennobled by the Douglas fir appliqué – given extra quality through the judicious use of brass and glass vitrines that 'gave the wall real depth', and bespoke brass pulls and fittings.
Given the unifying strength of the effect, Hosea thinks it was money well spent, saying that you could spend the same kind of money just on the kitchen; but for Threefold it was about directing money towards the big wins to make the sure the kitchen was just part of the bigger architectural idea. To this end, once it was in the kitchen zone, it went for unifying 11cm thick concrete worktops, which were cast-in place in sections. The kitchen top was set off with the reclaimed sink and mixer tap, which the practice had de-chromed to bring it back to its brass finish.
For the floor, the firm chose a sealed Lapicida blue limestone with riven finish to give it extra grip, which also offset the polished concrete worktop. Counterpointing the brick, but picking up on its module, Threefold went for a very pale grey brick-sized tile on the back walls. 'It was a smooth textural moment in among the rich grain of the joinery,' says Hosea.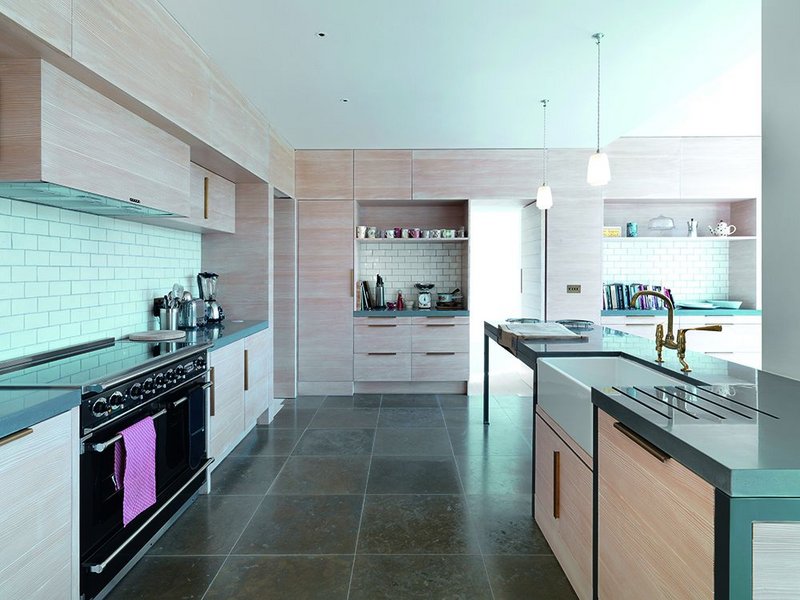 Pale grey tiles and pale Douglas fir counterpoint the dark blue limestone floor
---
Jack Hosea, director, Threefold
---
We really like using Valchromat engineered coloured wood – it has a kind of powder-coated finish and beaded edges that give it a homogenous, solid look. We used it on another of our projects, Murray Mews in Camden, where we chose a matt lacquered option. It's also nice used in bright colours to inject some life into splash backs and reveals.
While it's worth spending money on a good tap – cheap ones will soon start to drip – we've never been fans of 'catering style' hose faucets, preferring the simplicity of, ideally, a Vola fitting. But best is to source something reclaimed that can give your kitchen a unique feel, which is something we did at Hamilton Terrace.
Floor finishes will always be project specific, but we'd avoid timber in kitchen areas every time, as it's easily damaged by moisture. Instead we'd veer more towards polished concrete or a sealed stone, preferably with riven finish to give it more grip.