HERU, the Home Energy Resources Unit, will be deployed in 10 commercial locations in 2020, though domestic appliances may need regulations to be updated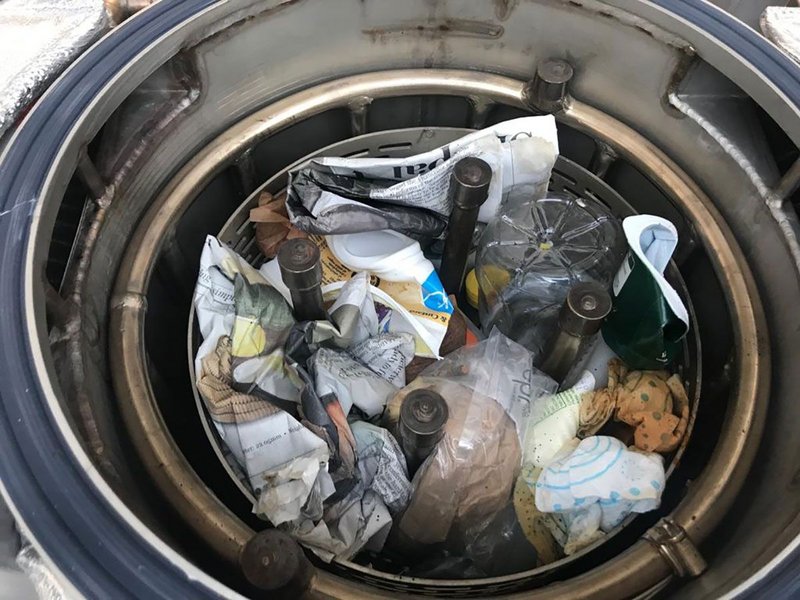 A hybrid boiler that converts everyday rubbish into heating for buildings will get its first commercial deployments next year.
However, its inventor has warned that changes to UK regulation may be required if a domestic appliance is to become feasible.
The HERU, or Home Energy Resources Unit, is a washing machine-style appliance that takes items typically destined for landfill, such as packaging, plastics, garden clippings, and uneaten food, and uses the process of pyrolysis to transform them into energy to heat water.
The thermochemical decomposition process, developed by HERU's engineers in collaboration with Brunel University London, uses controllable heat pipe technology to convert substances into oil, synthesised gas and char at low temperatures.
The first 10 early adopter machines for businesses, with a capacity of 240 litres, will roll off the production line in the second quarter of 2020 and a further 100 units are expected in Q3. The machines will go into hotels, restaurants and care homes.
The HERU is designed as a more environmental alternative to traditional waste collection and disposal that typically involves transport in multiple vehicles and processing in carbon-intensive infrastructure.
Nik Spencer, inventor of the system, told RIBAJ: 'The waste industry is very carbon intensive. Refuse vehicles pick up material from peoples' homes, typically doing around six miles to the gallon, they take it to a waste transfer station where it's loaded by another machine on to a bigger lorry that might transport it to an energy-from-waste plant or to landfill. It might be shipped around the world if it is a recyclable product.'
A full lifecycle assessment of HERU, carried out by consultant Ricardo Energy & Environment, found it created 300% less carbon than regular co-mingled collections and 280% less than kerbside collections. The conversion process can generate up to 2.5 times more energy than is required to operate the machine.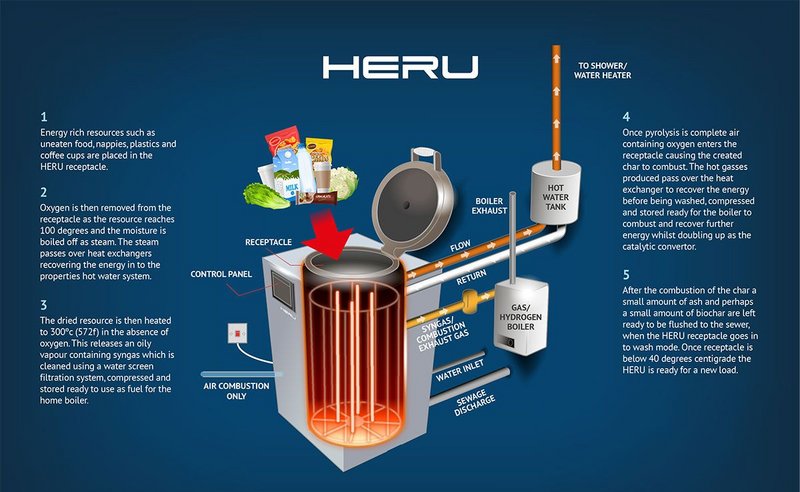 A trial unit installed at Wychavon District Council in Worcestershire produced 1.050 kWh over six months, equivalent to 28.3 billion kWh if every home in the UK had a machine installed. This would divert a total 13.5 million tonnes of resources away from the waste system.
A 19-litre domestic version of the appliance has been developed, but changes to UK regulation may be required to make it viable on a large scale. The prototype cost around £19,000 to produce.
'We need to create a new piece of legislation that allows the portion of council tax assigned to waste collection and disposal to filter back to the homeowner or occupier to fund a machine,' says Spencer. 'Regarding new builds, we would like the government to require construction companies to incorporate technology designed to stop waste arising, which could include new technologies like HERU.'
All outputs from the HERU are cleaned before being released to air or sewer without posing risk of harm to human health or the environment. Items such as batteries, chemicals and pharmaceuticals cannot be processed because they may produce harmful emissions.
While combusting plastics in the machine might seem unenvironmental, for example compared to recycling, Spencer claims increasing uptake of the machines should help drive more responsible behaviour on the part of packaging companies.
'They will be forced to look at more sustainable, renewable sources of packaging because the homeowner will be asking for as much HERU-friendly material as possible. Every kilo of material they put into their machine could be an extra 2kW hours of energy from renewable resources,' he concluded.