TODD Architects has specified the thermoformed and moulded solid surface material HI-MACS for the reception areas at a healthcare complex in County Tyrone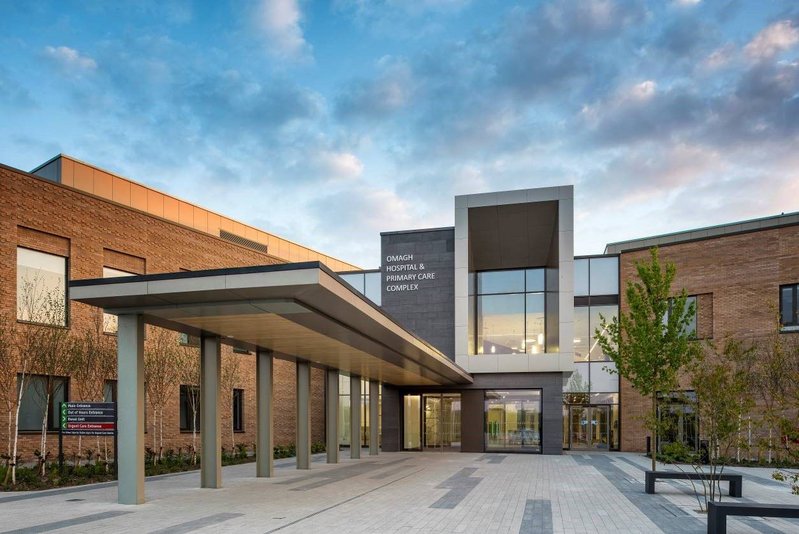 Omagh Hospital: An holistic and welcoming environment for healing.

Credit: Chris Hill Photography
The Omagh Hospital & Primary Care Complex in Omagh, County Tyrone, Northern Ireland, opened in 2017 and perfectly combines the properties of form, function, hygiene and clinical cleanliness thanks in part to the use of HI-MACS solid surface material for its reception area.
Created by award-winning TODD Architects with Hall Black Douglas, and fabricated by McLaughlin & Harvey Specialist Joinery, the new-build public space was the first of its kind in the UK and Ireland. Positioned on a greenfield site on the outskirts of Omagh, the building was designed in response to recent healthcare reports and future initiatives. The brief for the architects included creating a 'natural environment for healing' and the hospital is specifically designed to offer short-term services to help tackle waiting lists while bringing together acute and primary services under one roof.
HI-MACS in Pebble Pearl and Arctic Granite was specified for the reception area's curvaceous desks. Ultra hygienic, this seamless, solid surface material is non-porous with no grooves or joins to harbour dirt, germs or bacteria, making it perfectly suited to a public area. It is easy to clean with just a damp cloth and is repairable should any scratches appear over time. As it can be thermoformed, it can also be used to create curves within furniture.
A palette of brick, glass and aluminium cladding are key architectural features of the building's material structure and were designed to blend seamlessly into the countryside landscape that surrounds it. The use of HI-MACS creates a warm welcome in a setting that would typically feel cool and clinical.
The hospital is made up of a series of two and three-storey pavilions, which enclose a number of peaceful courtyard gardens. The interlinked spaces house different hospital departments with all areas accessible from either the glazed atrium main entrance or an Urgent Care ambulance entrance. Efficient and ordered, the entire building is easily navigated by patients, visitors and staff, with a natural, ergonomic flow throughout. Breakout areas are designed to promote inclusiveness with informal meeting spaces as well as social spots for relaxing.
'This was an interesting project for us,' says Andrew Murray, director of TODD Architects, 'in that it represents a refreshed approach to the traditional delivery of healthcare services. This new complex is distinctively designed as an environment for healing by creating a connection between the patient and the outside.'
TODD Architects is an award-winning, client-focused practice delivering high quality design solutions that enhance the built environment and the lives of users. It was established in 1976 and has grown today to a team base of over 70 people, working internationally across a wide spectrum of sectors. It is the only AJ100 practice with studios in Belfast, London and Dublin.
HI-MACS is the ultimate versatile, flexible material perfect for residential and commercial projects. It can be thermoformed and moulded into any shape and is widely used for interior and architectural applications. Made from a mix of acrylic, minerals and natural pigments, it creates a smooth, non-porous and visually seamless surface that meets the highest standards for quality, aesthetics, fabrication, function and hygiene. It is also easy to clean and maintain.
For more information and technical support, visit himacs.eu
Contact:
01732 897820
---