Eco product specification and the rise of prefabrication and retrofitting are helping to turn around construction, but architects need their office tools suppliers to be greener too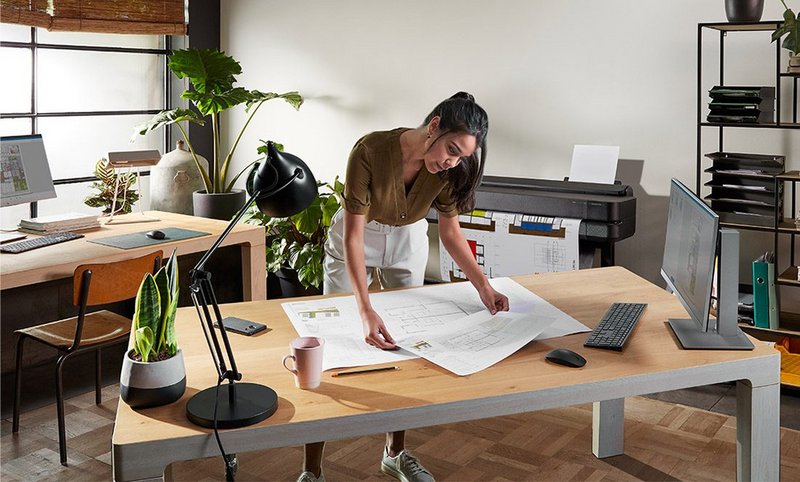 Print remains one of the best ways to reduce the carbon footprint of an architecture practice.
Around the world architecture, engineering and construction (AEC) professionals are increasingly dedicated to creating a more ecologically sound, resilient and equitable world.
To address the challenges of climate change and environmental justice, the built environment must be part of the solution - and it's up to its architects, designers and builders to see the effort through.
Day-to-day sustainability: A growing movement
US information technology company HP recently spoke to members of its AEC user group to learn more about the role sustainability plays in their day-to-day work.
'It's the key to moving everything forward,' says Cath, an architect in the UK.
But Cath's clients haven't always shared her commitment to the issue and, in some cases, she has implemented environmentally friendly practices on the sly.
'I have always tried to sneak in greener elements when I'm writing a specification,' she says. 'I err towards the more natural insulation products without the client necessarily knowing.'
However, smuggling green design into projects has not been so necessary of late as Cath's clients are increasingly prioritising healthy environments for their building occupants.
On the up: Prefabrication enters the mainstream
To reduce environmental damage during the construction phase, Josh, an architect in the US, is optimistic about the rise of prefabrication.
'On traditional job sites so much waste is just assumed,' he says. 'For people in other industries, it's mind-boggling.'
According to the US Environmental Protection Agency, the construction and demolition of buildings and infrastructure generated 600 million tons of debris across the US in 2018 alone. Much of this material was subsequently sent to landfill.
Moving construction to a factory setting can help cut down on waste by producing quality components in controlled conditions, particularly when carried out in conjunction with BIM.
According to a 2020 report published by Building Design+Construction magazine, almost half of all large US contractors and construction managers now employ offsite production on many or all of their projects.
A change of focus: New emphasis on old structures
Most of the structures that will exist in the coming decades have already been built and are a big part of the challenge of creating a more sustainable built environment.
As a result, AEC professionals are increasingly focused on retrofitting existing buildings and infrastructure.
According to Project Drawdown, a nonprofit organisation that seeks to help the world reach the point when greenhouse gases start to decline steadily, 99 per cent of the world's 1.6 trillion square feet of existing building stock doesn't meet current green standards.
In New York City, where buildings are responsible for 73 per cent of all the greenhouse gas emissions, the government has passed legislation to make existing buildings more climate friendly. Similar initiatives have been rolled out by other cities and government agencies.
Retrofitting existing buildings also has the advantage of not allowing the carbon embedded in the original materials and construction processes to go to waste.
As Josh says, 'the most environmentally friendly building is one that doesn't get torn down for a really long time because it's so well loved'.
Demanding more: Architect tools and supplies
As AEC professionals rethink their practices with sustainability in mind, they want more from their business partners and suppliers.
Tim, a contractor in the US, says that, while his company has taken proactive steps to make its operations more sustainable, its actions are limited by a lack of sustainable products on the market.
'I think it goes back to the manufacturers,' he says. 'We've got to come up with better products to replace sheet rock or even metal studs. There's a huge carbon footprint from all that production.'
Office operations also come into play. Cath says that while it is greener to schedule a video conference than fly for a meeting, even email and Zoom have carbon footprints.
'Whatever we do will have an impact,' she says, 'so we need to look at reducing that as much as we can.'
Some HP DesignJet large format printers are certified as energy efficient and use up to 30 per cent recycled plastic, which reduces carbon emissions by 7.3 tons a year.
In addition, the HP DesignJet Studio is certified to be net carbon neutral while giving seamless service to AEC professionals. HP plotters can be an essential tool for AEC professionals working to build a greener, healthier, more equitable future.
Shop the full HP DesignJet range at hp.com/printers
Contact:
Isabella Jelinek, UK and Ireland marketing manager, large format printing, HP Graphics Solutions Business
+34 605796393
isabella.jelinek@hp.com
---