Project at the University of Bath probes impact on worker productivity to set acceptable sway levels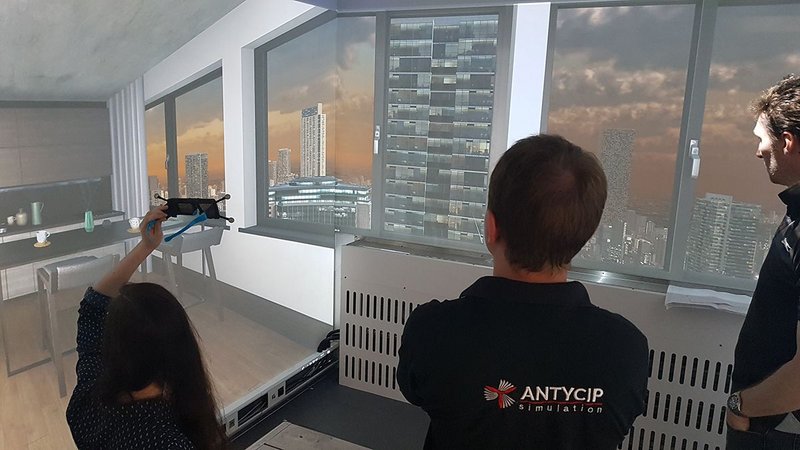 VSimulators VR walls: Antycip Simulation developed the VR system for the University of Bath chamber.

Credit: University of Bath Faculty of Engineering and Design
A hydraulically-powered skyscraper simulator able to recreate the effects of working in a swaying building will allow researchers and architects to test the impact of new designs on wellbeing.
Facilities at the Universities of Bath and Exeter are being developed under the £4.8 million VSimulators project, set up to study the psychological and physiological impacts of working and living in skyscrapers.
The box-shaped chamber at Bath, in the Faculty of Engineering & Design, opens in October. It can sway up to 40cm horizontally, which in combination with climate, sound, air quality and visual controls, and highly-detailed 3D virtual reality cityscapes projected onto the internal walls, will allow researchers to accurately measure human responses.
Hundreds of high rise buildings are being built or planned across the globe (some 76 are expected to grace the London skyline in 2019 alone), yet there remains a dearth of information on the impact of swaying on tiredness, mood, concentration and motivation, even though these conditions are known to negatively affect many workers.
Dr Antony Darby, head of civil engineering at the University of Bath, told RIBAJ: 'This is particularly important if you consider the economy. Many people work in tall buildings, if the effect of swaying causes an individual's productivity to drop by just 5% that could mean billions of pounds lost every year to the global economy. We hope to get a better understanding of these questions and ultimately produce environments that are better for people and for productivity.'
A key area to investigate is Sopite Syndrome, a tiredness effect created by almost-unnoticeable movement on the body, which is the same response a baby experiences when it is rocked to sleep.
Understanding what degree of movement is acceptable and the level at which negative responses occur could result in radical new approaches to how buildings are designed.
'The cost of making sure that a tall building doesn't sway can be astronomical, so it becomes a question of how much is an acceptable amount of sway, which also depends on the environmental conditions and what tasks the individual is performing,' says Darby.
Current guidance is based on perception thresholds (ie whether or not an individual can feel the motion of a building swaying) but a more accurate approach could take into account what the building is used for, how frequently and for what duration motions occur etc. 'It's about trying to develop a more performance-based design, rather than imposing fixed limits. If building sway cannot be reduced it may be possible to offset the impact of tiredness, for example by increasing lighting levels, improving air quality, or reducing temperature,' Darby concludes.