Innovative brick slip and masonry support solutions combine intelligent engineering and offsite craftsmanship to revitalise a railside thoroughfare in south-east London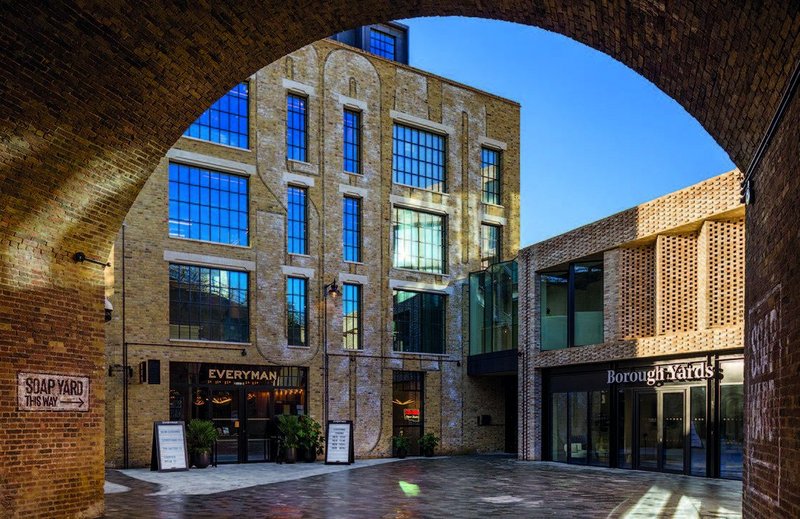 Building 1 with Everyman cinema: one of the more straightforward elements of the Borough Yards project.
Award-winning shopping and dining district Borough Yards in south-east London was built by Wates Group for developer MARK and was designed by London-based architect SPPARC.
It features transformed and re-purposed railway arches, viaducts and warehouses, along with five new buildings, that weave their way from Borough Market to Clink Street. There is a cinema, art gallery and two new offices.
Construction manufacturer IG Masonry Support worked on a series of innovative brickwork solutions for the project that blend old with new, while retaining south London's Victorian railway heritage.
With brickwork contractor Lesterose, the firm designed and supplied complex prefabricated brickwork elements, including its Welded Masonry Support, Brick Slip Masonry Support and BOSS+ (Brick on Soffit System).
The site is a landmark conservation area so the brickwork for the new buildings had to complement existing brickwork on the repurposed viaducts and warehouses, while establishing their own character.
IG Masonry Support manufactured and supplied prefabricated components that met wider conservation area considerations around planning as well as all fire and building regulations.
The architect and design team had come up with a complex design for Building 4 and required a bespoke 'floating' brick feature with a jagged design.
IG Masonry Support's brick slips helped achieve a distinctive angled soffit design that met the historic aesthetic in a modern, easy-to-install solution.
The distinctive spearheads on Building 2 were another challenge, but IG Masonry Support's close collaboration with the contractors and the architect enabled a robust and eyecatching design. Installed over four level points of the building, the innovative spearheads, never seen before, were manufactured with glass reinforced concrete and hand-laid brickwork in-between.
The brick slip systems and masonry support are prefabricated units manufactured offsite and delivered complete with bricks mechanically fixed and bonded to them. They can be customised to the architect's design.
'The use of masonry was a fundamental part of our design vision,' says Trevor Morriss, principal at SPPARC.
'The new buildings had to cohabitate successfully with the heritage fabric and each of the buildings had to have a unique character while harmonising with the surrounding area.
'The detailing around the masonry is the fundamental part of this scheme. IG Masonry Support's technical advice and can-do attitude was essential to achieving this.'
The new buildings sit side-by-side with the historic viaducts and warehouses and are now an integral part of the street scene and conservation area.
IG Masonry Support systems and technical expertise have ensured the landmark Southwark development is thoughtfully planned, well built and a sought-after attraction in south London.
Find more on this case study at igmasonrysupport.com/projects/borough-yards
For more information and technical support, visit igmasonrysupport.com
Contact:
01283 200157
---