It is also prefabricated, carbon neutral, A1 fire rated, hygrothermally tested, lightweight - and infinitely adaptable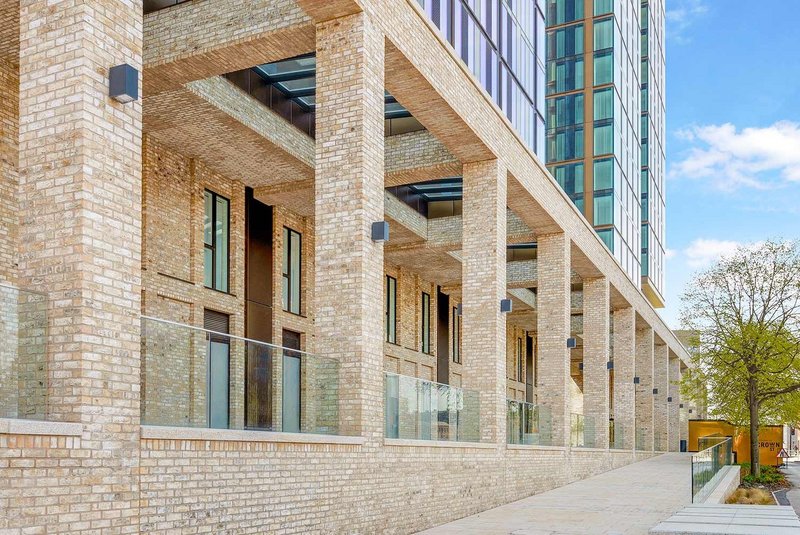 Boss A1 brick slip soffit system at Elizabeth Tower in Crown Street, Manchester. The prefabricated components are delivered to site complete with slips adhesively bonded and mechanically secured to the carrier unit.
Boss A1 from IG Masonry Support is an advanced, lightweight, prefabricated brick slip soffit system that offers architects the ability to achieve visually stunning brick detail.
The soffit unit, which is designed to be quickly and easily bolted to IG's Welded Masonry Support, creates deep reveals, soffits and flying beams on masonry facades, offering lots of creative potential.
The first product of its kind to be carbon neutral, the BBA-certified Boss combines adhesives with mechanical fixings and is compliant with A1 fire regulations for buildings over 18 metres.
Boss A1 is durable and aesthetically striking. Although not required by code of practice regulations, it has been subjected to hygrothermal testing, the most adverse weathering and rigorous assessment that can be carried out.
Alternative systems for suspending brick from the underside of masonry supports can be timely and labour intensive. They require bricks to be pre-drilled, hung from rods and mechanically lifted.
Boss A1 is prefabricated to meet individual project requirements and offers a 90 per cent time saving on site when compared with traditional trades. Because the system is 70 per cent lighter than equivalent concrete units, numerous time and cost savings can be made.
Since the launch of the original Boss in 2012, the system has earned industry accolades, including the Construction News Commercial Innovation of the Year award in 2015 and is a finalist in this year's Product Innovation category of the Irish Construction Excellence Awards.
This incarnation is the third generation of its type within the range, confirming IG's commitment to enhance and offer solutions that are tested above what is expected in the industry.
To see a video of the Boss A1 brick slip soffit system in action, visit igmasonrysupport.com/boss-a1
For more information and technical support, visit igmasonrysupport.com
Contact:
01283 200157
---