A new Hawkins\Brown designed social science centre at Cardiff University features a showcase oculus staircase and lobby flooring by Intrasystems that keeps it dirt and moisture free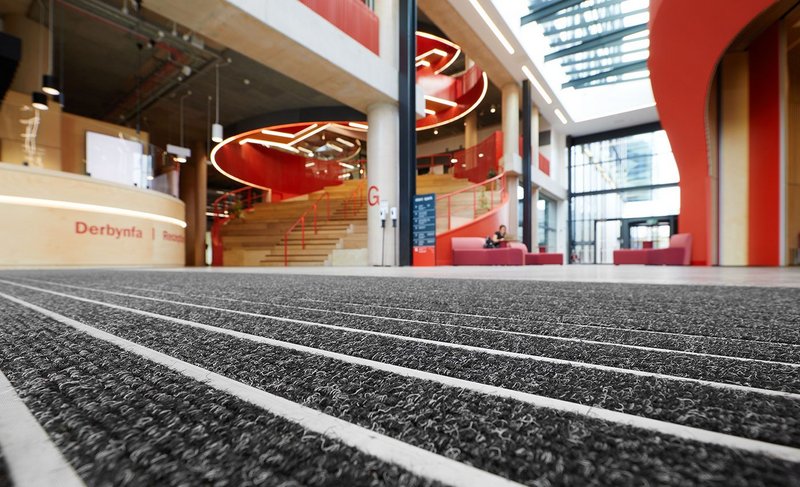 Intraform DM entrance matting system at the Translational Research Hub, Cardiff University.
Cardiff University has completed a multimillion-pound project to convert a disused industrial space into a new state-of-the-art campus, promoting Cardiff's role as a centre for innovation.
Designed by Hawkins\Brown and built by Bouygues UK, the centre provides cutting edge facilities to support academic research and social science.
The hub is home to the UK's first oculus staircase - a sculptural, open design travelling through a slanting void that represents an eye allowing light to flood into a space.
Intrasystems was engaged to provide the matting for the building's main entrances, pass doors and the lobby leading up to the staircase.
The brief required two types of entrance matting system, one designed for each of the two main revolving doors and a secondary system situated inside the foyer.
Both doors feature an open quadrant exposed to the elements with vertical air curtains on either side of the entrance.
For effective dirt removal, Intraform matting with rubber inserts was used inside the revolving doors.
Intraform DM (Double Module) with a cost-effective linear fibre was specified for inside the pass doors, side doors and main entrance lobby to provide secondary moisture absorption.
The combination of recessed, heavy-duty aluminium matting with textured fibre inserts is both functional and echoes the sculptural design of the reception space.
Find more on this case study at intrasystems/cardiff-university
For more information and to order a sample, visit intrasystems.co.uk
Contact:
01425 472000
---