As sport and leisure become everyday activities, competition for people's attention – and cash – demands innovation
There was a time when water features were a relative rarity in the urban environment, a discovery in a city park or square that delighted the senses. Now you can't cross the public realm of a new development or a freshly regenerated town centre without having to dodge random spurts of water. You can soak your shoes in town squares from Hemel Hempstead to Hull.
Jet fountains, pop-up street food markets, open air cinemas and more: these have become common ways of capturing consumers' attention and tapping into their appetite for novelty and experience, encouraging people to spend their leisure time, and ultimately their money.
That leisure time has become a precious commodity for us all. On average, according to government statistics, men enjoy 43 hours of leisure time a week, with women having a disconcertingly unfair 38 hours. Subtract the hours that are idled away at home or on a mobile phone, and it doesn't leave much time for going to the museum, art gallery or swimming pool.
So while today's public may be shopping for experiences, the competition for their limited time and money has become fierce. That, and inevitable funding constraints, have seen some visitor attractions struggle, but for others the application of science, business acumen and creative imagination is both pulling in punters and reshaping the urban environment.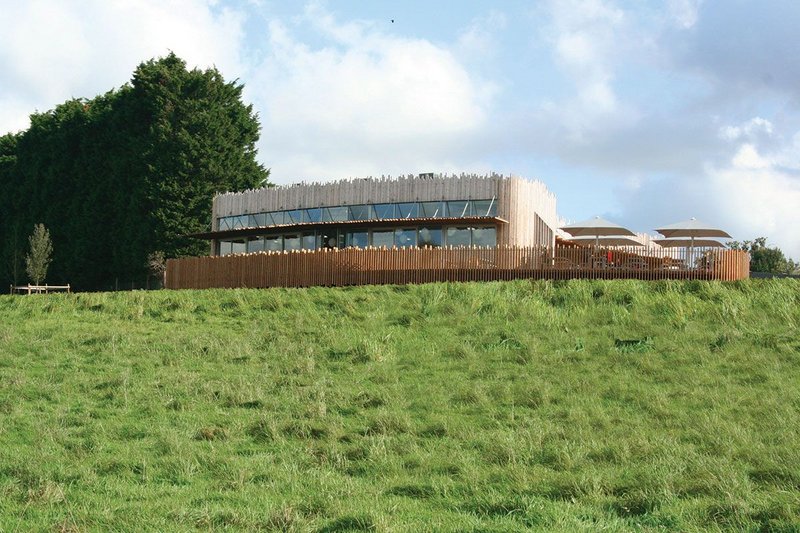 Ray Hole Architects' Café Graze at Marwell Zoo.
Serious fun
Ray Hole, managing director of Ray Hole Architects, gives a ready explanation for developers' interest in experience: 'Experience has overtaken icon as the trump card in the built environment'. Hole's own interpretation of the e-word runs far deeper, drawing on the ideas of US author and business advisor Joe Pine, who with James Gilmore originated the term 'experience economy' in a book of that name in the 1990s. He talks of the complexities of delivering experience, encompassing such factors as entertainment, learning and discovery, escapism and immersion. The latter is where architects most commonly contribute, he says: 'Architects rely on the visual, the aesthetic, although experience is actually about all the senses.'
Leading leisure operators understand that need to appeal to all the senses. 'Architects are obsessed with the bird's eye view, even though people never see that,' says Hole. 'But a top US leisure operator works on the basis of sight, acoustic and "aroma" lines, all from visitors' points of view.'
Fun is an extremely serious business, and Hole's projects – which include the Bentley and Volks­wagen pavilions at Autostadt, Volks­wag­en's automotive brandland in Wolfsburg, Germany – routinely see it working with psychologists to gain insights into visitors. 'Clients want a high performing investment, an economic powerhouse,' says Hole. 'We work with clients to monetise experience – they can work out what every minute of dwell time is worth.'
That experience doesn't have to rely on great architecture, or any building. Tennis fans may have just as good a time on Henman Hill as in the Centre Court at Wimbledon, but in fact the solution is often a hybrid. That's the case at Marwell Zoo, in Winchester, where Hole's compact café opens onto decking to provide additional capacity for summer visitors. 'A defined building has a defined capacity,' says Hole. 'We often advocate openable buildings with outdoor servicing to accommodate more people. It's a question of what is needed to provide the experience.'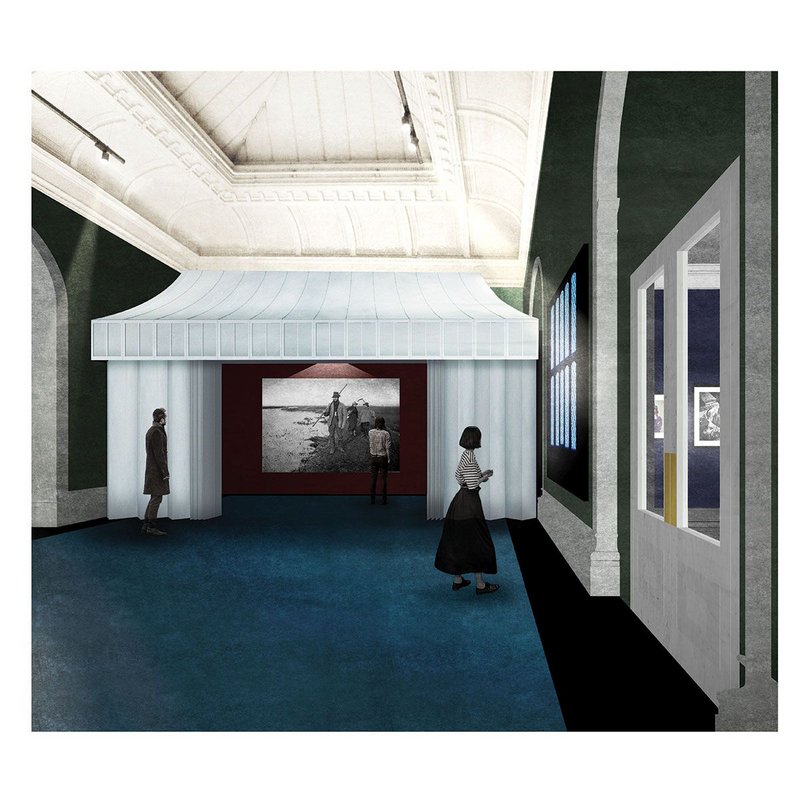 V&A Room 99 by David Kohn Architects.
Culture competition
Quality and quantity of space is also a priority for traditional galleries and museums, but comes with the added challenges presented by precious collections, often equally precious buildings and a need to integrate technologies to help safeguard and display artefacts. 'We have to deal with the interfaces between disciplines, integrating services while being sympathetic to the most visible parts of the project,' says David Kohn, director of David Kohn Architects. The practice is tackling this to create the new V&A Photography Centre in three 19th century picture galleries in the V&A, for a scheduled October opening. The V&A's fragile photography collection needs an environment with precise climate control, 'a project in itself,' says Kohn.
Kohn's design deftly provides new spaces within the old. The architect has drawn on photographic history, and specifically the 19th century tradition of travelling darkrooms, to create the dark tent, a multi-media projection and lecture space within a space, without disrupting the listed architecture. Kohn's modular display cases are easily reconfigured for changing displays. Unusually, the architect is even working with the curators on the fine detail of the centre's first hang. 'An architect is not usually this closely involved in the relationship between the object, the viewer and the space,' he says.
The V&A is just one of a number of big names with projects recently completed or in the pipeline. 'It's important for major museums and galleries to have a high profile, to ensure they attract visitors and donors, and big blockbuster travelling exhibitions,' explains David Hills, partner with Purcell. 'In the international competition to attract exhibitions it is important to have the right facilities.' London's National Gallery is a top destination, consistently welcoming more than 6 million visitors annually. Last year it added an infill extension, designed by Purcell, adding 200m2 of display space and improved circulation routes. Breathing space is just as important as gallery space in the all-round visitor experience, says Hills, allowing for cafés, retail and pop-up displays.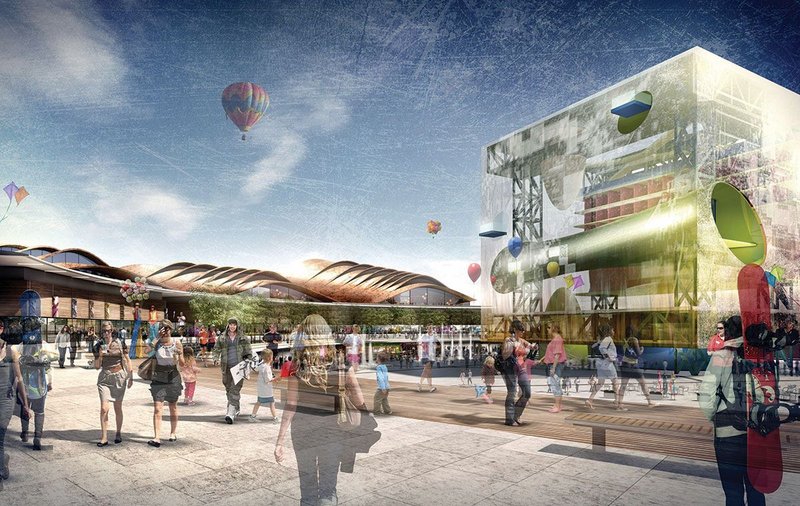 FaulknerBrowns' The Cube houses 20 adventure sports.
The National Gallery continued to operate throughout construction work. Hills says, 'You always have to be sensitive of opening up listed buildings, but here we also had to consider challenges like the potential impact of vibration on walls with priceless works of art behind them.' In the effort to keep the gallery looking its best, the architect is considering its next project, a room refurbishment. The room has some, but not all, of its original Victorian features, and the practice will take its cue from that, says Hills: 'The National Gallery is seen as a venerable institution, so we'll be retaining its 19th century gallery experience. It's true to the building.'
Integration of display technology into such buildings has become easier, with the visitor's own mobile now taking the place of the old push button displays and headsets. 'The digital experience means we are able to do a lot more with less,' says Hills. 'The visitor can download an app onto their own device as a guide. It's now about the artefacts themselves, rather than the high tech lens to see them through.'
Technology has helped cultural experience extend beyond the gallery via apps and websites, but there are other ways of breaking out of museum walls. Purcell is working with Nissen Richards Studio and the Wordsworth Trust on the Re-imagining Wordsworth project, a plan to extend the Wordsworth Museum. As well as physical facilities, the project aims to offer an immersive experience, with a rooftop viewing platform and viewing points connecting visitors to the landscape that inspired the poet.
We work with clients to monetise experience – they can work out what every minute of dwell time is worth
The leisure influence
Traditionally, the leisure sector has been in the business of creating distinctly separate or ideal worlds for us to escape to, but the tables seem to have turned as leisure exerts a growing influence over our everyday environment. Sports centres offer more than space for a Sunday kickabout; they are now key to our health and wellbeing. 'Traditional sports may not have changed, but there is an increasing crossover with education, and with active design. That allows buildings to be intensively used,' says Mike Hall, partner with FaulknerBrowns. The architect's design for the Beacon of Light in Sunder­land epitomises what can be done, with the single building having sports facilities, teaching space, a cookery school promoting healthy eating and a health centre.
The architect has innovated in leisure development with concepts such as the Cube, which houses 20 adventure sports, plus retail and entertainment, in a single shell. It has also long been combining leisure activities in indoor snow and activity centre projects, from Braehead, which was completed some 13 years ago, to the one now planned for Swindon, where snow slopes sit alongside a bowling alley, hotel, retail and restaurants. 'It's all about breaking down the barriers,' says Hall.
Another barrier the architect is breaking down is the old stereotype of the dull suburban leisure centre. Designs for water complexes like those proposed for Coventry and Derby are very different. 'In Coventry leisure is being brought right into the town centre, to a location right next to one of its historic spires,' says Hall. 'And the architecture has to work harder.' In Derby, the design nestles into an undulating landscape and provides flexible spaces.
In a world where leisure is a growing priority in urban regeneration and mixed use development, it's not surprising to learn that the architect's creative thinking is in demand. 'The work we've done developing flexible concepts for sports projects has won us work with commercial developers,' says Paul Rigby, partner with FaulknerBrowns. 'The mono-culture is over. It's unsustainable. Now it's about curating a mix and refreshing it on a regular basis. We can catch people's time.' And to catch people's time is ultimately what every developer, whether they are creating a workspace, apartments or a leisure facility, wants.