Jacksons' Jakoustic Reflective timber barrier system helps balance security and aesthetics at the award-winning Cambridge Central Mosque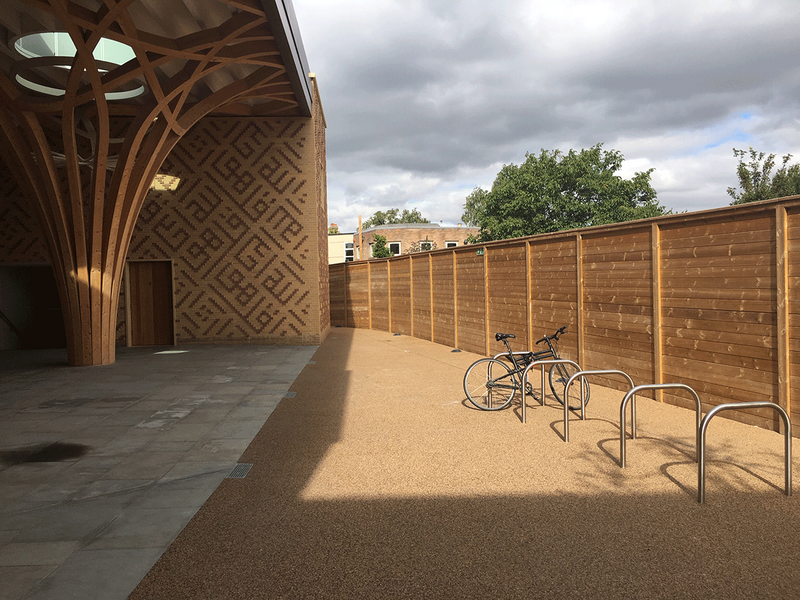 Jacksons' acoustic fencing at Cambridge Central Mosque provides robust security while harmonising with the columns or 'trees' of the interlaced lattice vault structure.
Marks Barfield Architects' Cambridge Central Mosque is a unique prayer space that blends modern and traditional architecture. It has been described as the greenest mosque in Europe and took a decade to build at a cost of £23 million. The mosque can accommodate 1,000 people, enabling the majority of the Muslim community in Cambridge to attend daily services. Previously worshippers had to pray on a rota basis in overcrowded Islamic centres.
The building was conceived with sustainability in mind. It has zero-carbon on-site emissions, rainwater harvesting and rain-source heat pumps. Solar panels supply energy, while large skylights provide year-round natural lighting, supported by low-energy LED bulbs. The entrance and prayer hall contain tree-like structures made from sustainable timber that create a visually stimulating environment and echo the ecological values of the mosque.
Specified: Jacksons Fencing
To remain in keeping with the ecological values of the mosque, the fencing on site needed to have sustainable qualities. To reduce the impact of noise on worshippers and local residents, a secure anti-climb perimeter noise barrier was installed using Jakoustic Reflective acoustic fencing, which blends with the surrounding area. As well as meeting the environmental requirements of the development, the natural timber facade matches the timber structure inside the mosque.
As part of the security plan, Jacksons Fencing supplied crowd loaded Sentry metal railings to ensure safety for large groups of people. Sections of the fencing were cranked to fit onto walls, providing additional height to deter people from climbing.
To match the fencing, Jacksons installed two self-closing gates fitted with secure magnetic locks to provide access control and ensure gates are not accidentally left open. The self-closing timers can be adjusted to ensure there is appropriate access for everyone, reducing the risk of closure during busy times.
Barbican vertical bar fencing - Jacksons' alternative to steel palisade fencing - was also supplied. It has a less intimidating design while providing higher security because there are no bolts or palings to force or remove. EuroGuard Flatform mesh fencing, with its horizontal twin-wire construction and durable anti-climb flat profile, ensures clear access for CCTV cameras.
Government guidelines state that, when planning security around places of worship, the building should be made as accessible as possible. At Cambridge Central Mosque, Jacksons Fencing has helped balance the provision of robust security measures with the need for a welcoming atmosphere.
All timber and steel fencing and gates from Jacksons Fencing are guaranteed for 25 years, keeping long-term maintenance costs low.
For more information and technical support, visit jacksons-security.co.uk
Contact:
0800 408 1341
security@jacksons-fencing.co.uk
---