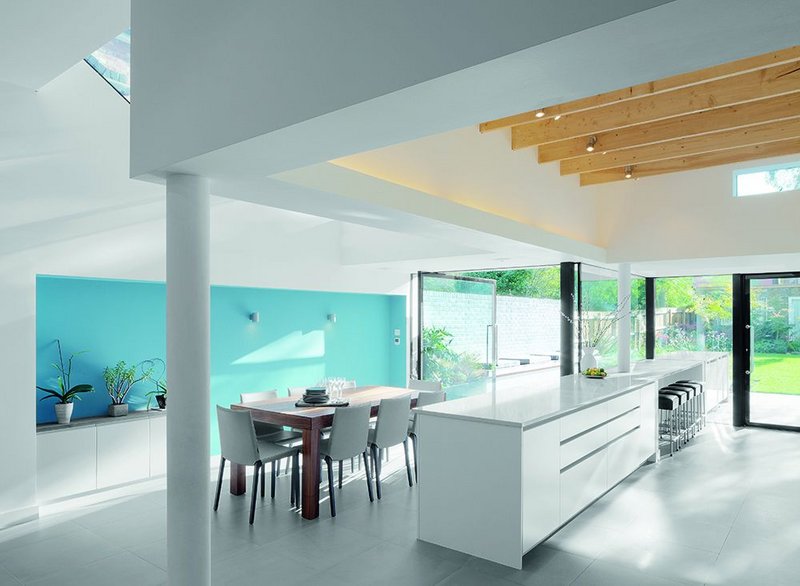 A large steel runs from the rear elevation to an interior column, opening up the internal space
Architect Paul Archer Design has, over time, worked hard on the residential extension, mainly concentrating on high end, bespoke developments. Its recent Klein House in London continues its theme of pulling the inside towards the outside – here shown by an island unit that seems to punch through a glass wall to the patio beyond.
The client wanted piecemeal changes to the whole house and a kitchen/living/dining space big enough for the children to amuse themselves independently while remaining part of a bigger 'family' space. The practice replaced the higgledy piggledy nature of the lower ground with hefty hidden steels running across the elevation and back to the main rear face of the house, interrupting the area with two internal steel columns.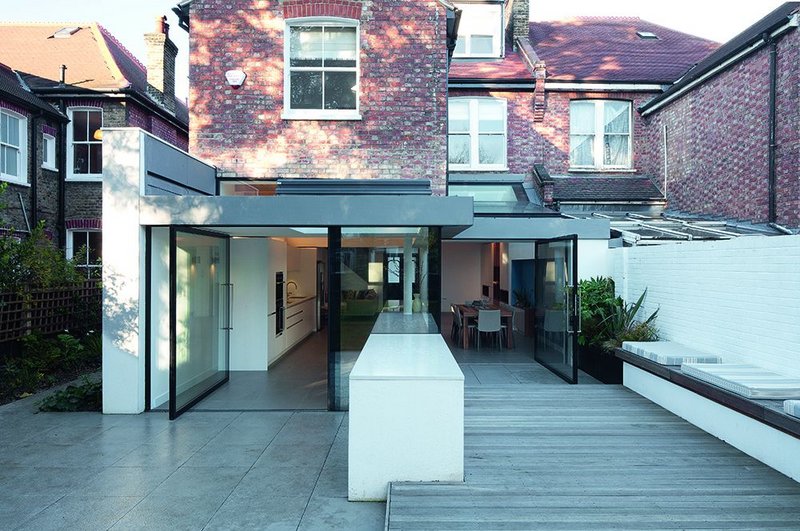 With the pivot doors open, the island bar becomes exactly that
'We wanted to make this large open space stretch even further to the patio, so we designed it to open as much as possible to the outside, even to the point of making internal elements external,' says project architect Elizabeth Partington. 'While the extending island bar creates the main illusion of this, it's helped by the two huge Cantifix 'Pureglaze' pivot doors that open to the garden – which also meant there were no vertical mullions'.
Partington explains that while the kitchen units are standard carcasses, this converts externally to a rendered block work structure. Between the two on the weather line, the glazing runs in an 'L' around this block work frame. 'The worktops actually butt up against a steel frame and the glass sits within that,' explains Partington. The steel then sits on the block wall, but giving the sense of passing through the glass. The base might be different, but the same Quarella stone worktop finish runs from inside to out.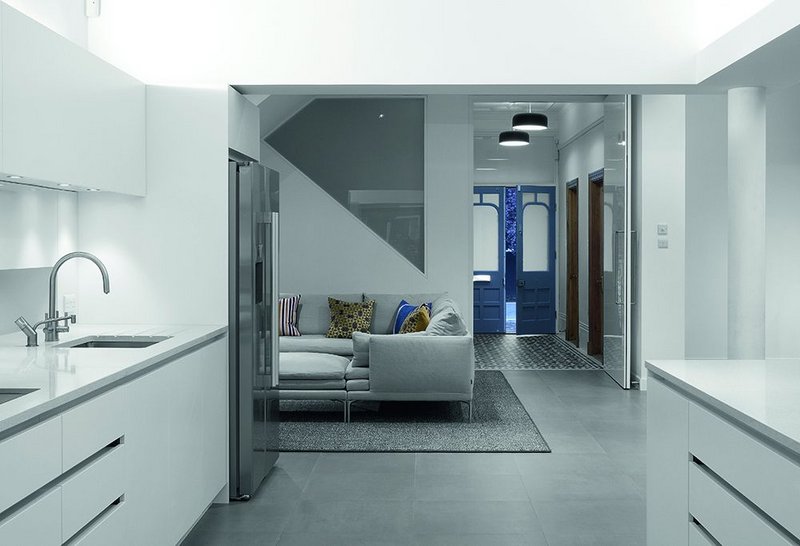 Looking back, highly polished timber doors give a modern feel to the Edwardian main house
Let there be light
Paul Archer Design was keen to ensure that its extension, which created a deeper plan at ground level, didn't create darker spaces. 'The clients were used to a 'sunny spot' at the back of the house where they used to sit and look out at the garden and they wanted us to recreate it in the new extension,' says Partington, hence the use of rooflights.