Individual House Award Winner. Entrant: Hudson Architects

Le Petit Fort is built within a sheltering granite retaining wall, which also encloses a pool courtyard.

Credit: Edmund Sumner
Judges were impressed by the extraordinary nature of Le Petit Fort, a new five bedroom house built within a retained perimeter granite wall on the shore of St Ouen's Bay in west Jersey.

Beach view of the house, with the granite 'keep' rising above the two wings.

Credit: Edmund Sumner
Taking its cues from nearby Napoleonic Martello towers, Second World War fortifications and the slits in the 1920s perimeter wall, the house is conceived in castle terms with only the central 'keep' and first floor visible to passers-by. A new section of wall to the east closes the gap in the other three sides and adds to the fortress-like air. With such an exposed location, Hudson Architects needed a robust glazing solution to achieve its ambitions for opening up the house to the courtyard and the seascape where appropriate.
'We went for Schueco because we thought they were best for an extreme marine environment,' said associate Philip Durban. 'There's nothing between that bit of the beach and America. 'There's also a strange micro-climate effect and a lot of funnelling of wind into the angles of the building, so we had to be particularly confident that the rain wouldn't get in.'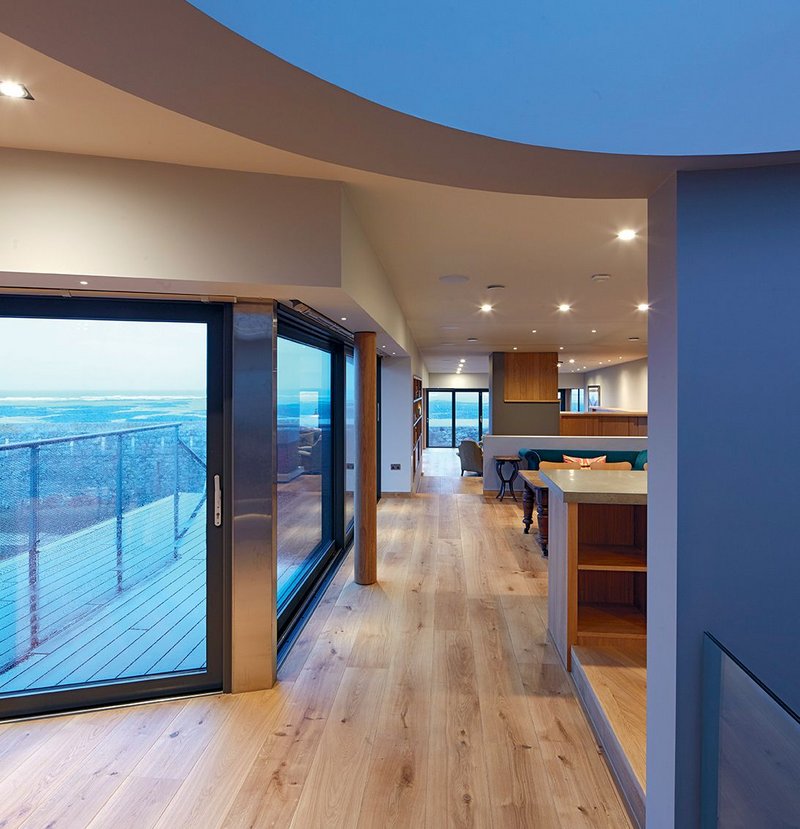 Generous windows maximise the seaside views.

Credit: Edmund Sumner
Le Petit Fort is arranged with two wings radiating from a three-storey granite entrance block. Together these frame a landscaped pool terrace, sheltered garden and entrance forecourt within the enclosure.
The house is built in a combination of Corten panels, polished micro-cement render and Jersey granite, including stone recycled from the farmstead buildings that previously occupied the site.
The materials palette deliberately references the muted natural tones of that part of the island and contrasts with the extensive screen of Schueco glazing.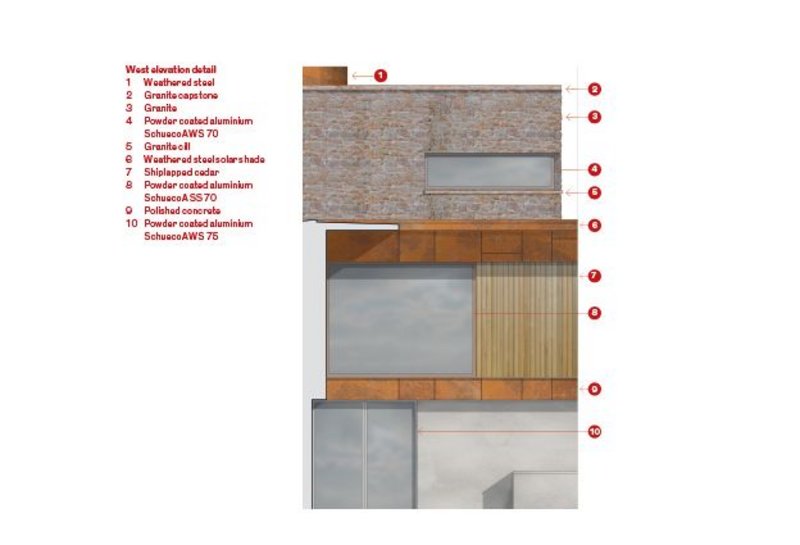 On the ground floor, Schueco AWS 75 full height tilt & turn aluminium windows fulfil the architect's aspiration for the courtyard and house to merge into one
space when required. Schueco ASS 70 sliding doors are used on the first floor where the two wings meet, with Schueco ASS 80 FD bi-folding doors on the first floor balcony facing west and Schueco AWS 70 windows on the second floor.
According to Durban, the ambition was for the building to make a statement, but do so discreetly. Its unusual nature certainly caught the attention of the judges.
'Set within the perimeter wall, it really is such an astonishing thing,' said Hugh Pearman.
---
Client Private
Architect Hudson Architects
Structural engineer Ross Gower Associates
Main contractor Mitchell Construction Group
Specialist contractor Bonam and Berry
---