Accessibility issues with the new Peterloo massacre memorial should have been picked up at planning. Contrast with the humble but powerful Holocaust 'stumbling stones' across Europe
'The past is never dead… it's not even past,' said William Faulkner in Requiem for a Nun. The statement resonates on the 200th anniversary of the Peterloo massacre in Manchester, where last month a memorial was quietly opened to mark an event some say paved the way for parliamentary democracy. Designed as speakers podium by artist Jeremy Deller and Caruso St John, the lack of fanfare was due to complaints by the accessibility lobby about its 11 concentric steps. Manchester City Council says it will modify it, but one wonders why this wasn't picked up before.
A thought that may be on the mind of Amin Taha, who finally won his appeal against Islington Council's demolition order on his 15 Clerkenwell Close development in London, a case plagued by 'missing documents' that the council eventually conceded he had supplied. Apartments and offices stay, with no major change to the quarried stone exo­skeleton.
A planning battle rumbling on involves the £100m UK Holocaust Memorial and Learning Centre near the Houses of Parliament. Won in competition by David Adjaye, Ron Arad and Gustafson Porter + Bowman, vacillation by Westminster planners has meant even London mayor Sadiq Khan has got involved, writing in support of this 'powerful national statement'.
But I'm reminded of artist Gunter Demnig's Stolpersteine or 'stumbling stone' brass cobbles. Inscribed with the names of Holocaust victims and first set in a road in Berlin in 1996, over 70,000 have been laid across 1,200 European sites. This poignant, silent monument falls foul of neither planning nor accessibility.
---
SIGN OFF
Jan-Carlos Kucharek enjoys three stand-outs from the inbox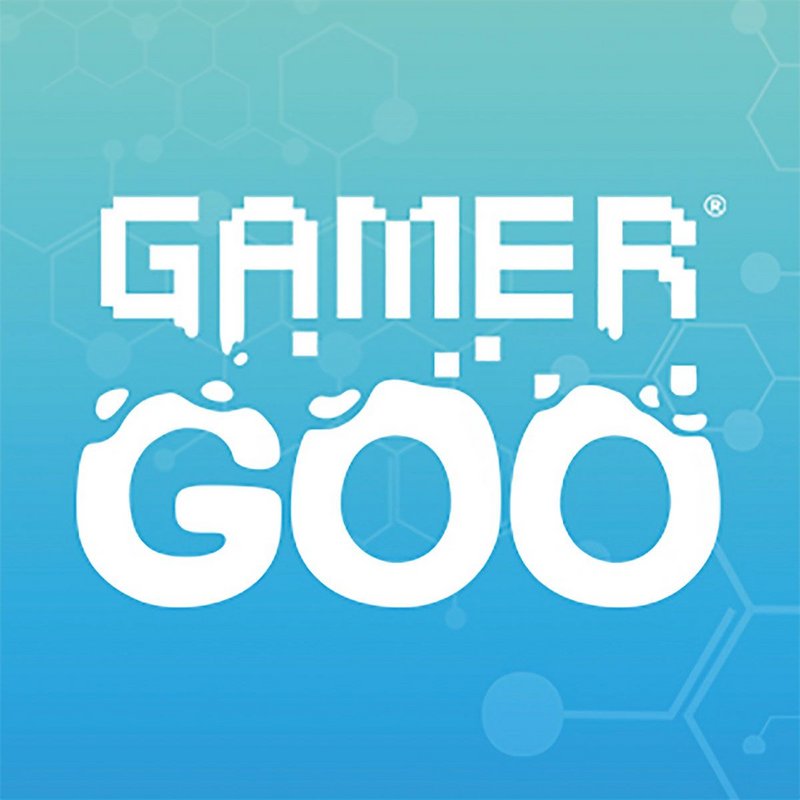 Gamer Goo logo.

Credit: Gamer Goo
LOOK MUM NO HANDS
Companies wary of employee working conditions might learn from the gaming world and specify 'Gamer Goo' for its high-flying 3D visualisers. This 'specially formulated gaming lotion' helps deal with the 'debilitating symptoms which can result from intense gaming, namely a rapid build up of sweat'. For Gamer Goo keeps hands dry, cool and sweat-free and 'one step ahead of the competition'. So, next time your staff are burning the candle at both ends trying to get that competition entry in, get the Goo out. Teen UK gamer Jaden Ashman, who recently bagged $1m at the Fortnite World Championships, didn't win it with sticky fingers!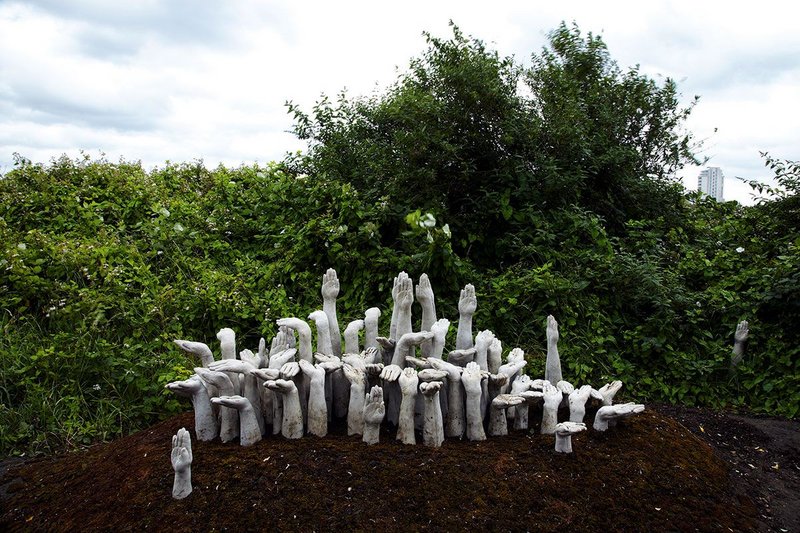 Zombie Bench by George King Architects.

Credit: Anna Stathaki
SHOP TILL YOU DROP
As PiP lands on desks, it's the deadline for the London Festival of Architecture's Pews and Perches competition, run with London's Royal Docks Team. The comp offers £1,500 to design and build 'a fun and creative place to sit, rest and play', to be sited in Docklands. Past winner George King won with his cheeky Zombie Bench, in which a load of plaster cast hands re-enact en masse the last shocking scene from the Carrie movie starring Sissy Spacek. Anyone wandering Canary Wharf's shopping mall at any time of day might be forgiven for thinking of George A Romero's Dawn of the Dead, but this smacks more of sassy space plan than Sissy Spacek.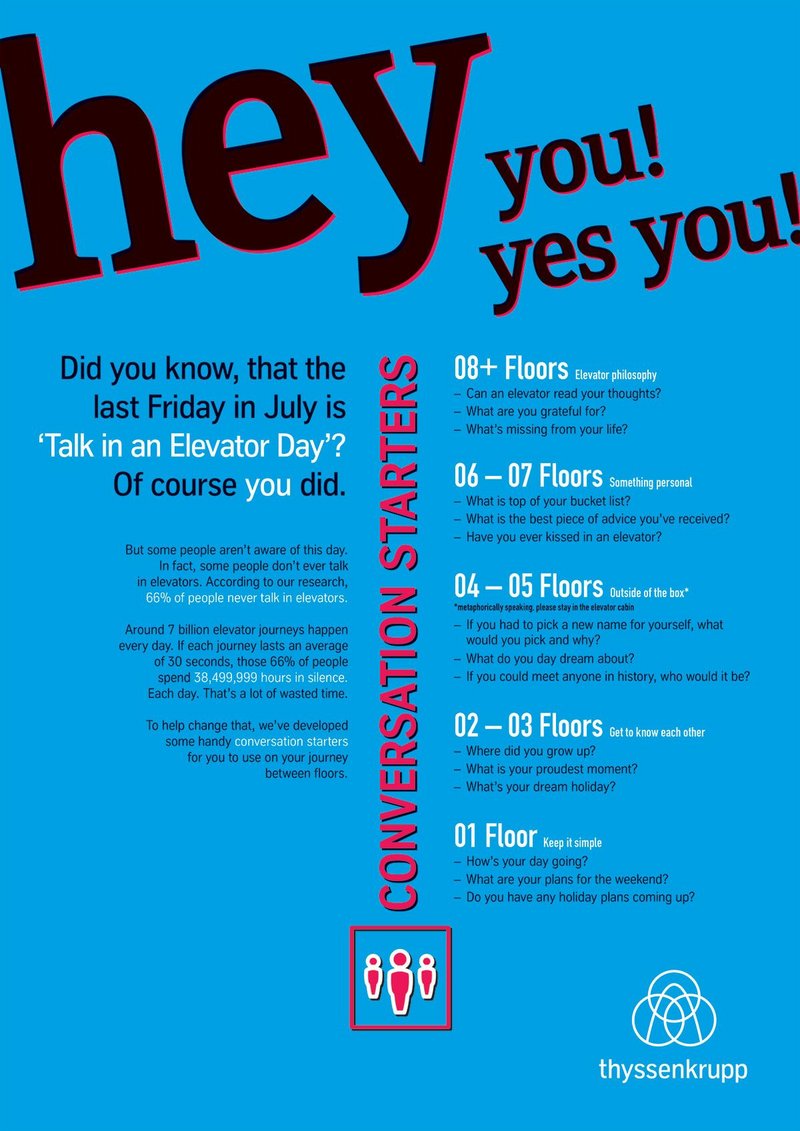 Thyssenkrupp's 'Elevator Conversation Starter Guide'.

Credit: Thyssenkrupp
WELL, THIS IS AWKWARD…
German elevator company Thyssenkrupp has learned a thing or two from Willy Wonka – or maybe not. Inspired by his Great Glass Elevator when it researched its Willy Wonka 'Multi' lift, which moves horizontally as well as vertically, the firm fell short of the heady marketing heights that was his 'Golden Tickets' idea. Instead, in July it claimed the 26th as 'Talk in an elevator day', even producing an Elevator Conversation Starter Guide, which the PR suggested be displayed in lifts. 'We can break the silence,' said the release; though gluttonous ticket holder Augustus Gloop would have a more direct way of doing just that.