Siniat has supported the development of a bespoke drylining system for Ysgol Bae Baglan, a pioneering new £40m 'through school' designed by Stride Treglown in Port Talbot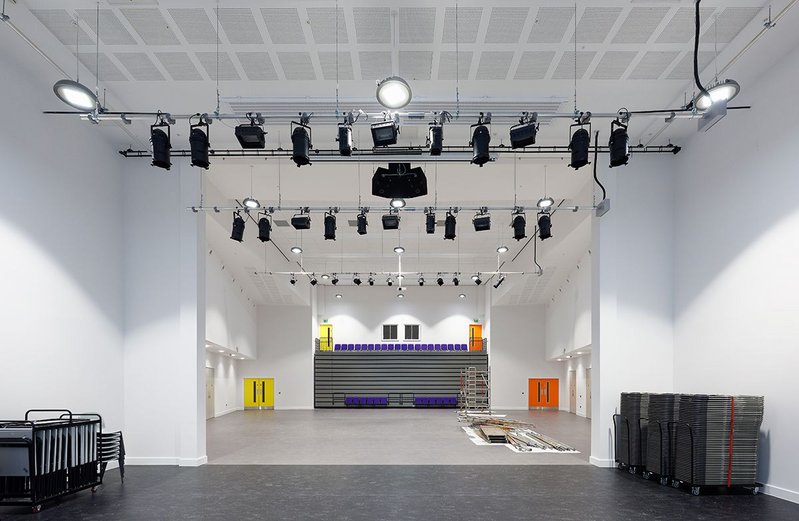 Ysgol Bae Baglan is a landmark project for the Welsh education sector. The single biggest investment in schooling infrastructure in Neath Port Talbot's history, the £40 million project has created a new 'through school' in the Sandfields area of the town – a unique education model providing seamless schooling from ages three to 16. It combines four existing schools – three secondary, one primary – to house up to 1,500 pupils in a single school.
Working closely with the main contractor, Bouygues UK, drylining contractor Richard Kemble Contracts, and the project's architect, Stride Treglown, Siniat developed a bespoke, high-performance drylining system that would meet the school's unique needs and provide the best technical solutions for the build.
In addition to replacing four existing schools, Ysgol Bae Baglan will be an important community asset. Local residents will have access to performance spaces, meeting rooms, conference and recreation facilities outside school hours which, on top of normal school activity, means Ysgol Bae Baglan will need to cope with extremely high levels of traffic and circulation.
With this in mind, Stride Treglown designed double-height lobby and atrium areas to help manage the flow of people through the facility while still creating an open, inviting environment.
In some cases, these areas are more than 8m high. Standard gauge studs cannot safely span this height and provide the stability needed for partition framing systems. The solution to this came in the form of a Siniat GTEC metal stud partition system featuring 146mm wide, 1.2mm gauge C studs.
Siniat's technical specification manager, Chris Norris, explains: 'The structural studs we specified can provide support for partitions up to 8.8m high. They were fixed at 600mm centres, with an outer layer of Siniat's 15mm GTEC Megadeco board applied to each side of the partition system. This provided high fire and impact resistance for the atrium areas, while also achieving an on-site acoustic performance of DnTw 42dB.'
A number of the atrium walls are curved; partly for aesthetic reasons, but also to improve safety by removing sharp corners and edges. This can present challenges for specifiers and installers, as specialist fixings are required to prevent rigid plasterboards from springing out of curved shapes. In those instances, Siniat specified GTEC Flex Track, a floor and ceiling track that allows easy construction of curved partitions. GTEC Megadeco boards were then laid horizontally and fixed at closer centres than normal – around 300mm – to maintain the boards' curved shape.
Sound design
As part of the project, good acoustics were also a vital area of consideration. Phil Grant, senior associate at Stride Treglown, says: 'Children need to be able to hear clearly from all parts of a room to aid the teaching process. This was particularly important when designing Ysgol Bae Baglan's classrooms, as the school will also have a high number of pupils with special educational needs.'
According to Matthew Kemble, director at Richard Kemble Contracts, the drylining system was critical to achieving a high standard of acoustic performance: 'We installed Siniat's GTEC metal furring suspended ceiling system in the classrooms, using GTEC Pregybel – a perforated plasterboard that reduces reverberation noise and echo by absorbing sound waves. The acoustics in the classroom spaces are now much better than you'd find with a traditional plasterboard suspended ceiling system.'
Kemble concludes: 'By working closely with Siniat throughout the project, we were able to construct a high-performing drylining system that meets the requirements of this unique and specialist teaching environment, ensuring it remains at the heart of the local community for many years to come.'
For more information and technical support visit: www.siniat.co.uk
Contact:
Susie Smallridge
01275 377467
---