Demand keeps rising for active leisure facilities, but the modern pleasure dome performs other functions too. And they're complex beasts to build
Fun can be a serious business. In the 1930s, the 9th Earl De La Warr, mayor of Bexhill, spoke of promoting the 'growth, prosperity and greater culture' of his town with what would become the landmark pavilion. Today, public and private sector clients are looking to activities from archery to zorbing to produce business profit, push regeneration, plug gaps left by retail decline and deliver other benefits for places and people.
Nigel Costain, senior director at property consultant CBRE, talks of 'curating leisure time' with varied experiences. In a town centre, for example, there need to be multiple reasons to visit, he explains, 'So you have a series of leisure mini-anchors, rather than the old anchor store, to create a leisure day out.' This can help leisure schemes break free of old 'big box' constraints and out-of-town locations, but it means more complicated projects, where buildings have to be planned with an eye to the future.
Snow business
When the UK's first indoor ski slope with real snow was being planned in Milton Keynes, retail had to be incorporated to help de-risk a pioneering project and a contingency plan to convert slopes to terraces of tennis courts was drawn up, recalls Russ Davenport, partner with FaulknerBrowns. 'We came up with a plan to replace slopes with stepped terraces of tennis courts,' he explains. Two decades on, Xscape's Snozone has attracted two million visitors, and a sixth UK centre is in planning in Middlesbrough.
Retail remains in the mix, with other activities, restaurants and cafes, creating leisure destinations. Subzero's planned centre in Middlesbrough is intended to help drive regeneration at Middlehaven. But while the number of centres is rising, the ski slope itself may have reached its size limit, Davenport says. 'It is unlikely that in the UK we'll see ski slopes go beyond 200m in length, which puts the slope 50m in the air,' he explains. 'For every metre longer beyond that, there is a massive on-cost.'
Commercial limitations in size and use of ski slopes are prompting developers to set their sights on snow play – with elements like slides, tobogganing and zorbing – which has broader audience appeal. 'It's more flexible and profitable,' says Davenport. Swindon's North Star Village, being developed by Seven Capital, will have the UK's largest snow play area – set bet­ween an approximate V formed by a nursery slope and 160m main slope. The play area will have a flat floor with features built onto it, which can be replaced easily as trends change.
Within the snow centre, space is typically around 75%/25% 'cold'/'warm', with the ­latter comprising snow-side restaurants, changing rooms and other services. The interface bet­ween the two has to be limited for energy ­efficiency, with triple glazed windows at lower levels providing glimpses to tempt in punters. Snow operators generally want to limit public views into their facilities to preserve commercial exclusivity, but spectating is increasingly important too, points out Davenport. 'We are generally finding that five, six or seven people will come to watch for every one person who takes part.' As a result, part of North Star's mall circulation space will look onto the snow action.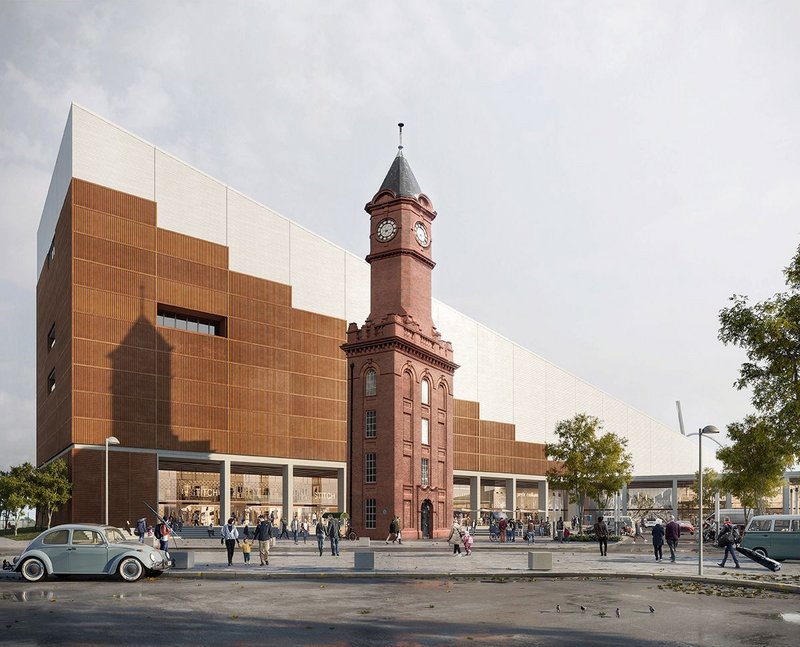 FaulknerBrowns' Middlesbrough Snow Centre proposal.
There are challenges to designing for snow. Doors and fire escapes linking to the cold side require trace heating around them to ensure they don't freeze shut. 'It's like a home freezer in that it doesn't require a lot of energy,'says Davenport. 'But a cold bridge or a leak in wall panels can present a huge problem, so we have to make the cold side as sealed as possible.' Insulated cladding panels connect and lock to keep out water which could freeze and ultimately cause panels to blow. 'Manufacturers will only guarantee their systems if they are used flat, so that affects the shape of the slope in plan and elevation,' says Davenport.
There is only so much you can do with a giant ski slope, unless you are building it on a hill, he adds. 'It is hard to make it anything other than a box. The architecture becomes fairly pragmatic' – and cladding such a massive area often means relatively cost-effective materials are used. Swindon's centre will have a brick plinth, in a nod to its location's rail heritage, with industrial style cladding above, while the Middlesbrough design uses Corten steel.
Skateboarding for social purpose
Skateboarding is coming to Folkestone town centre and, in a world first, will have its own purpose-designed, multi-storey building. The F51 skatepark is being developed by The Roger De Haan Charitable Trust, founded by businessman Roger De Haan, which has invested in other projects in the town.
The skatepark began as a plan to develop a multi-storey car park. But De Haan and architect Guy Hollaway got talking, and the urban sports centre is now under construction. Hollaway says his response to the brief was, 'Cool. Let's do it,' but defining 'it' has been more of a challenge, and the building's design has had to evolve during delivery. 'We're almost inventing a new building type architecturally,' Hollaway says. 'It's without doubt one of the most technically challenging buildings we've worked on because it has never been done before and there's a huge amount of concrete in the air.'
F51, which has a lozenge-shaped footprint, combines café/bar, function room, boxing gym and bouldering room with a climbing wall and three skate floors. At first floor are the centre's concrete bowls: the pool bowl, extending to 2.5m deep, which is modelled on the California swimming pools where skateboarding originated, and a more modern style bowl, 1.65m at its deepest. Above that the construction is lighter weight timber, with a street level, where skateboarders can test their skills on steps and rails. A flow floor at the top has undulations of up to 1m and features such as waterfalls.
The park will cater for hobby skateboarders and BMX bike riders as well as serious competitions, with space for hundreds of spectators. Experts Maverick Skateparks and The Bartlett's Iain Borden are helping ensure users won't be disappointed. 'When I was a kid, I tried skating, got my wheels stuck on a drain and that was it,' says Hollaway. His hope that the building could be designed to allow people to skate the 5m between its floors came a similar cropper, ruled out by experts on safety grounds.
Hollaway says Borden's guidance was invaluable in marrying skateboarding and architecture: 'There's a fine line between making something cool and making it regularised.' The design is urban and honest, so people in the café will see the exposed underside of the bowls and hear the skateboard wheels. Hollaway says, 'It'll be like being under the belly of a sumo wrestler.'
Like the car park it could have been, the building is unheated and designed for ultra- low maintenance. Above the glazed ground floor exterior, it is wrapped in anodised metal mesh, which helps protect skateboarders – and the concrete bowls – from sea mists and rain. The bowls were made on site using sprayed concrete, with pre-formed polystyrene blocks to shape the curves. Maverick adds the finishing layer to make the surface skateboarding-ready.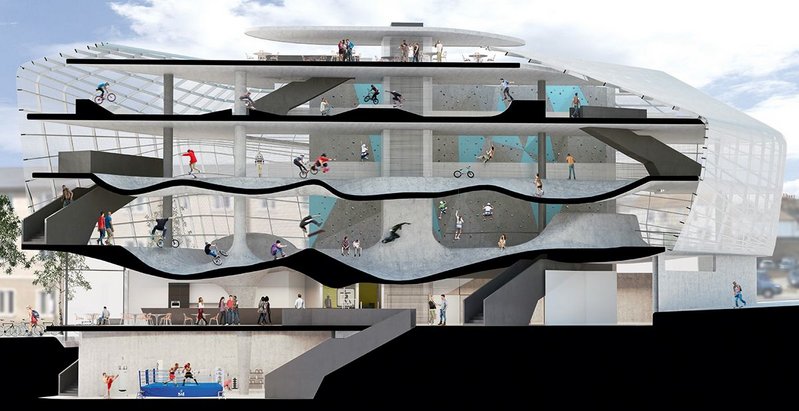 Guy Hollaway Architects' F51 skate centre in Folkestone where undulating floors are par for the course.

Credit: Guy Hollaway architects
The centre has caught attention in the USA, not least from skateboarding guru Tony Hawk, but UK imitators look unlikely yet. 'It's a bit of a one-off, and has a wider social purpose,' says Hollaway. Although a big budget project, F51 will be accessible to users for a £1 membership fee. This project, like others by the trust, is intended to help make Folkestone a better place to grow up and foster positive childhood memories, so young people that move away in search of opportunities want to return when they start their own families. As such, it's part of a bigger investment in generational regeneration.
From leisure centre to community hub
Local authorities not only have social and business imperatives for driving leisure development, many also have ageing existing facilities. 'A lot of the old 1960s leisure centres are no longer fit for purpose, and are being replaced with centres that place a much stronger emphasis on health and wellbeing,' says Karle Burford, director of AHR.
On the inside, the focus is now on flexible exercise spaces, soft play and rectangular fitness pools, which maximise potential for use and revenue. 'Local authority clients generally seek a tight and efficient design, which is sustainable to run and provides multifunctionality to enable them to make the most of the spaces,' says Burford. Its Places Leisure Eastleigh, a centre developed by Eastleigh Borough Council, has glazed elevations that flood the swimming pool and sports hall with daylight, as part of its BREEAM Excellent design. The centre is vast, including an eight-lane swimming pool, 15 badminton courts, all weather pitches and soft play area, but its transparency throughout connects it to its parkland setting.
While in the past centres looked inward, their new replacements are designed to be welcoming. 'These buildings are becoming increasingly important elements of larger community hubs,' says Burford, 'and need to attract and cater for people of all ages and abilities.' The practice's refurbishment and extension of the 1960s-built Keynsham Leisure Centre, for Bath and North East Somerset Council (BANES), is being accompanied by the transformation of former council offices above the swimming pool to homes by BANES' Aequus housing company. Redevelopment gives connectivity to the town centre, while embracing surrounding green spaces. Alongside, there are new council offices, a library, multi-service centre and market square, also designed by AHR.
In nearby Chard, the architect is working up plans that could see leisure moved from out-of-town box to the town centre, as part of another larger-scale regeneration. Bringing the large volumes and flexible spaces of today's leisure uses into tight urban sites, and presenting a friendly face, can demand stacking and well-considered use of space. 'The Chard project will be complex,' Burford acknowledges, 'but the mixed-use community scheme is important as a catalyst for regeneration. These projects provide public value and put the civic heart back into towns.'