Cinemas and gyms are stepping in to fill the gap left in high streets and malls by increasingly redundant shops. Mixed use schemes are the name of the game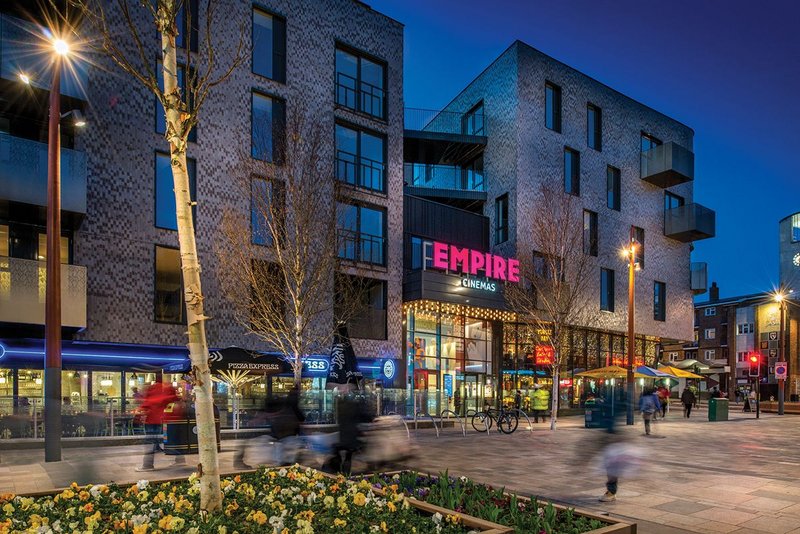 PTE Architects' The Scene in Walthamstow, combining mixed-use residential with an anchor cinema, helps reverse the recent trend for out-of-centre leisure.

Credit: Simon Harvey photography
The best place to find status, identity, meaning, and happiness is in experiences,' wrote James Wallman in Stuffocation: Living more with less. It's a theory that has been backed by research carried out by US universities including Cornell and San Francisco State, which have reported that people buying experiences derive a greater sense of wellbeing than those buying things.
Rightly or wrongly, we seem to have taken the message to heart. Property consultant Cushman & Wakefield's latest report on the UK food and beverage market notes that since 2014 the market for eating out has consistently grown faster than the market for the food and non-alcoholic drinks we enjoy at home. Healthy levels of consumer spend on leisure and the decline in traditional in-store retailing have driven a shift in our high streets and shopping centres. Coffee shops, restaurants and trampolining centres are taking the place of clothes stores, shoe shops and bookshops, while developers are now increasingly having to look to cinemas rather than big retail names to take on the anchor tenant role in new schemes. Food and drink alone now accounts for more than 20% of retail and leisure units across the UK, Cushman & Wakefield points out.
Even temples to out of town shopping, such as Sheffield's 230-store Meadowhall and The Mall at Bristol's Cribbs Causeway, are set to increase their leisure offer. Developer British Land, which owns Meadowhall, is aiming to double the amount of leisure space across its overall retail portfolio.
'Regionally, our share of leisure space has been low compared with our competitors,' says Alice Keown, F&B asset manager with British Land. 'Not long ago the figure was sub 5%; we've now hit double digits, and the aim is to get to 15% in two to three years.' For towns, cities and shopping centres in need of regeneration, leisure can therefore be a prime route to revival. But success depends on the extent to which consumers are willing and able to part with their cash for the experiences a location has to offer.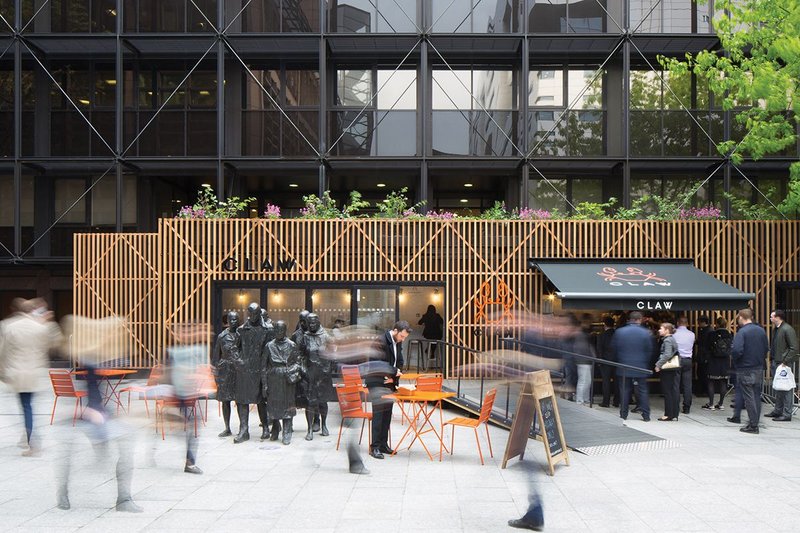 Pop-up culinary units, such as this one at London's Broadgate, are popular with local workers in commercial zones.

Credit: Brendan Bell
Out of the box
Modern leisure development has become synonymous with a cinema coupled with familiar restaurant names, such as Frankie & Benny's and Chiquito, all housed in a big box on the edge of town. Bringing leisure back into urban centres and combining it with retail and residential in mixed use development can make business sense, says Matt Ashman, partner, leisure and restaurants, at Cushman & Wakefield. 'The traditional cinema with five restaurants has not driven all day trade. By incorporating a range of uses, with cultural spaces or gyms, developments can drive users at different times of the day, so that there is steady trade.'
Now that we don't need to go to town and city centres to shop, we are looking to them for leisure, and their potential to offer the convenience of working, living and a range of other pursuits suits our time-poor lives, adds Ashman. 'We are seeing a turn back to the high street as an experience. People are choosing where to shop based on what they are going to eat.'
Bringing leisure development into the high street and urban centre, often as part of mixed use schemes, changes not only the offer but also the design proposition. 'Architecture is important,' says Ashman. 'You've got to tell the story of a neighbourhood, and not a unit.' That presents opportunities for architects, adds Teresa Borsuk, senior partner of architect Pollard Thomas Edwards (PTE). 'It requires smart thinking to combine uses – there are challenges to overcome at many levels.
'Cinemas pose challenges in structure, sound and services,' she adds. 'Cinema operators don't want anything to penetrate the box. But we've never found a use that can't be mixed.'
PTE created Walthamstow's the Scene, a scheme that combines cinema, restaurants and homes. While cinemas are generally separated from residential, the Scene's is buried in the centre of its site and wrapped in homes and restaurants. A private garden on top of the cinema gives residents a sanctuary from the bustle, while filmgoers can gather in a quasi-public space in front of the cinema entrance.
'At Walthamstow the driver was to bring homes into the centre of town to be able to sustain a night time economy. Waltham Forest needed a vibrant place,' explains Borsuk. 'Of all the regeneration projects I've done, that has had the quickest effect – it had the critical mass of people from day one.' Since then, Waltham Forest Council has progressed development on sites nearby.
The public-private sector partnership behind Rochdale town centre's proposed leisure and retail regeneration will be hoping its scheme has a similar impact. It combines a six-screen cinema, other leisure, retail, library and a transport interchange. 'It pulls together every strand in the town centre,' says Chris Wieszczycki, principal director of scheme architect, tp bennett. The design, with its gold-fronted cinema, expresses pride in its community, says Wieszczycki, but he adds that such schemes are often not about creating an architectural statement. 'You have to put the customer first – it's all about what brings people in.'
That calls for a focus on placemaking, he continues. 'There can be a format approach to leisure but a successful destination needs more. Successful destinations are places that people want to go to, not necessarily with a purpose in mind. You might go to Covent Garden, take a stroll, eat and shop. The whole experience is important.' Some projects, like the architect's town centre regeneration in Hounslow, west London, start from looking at what a location lacks, and so needs to make it a place. 'In Hounslow town centre, there was nowhere to meet and congregate. People needed a square where they could gather,' Wieszczycki points out.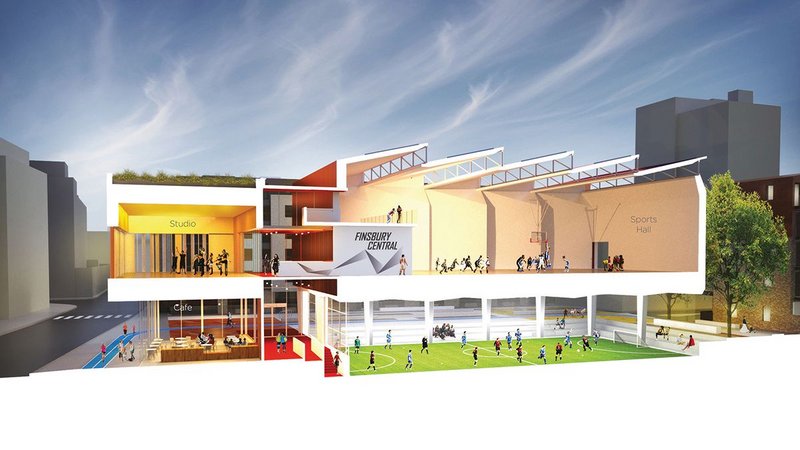 PTE'S Finsbury Central; health, childcare and sports facilities in inner-city Islington.
Another coffee?
Such moves may breathe much needed new life into some towns, cities and shopping centres, but British Land's Keown warns that they are unlikely to provide salvation for all: 'We're seeing a widening gap between primary and secondary locations – and expect secondary locations to continue to see decline,' she explains.
As consumer spending on leisure is discretionary, there are also inevitably concerns about the sector's resilience through economic uncertainty. An analysis of leisure activity in the first quarter of 2017, by business advisory firm Deloitte, found some signs of slow down. Cushman & Wakefield's Ashman, however, points out that when it comes to eating out the UK still has some way to go to match the US, where restaurant sales last year overtook grocery sales. A survey by the property consultant suggests that the UK will see more than 1,400 new food and beverage outlets created this year and 1,500 next to continue to feed our appetites. If the economic climate does worsen, it seems that we may still be looking for experience, even if it is only a flat white.
---
Occupier mash-up
Leisure used to be about cinemas, bowling alleys and a familiar favourite restaurant. Now consumers are more demanding and developers and operators are evolving their offer:
The same merging of activities that is seeing work, rest and play converge in co-working and co-living spaces, is producing alternative mixed schemes, such as in health and wellbeing. The new Finsbury Leisure Centre in Islington, for example, will combine homes with health, childcare and sports facilities. 'Leisure and health can go together very well, says PTE's Borsuk, whose practice is working on the project. In the US, fitness business Life Time is taking anchor space in retail malls for large-scale centres combining fitness with health and wellbeing services. It is opening its first such centre in Houston's Galleria this summer and has four mall centres in the pipeline.
Pop-ups: Around and between buildings open spaces are becoming increasingly important for pop-up uses. 'Of our 50 regional shopping destinations, only five are covered, so they are good for that,' says British Land's Keown. 'It's a good way of putting the community at the heart of a scheme.' The developer is testing pop-up street food in shipping container units at Broadgate while construction work is in progress at 1 Finsbury Avenue, and its Eat from the Streets initiative takes street food to regional centres using a Routemaster bus.
Competitive socialising: Table tennis and crazy golf used to be the stuff of seaside holiday resorts and council recreation grounds, but they are now found in indoor centres from London to Manchester. Centres offering these activities, termed competitive socialising, combine play with food and drink and are designed to appeal to university students and millennials.