B+R Architects and Elliot Wood test drive Virtual Reality igloo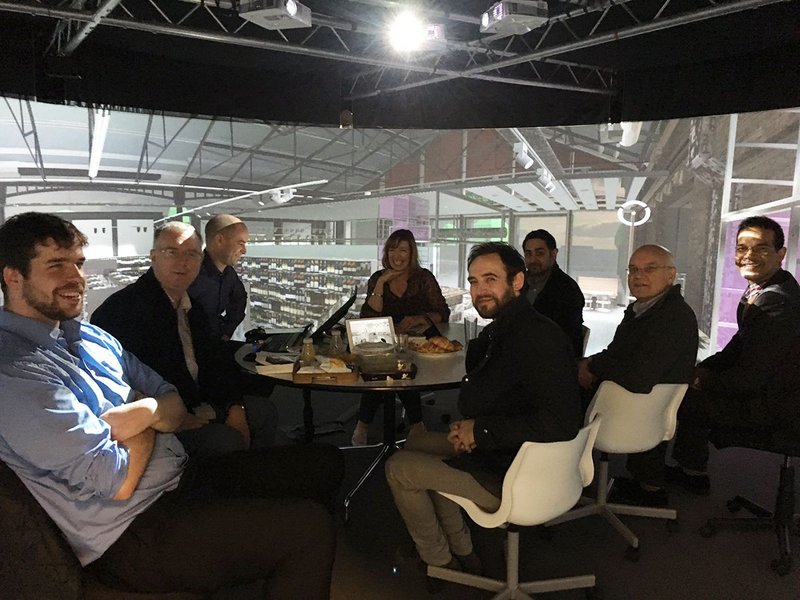 Engineer Elliot Wood has installed a 6m diameter, 360° visualisation cylinder in the reception of its London office to investigate the potential of VR for the practice.
Working in collaboration with B+R Architects and VR dome manufacturer Igloo Vision, the engineer has been using the cylinder to fully immerse design teams, clients and the occasional journalist in a building model.
Using the Unity gaming engine it is possible to virtually 'walk' around a building – I was passed the Xbox 360 controller to navigate around B+R's design for a Waitrose that has now been built in the Midland Goods Shed at Kings Cross.
While the potential impact of VR on the built environment has been talked up a lot in recent years, the technology has still yet to be widely adopted by architects and engineers. Steve Faulkner, associate director at Elliott Wood, told me this is about to change as BIM becomes commonplace and clients begin to engage with and understand the benefits of VR.
'Over the past six months, probably prompted by the Level 2 mandate in April, we have seen far more engagement with BIM from our clients,' he says. 'Traditional model reviewing tools do not encourage exploration of space, form or aesthetics – the human elements of a project ­– so when we found we could house a cylinder in the office, we saw it as a massive opportunity to show some of our clients how BIM and VR could help them to understand and engage with their projects.'
B+R Architects has used VR on a number of projects in the office over the last six to eight months and Huw Rees, managing director of the practice, believes it has completely changed the way architects engage with emerging design proposals.
'As soon as we are in the BIM environment, usually RIBA work stage 2, we can virtually begin to explore the design,' he says. 'VR encourages the exploration of space, form and aesthetics from a very human perspective and allows us to uniquely review design proposals and make very educated decisions during the iterative design cycle of a project.'
Both Rees and Faulkner agree that these immersive VR spaces will become commonplace in the offices of architects, engineers and contractors within a few years. B+R is already investigating purchasing a VR cylinder.
Rees continues: 'With BIM reaching a level of maturity and VR entering the mainstream of society, more clients and designers are requesting VR outputs for projects. We have been looking at the business case of having an Igloo in our office over the past four months and this event has really cemented the advantages it will give us as an architectural practice.
'Yes it takes space, but the igloo can also double up as a permanent meeting room in our offices so the return on investment is not difficult to justify. We plan to talk to Igloo about a permanent installation so we can really use the complete VR toolkit on projects.'
Elliot Wood also wants to permanently install a cylinder, although there are several practical issues to navigate, as Faulkner explains: 'To get the maximum benefit of an Igloo cylinder, the minimum diameter is around 6m, which may mean having one insitu is unviable for a lot of businesses. Indeed our London office is fairly large and open plan, but as the Igloo only fitted in one location we had to move seven engineering desks, our waiting area and reception desk.
'However,' he continues, 'to quote one of our clients: "Surely the cylinder is more valuable than your reception?" We are therefore exploring options of how we can accommodate one in our central London office.'
---