A giant, wind powered kaleidoscope is giving an abandoned lighthouse a final lease of life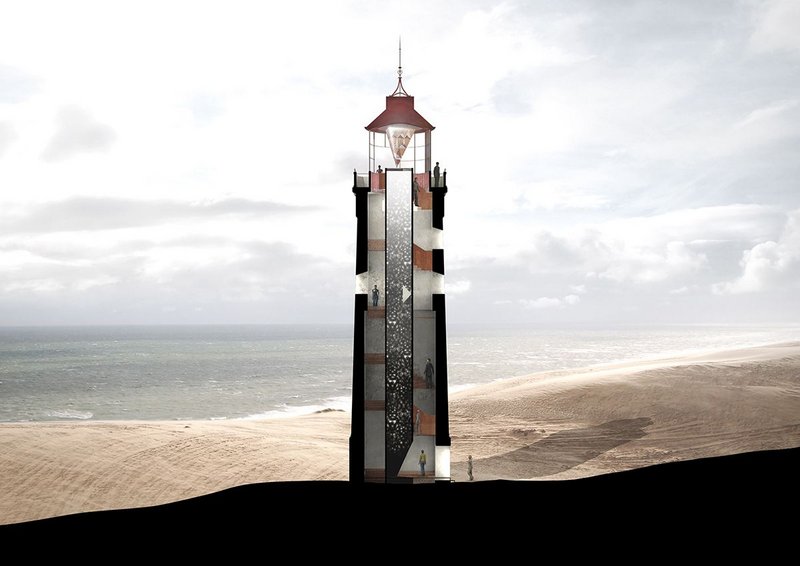 Conceptual drawing
An abandoned lighthouse, poised on the edge of a rapidly eroding cliff in a shifting landscape of sand dunes, is the precarious setting for an innovative public artwork designed by two Danish architects.
Rubjerg Knude Lighthouse, in Jutland, northern Denmark, has had its insides replaced with a gigantic wind-powered kaleidoscope that rotates to create a constantly changing cascade of colours and glimpses of the sea and surrounding wilderness.
Conceived by Jaja Architects and Bessards' Studio, the artwork is constructed in steel and doubles up as structural support for a scenographic stairway, treating visitors to a sequence of architectural experiences as they ascend.
The project is one of 10 architectural interventions commissioned as part of a nationwide initiative to open up the most unusual and remarkable areas of the Danish landscape to the public.
Jan Yoshiyuki Tanaka, partner and architect at Jaja Architects, told RIBAJ: 'The tower is the only static presence in a place where nature has free reign, where storms pound the coast and there are massive movements of sand. We wanted to express the wind, in combination with the functional aspects of a lighthouse, which is essentially just a machine that sends out light to seafarers.'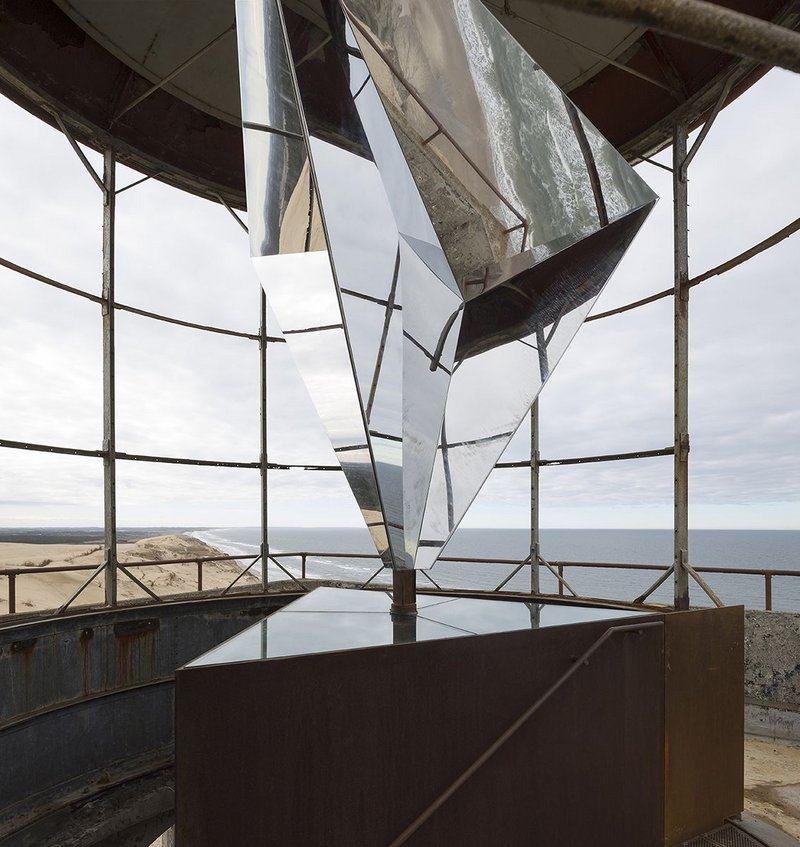 Rubjerg Knude Lighthouse – prism.
Rubjerg Knude was the first lighthouse in Denmark to be driven by a diesel engine, and ever since its completion in 1900 has struggled with the extreme movement of sand. In 1968, an enormous sand dune devoured support buildings on the site, leaving the tower as the only remaining structure.
'I was there eight years ago and the giant dune was on the ocean side of the lighthouse. But today it is split around the tower as a result of wind turbulence. Every time you visit, the landscape is different,' says Tanaka.
Since the stair had become too dangerous to climb, the brief was to replace it in a way that would emphasise the special characteristics of the site, without making any changes outside the building.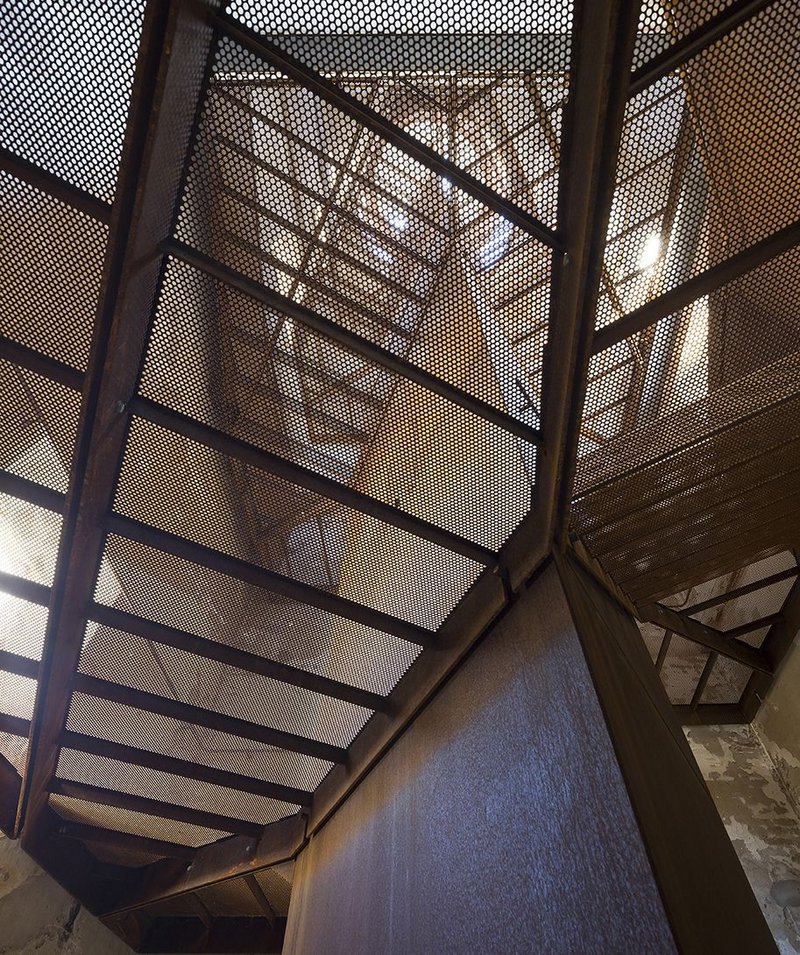 Rubjerg Knude Lighthouse - transparent stair
The triangular kaleidoscope and perforated/transparent stair run the full height of the tower and twist up against the square geometry of the walls, creating a series of internal viewing platforms.
The artwork was constructed entirely in steel – variously rusted, mirror-polished, bent, perforated and welded to create a visual and tactile experience. The material will age in response to the weather, gradually merging the kaleidoscope with the historic building.
Nobody knows for sure when the lighthouse will be taken by the sea. Geological surveys predict anything from two to 15 years. When it does happen, the artwork will be disassembled and lifted out by crane through the top of the tower, thanks to a special demountable construction system.
'Due to its popularity as a tourist attraction, the plan is to take down the installation and either re-erect it somewhere else, or recycle it. When the lighthouse is gone, at least its insides will have an afterlife,' says Tanaka.
---