New entrance building transforms Loughborough College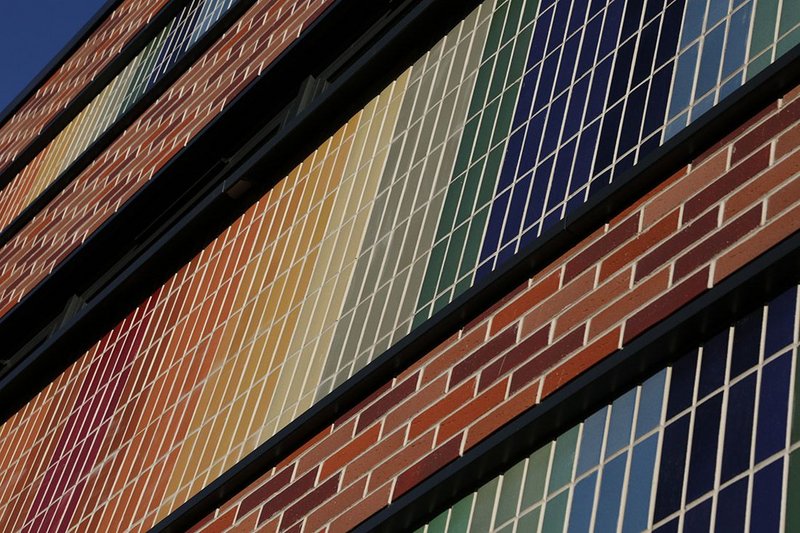 The performing and visual arts centre at Loughborough College now has a new 15m entrance building which has enhanced the public passageway to the college through 180 degrees.
Ben Harris of Willmott Dixon said: 'This ambitious campus makeover has quite literally turned Loughborough College around. This highly visible public façade makes a clear statement about Loughborough College; modern, forward looking and confident.'
The new building comprises a visual and performance academy with professional facilities including; music studios, photography studios and darkrooms, a 250 seat theatre, textile rooms along with a restaurant which is located in the new building known as the Hub.
The undergraduates, staff and guests are welcomed with views of a curved brick cladding façade where a total of 15 different colours of the CORIUM brick cladding system were used. The architect IBI GROUP UK selected this system to replicate the thousands of books within the internal library. The architect chose the CORIUM system to ingrain a level or certainty that the delivered elevation would offer a high-quality finish as well as looking crisp and precise. This was achieved by IBI GROUP UK specifying the CORIUM system in stack bond. As the sun passes each day, the whole brick façade changes in colour.
To ensure this image was created successfully, each detail of the build had to strike precisely the right tone. This meant great attention to detail and accurate planning from the very earliest stages of the project.
Taylor Maxwell provided both the CORIUM cladding and the facing bricks for this project. CORIUM is a unique cladding system that fits custom made bricks tiles onto an aluminium backing rail.
As Ben Harris of lead contractor Willmott Dixon explained, one of the project's biggest challenges was the search for a brick finish with a colour scheme which was acceptable to both the architect and planners
Discussions regarding the colour scheme spanned the design stages and the initial discussions with the planners continued into the building phase. This threatened to put pressure on the partners working to a tight timescale. Despite this, the entire project was completed within 58-weeks.
For more information please contact cladding@taylor.maxwell.co.uk
http://www.taylormaxwell.co.uk/
---