Factory visit: behind the scenes at Alumasc
What: Alumasc
Where: Burton Latimer, Northamptonshire
Visitors to Alumasc Rainwater's Burton Latimer factory inevitably pick up a single but significant word of Japanese – Kanban – the Japanese visual management tool for just-in-time production, whose presence is visible throughout as green tickets attached to jobs as they pass through the facility.
This innovation, which has already helped reduced lead times, is led by new manufacturing manager Rob Carder, who was brought in last year to instigate new lean production systems informed by his time working for Toyota. Armed with his Black Belt in Lean Six Sigma management, Carder lost no time in bringing new processes to the factory which produces everything from drainpipes and gutter systems to soffits and fascias.
With 3,000-plus iron, steel and aluminium products, Alumasc Rainwater can claim to be the UK market leader for metal rainwater products, with aluminium pieces made at Burton Latimer making up 60% of its business. Cast iron, which is popular for heritage applications, takes a 30% share. Key recent installations include cast-iron hoppers at St Pancras station, to match the 19th century originals that were used to create the moulds. Alumasc's recently introduced steel range – made in Germany – accounts for the final 10% of its business.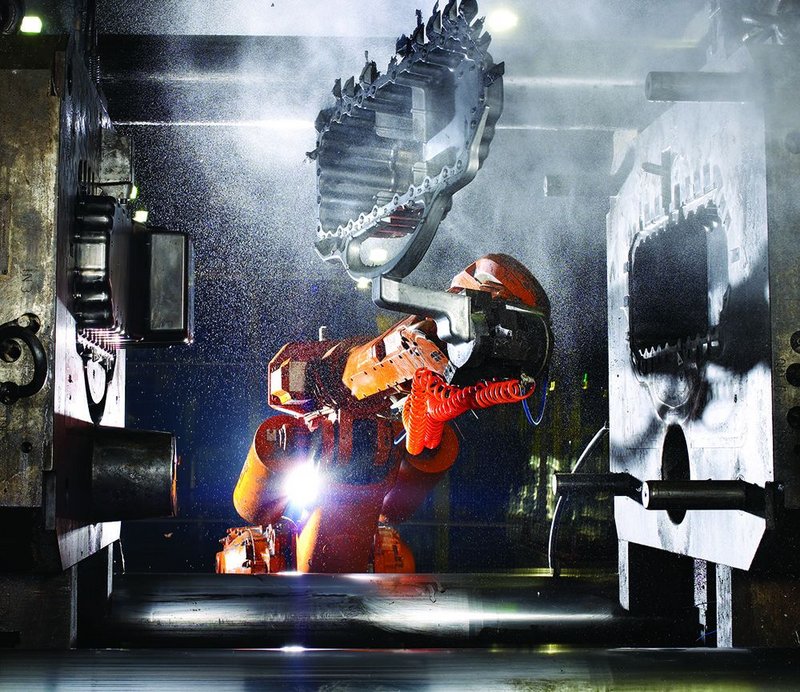 A machine carries out high pressure casting of automotive parts.
Carder says there is 'massive scope' to increase manufacturing efficiency at the factory. It's all part of the company's quest to deliver an On Time in Full (OTIF) service to meet increasingly exacting market demands.
'We need to meet customer expectations and give them the product they want in the required timeline– a key industry issue just now,' says sales director John Coe, who adds that expectations for speedier delivery have increased.
This led Alumasc to question the blanket five week lead times it previously quoted for any bespoke jobs and to find a way to do such custom-work more efficiently, as well as ensuring that standard items are always in stock via the Kanban replenishment system.
The green tickets – which are used to track orders and signal when replenishment of stock is needed – are only the tip of the iceberg of the lean manufacturing changes. Carder analysed the journey of a component around the factory and found it could travel for miles, but often sat waiting for days between processes. In particular, he saw that often straightforward jobs were being held up behind more complex projects.
His solution was to set up a 'dual carriageway' system of fast track small jobs alongside slower, more complex jobs. He also started sub-contracting standard jobs to a trusted group of suppliers when necessary to free up capacity at Burton Latimer.
'We tracked the progress of products and found they often waited in queues for welding and painting,' says Carder. 'We've introduced flexes in capacity by pushing simple products out to sub-contractors in order to concentrate on the larger, more complex jobs in house.'
As a result, lead times have already been cut from 25 to 10-15 days for its Skyline aluminium fascias and soffits range, helping Alumasc to convert far more enquiries into orders. This enabled it to meet its targets for the whole of the last 12 months in the first six, says Coe.
Carder also has his eye on a reorganisation of the relationship of processes within the facility. By reducing the aisle width in the warehouse from 4m to 2m he hopes to take in the overspill stacked elsewhere in the factory. This would free up space to move processes around to create a more efficient flow.
He plans to invest in a CNC milling machine, which would reduce a half hour jig saw process to under a minute. Despite all the lean manufacturing progress, it's relatively early days and Carder estimates he is only up to step two of the five-step programme. But even when he gets to five, the job will not be finished. Here, Carder points to another Japanese word – Kaizen, the concept of change for the better that underpins the whole lean management process. It is this state of continuous improvement that Carder, and Alumasc, have as their ultimate goal.

This editorial is supported by Alumasc Rainwater. Alumasc.co.uk
---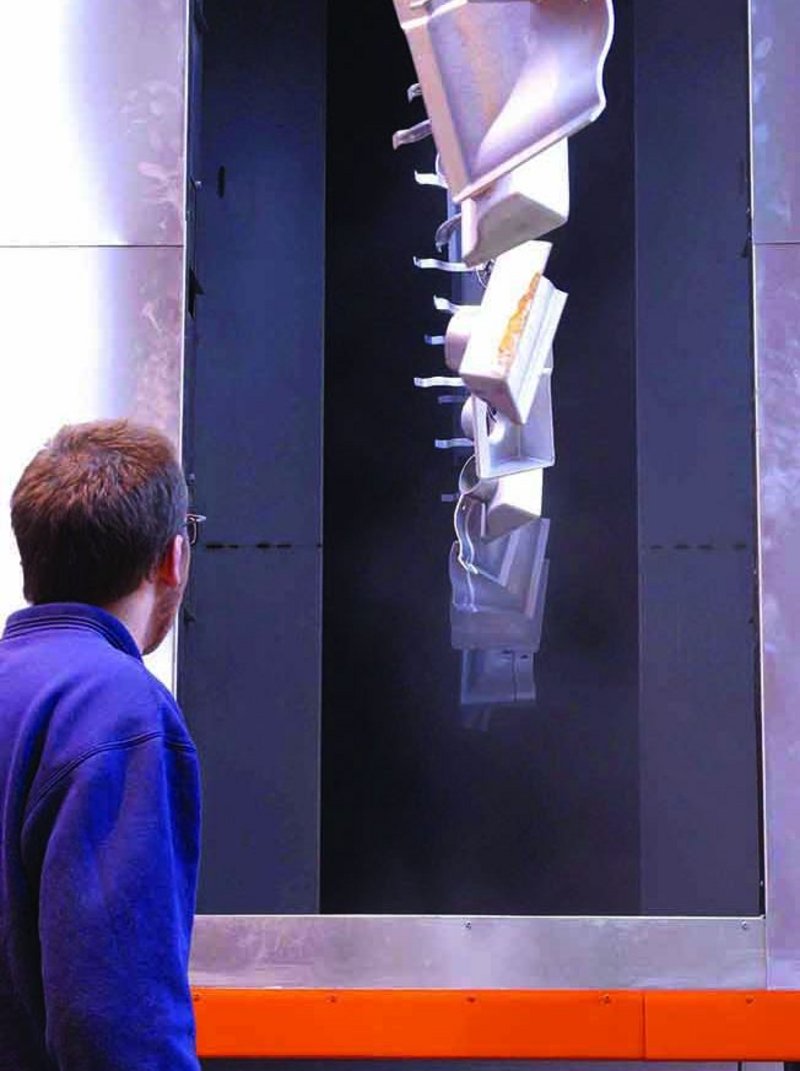 A line of aluminium products enters the automated paint plant.
1. BOMBS TO GUTTERING
Over 70 years ago Alumasc's Burton Latimer factory, then Sterling Metals, was set up to produce bomb casings during the war and subsequently produced saucepans and beer barrels before developing its expertise in rainwater systems. Now, Alumasc Rainwater is part of the publicly-quoted Alumasc Group, which includes building brands such as Apex, Harmer and Levolux. Processes on site range from gravity casting, low and high pressure sand-casting and automated powder-coating.
---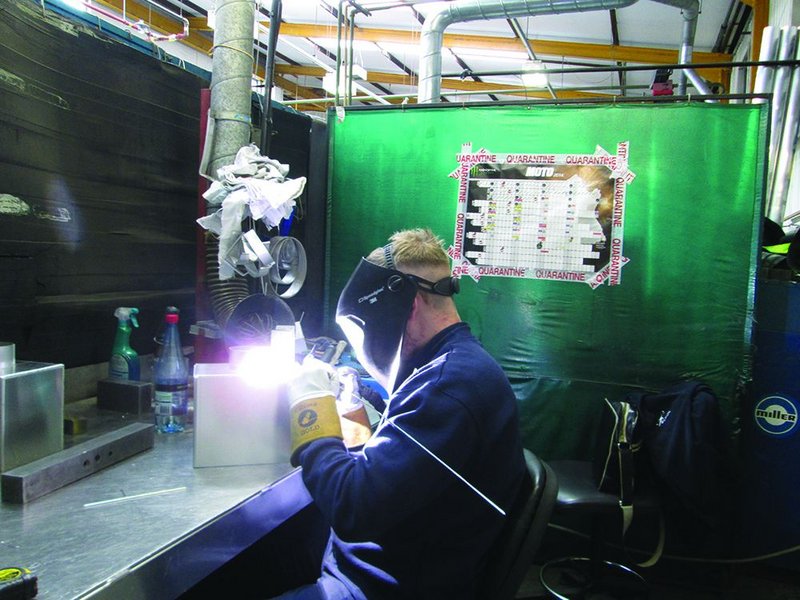 2. WELDING
Manufacturing manager Rob Carder monitors the queue of jobs for welding, organised by urgency into small (less than 10 items), large (over 20 items), their priority indicated by the Kanbans flipped from the green to red side. Medium sized jobs are allocated to whichever queue has capacity. Overtime or sub-contracting is introduced when necessary to maintain work flow.
---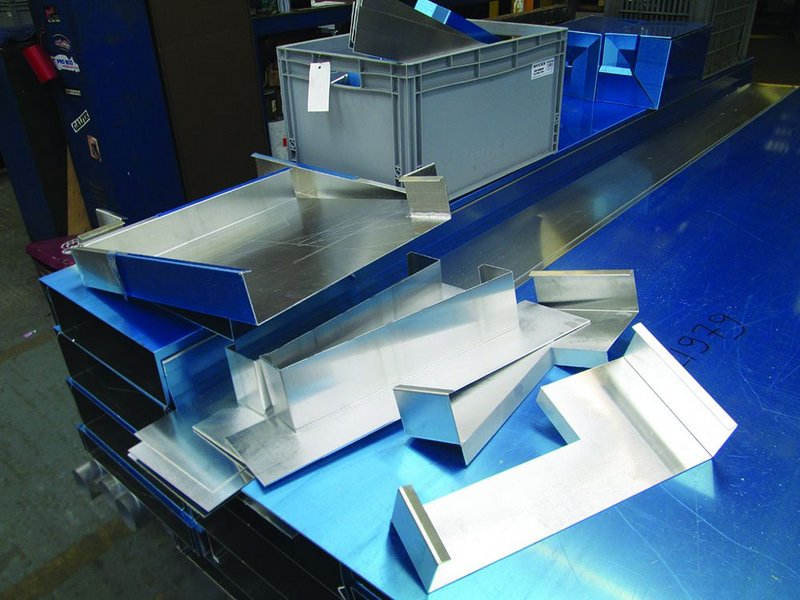 3.FOLDING
Aluminium is folded in one of the factory's two cold folding presses. The operator cuts the appropriate blank sheet on the guillotine and inserts it into the pre-programmed press, which creates the bend by force in a five minute process. The component is then re-inserted in a different position for the next fold, with some products requiring up to seven different folds. A typical gutter will require four bends in succession. Any off-cuts can be fed back into the aluminium furnace.
---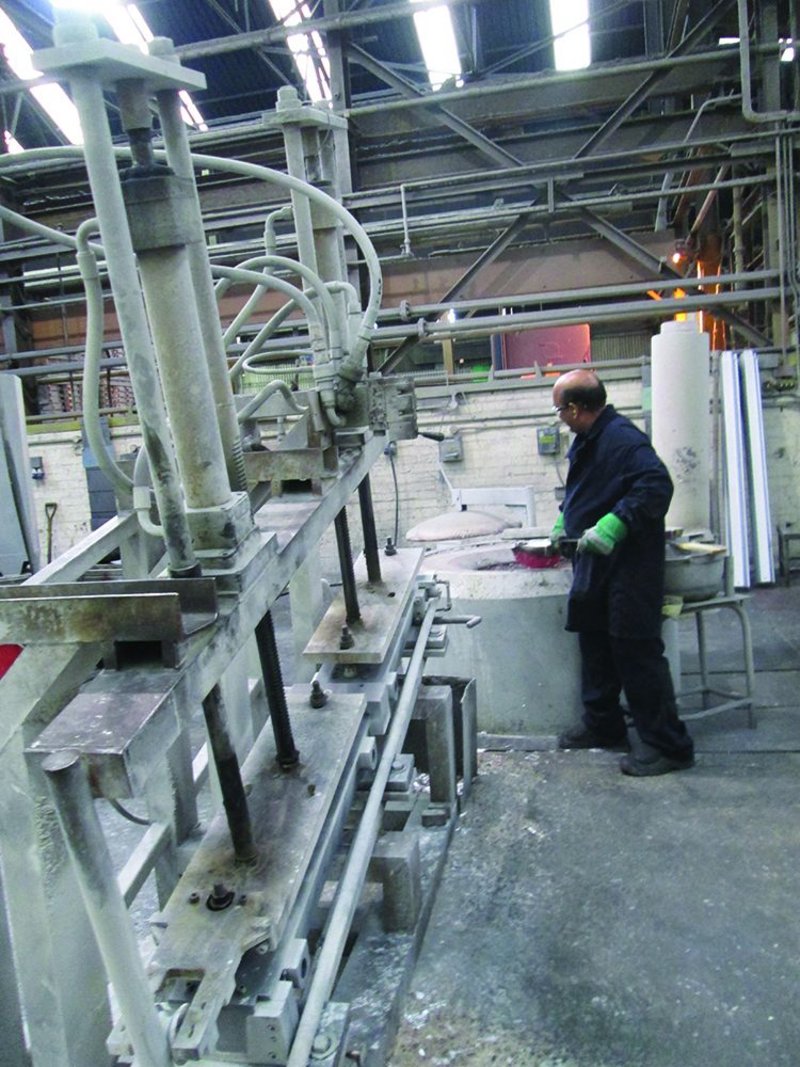 4.GRAVITY CASTING
This man is lifting a giant ladle of shinning molten aluminium which will soon be transformed into a gutter channel using the gravity casting technique. First a crucible is filled with aluminium at one of six blast furnaces and delivered to the gravity casting worker, who pours the appropriate amount into the inclined tool, using gravity to help it flow down the tool into the mould. Then the tool is closed and the mould cast, then air cooled in a matter of minutes. The gutter is then checked for flatness before moving to the hole punching machine which will punch holes for fixings.
---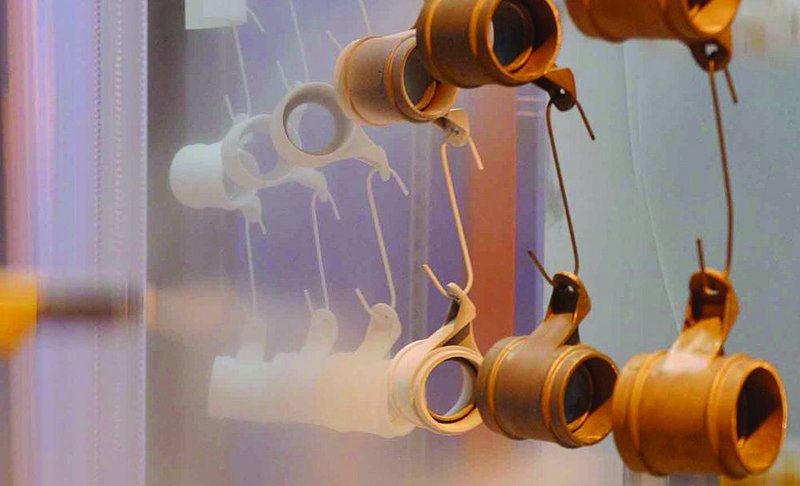 5.POLYESTER POWDER-COATING
Alumasc invested 10 years ago in an automated powder-coating plant that can cover any aluminium product in a choice of 26 RAL colours with a BBA-certified paint finish. An overhead conveyor moves products to the powder-coating machine, which applies a pre-treatment and electrostatically applied polyester powder in a pre-programmed colour. The line enters the oven where the colour is baked and bonded. By the time the products emerge, another colour has already being applied to the next batch. Once removed from the line, products are boxed up or wrapped.
---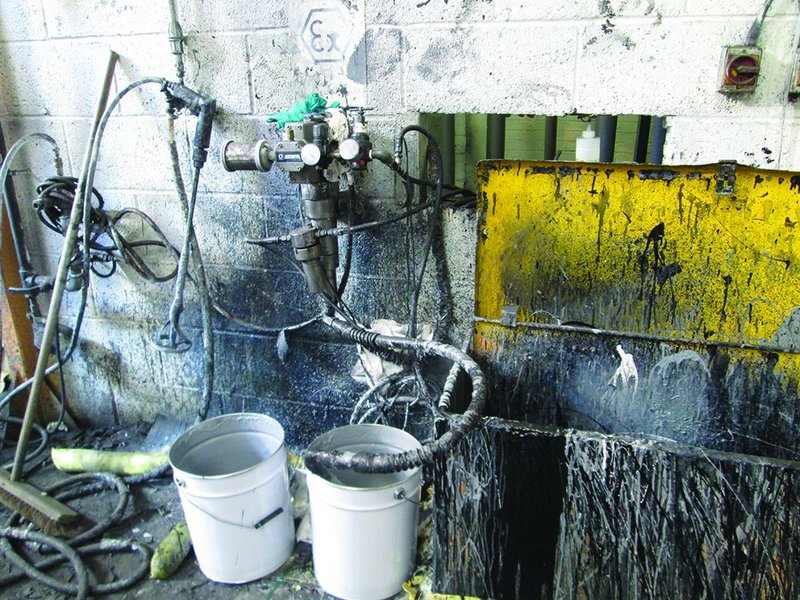 6.WET PAINT SHOP
Unlike the powder-coating facility for aluminium, Alumasc's cast iron products are spray painted manually in a choice of eight standard colours, with a top coat following a two-part primer. The wet paint shop is operated by two people and the whole process usually takes approximately one hour. Alumasc buys in cast-iron products from China and Germany.
---