A look at what it takes to create a leading liquid applied waterproofing membrane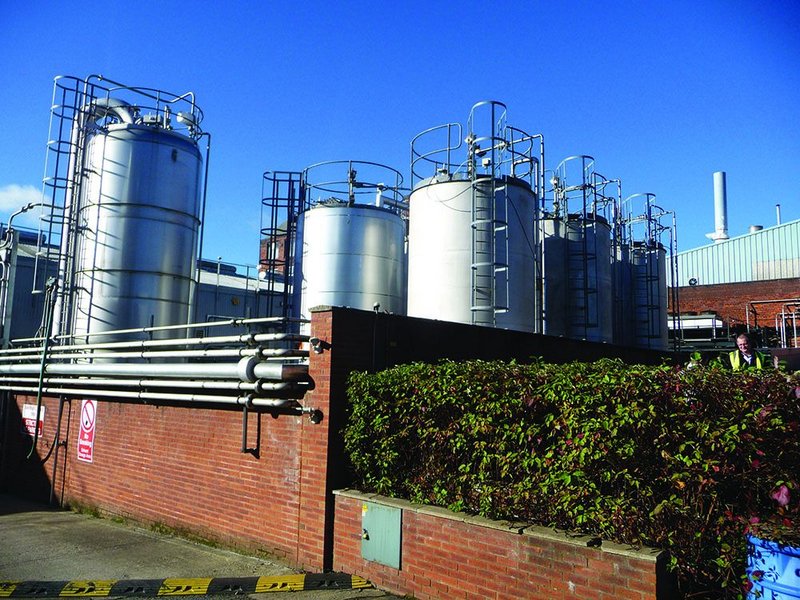 Storage tanks for Sika's sister company Incorez, which produces the chemicals for Liquid Plastics' products.
What: Sika Liquid Plastics
Where: Preston, Lancashire
If Swiss construction products firm Sika can make claims about the robust testing regimes of its latest products, few are likely to surpass the challenging demands of the Alpine rail pass that led to its first formulation, Sika 1. A combination of Silicon and Calcium (hence the brand name), it was created by Austrian materials scientist Kasper Winkler in 1910 in response to a the particular problem of how to waterproof the 1882 tunnel that runs 15km below the mountainous Gotthard Massif. The tunnel itself was already infamous, both for claiming the lives of 200 people over its 10-year construction, including its Swiss engineer Louis Favre, and for the workers' insurrection that had to be put down by the army. To this heady mix was later added the problem of ensuring the tunnel's watertightness, due to planned electrification of the line. Sika 1, an admixture in the tunnel's new cement wall gave a robust, quick-curing crystalline layer, thus sealing the long-term future of Switzerland's subterranean link to Italy.

Sika has not looked back. Headquartered in Barr outside Zurich, it has grown over 100 years to become a global brand active in over 80 countries, with a workforce of over 16,000 and a turnover more than £3.3bn. In the UK, the firm has over 700 employees and three production centres – one in Preston. Sika has diversified, but given that this facility was an acquisition of family-run waterproofing firm Liquid Plastics in 2009, one could say that this plant is following in Winkler's footsteps.
The acquisition has brought investment to the Preston facility, says Sika's Michael Gardner – namely the upcoming completion of the firm's £3m research building, which will bring chemical firm and sister company Incorez under the same roof as Sika's R&D arm. But the challenges now lie less the chemistry of waterproofing, and more in reducing the volume of products and extending their lives. In a global market both affect its carbon footprint. This depends very much on developing low-odour hardeners, which it is now working on with the Zurich HQ, says Sika's R&D head Mike Byrne. Such work is a response to market demand and the fact that less solvent means the product contains more active waterproofing.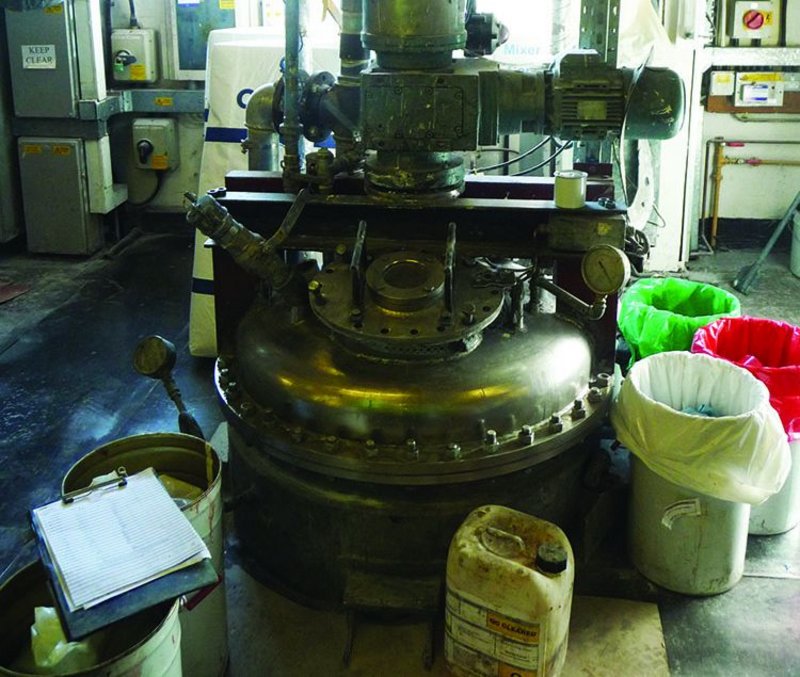 The head of one of the standard double-skinned mixing vats. Sika is now testing a larger auto-fed state of the art model.
'Traditional oxazolidine hardeners crystallise at low temperature, so you need solvents to keep them mobile at room temperature,' explains Byrne. 'With the new hardeners we are developing now, they are intrinsically lower viscosity and more liquid, so we therefore need less solvent, which also means a lower odour.' The development is reflected in the reduced levels of volatile organic compounds. 'VOCs in typical solvented products are often in excess of 100g/l. With the new generation products, we're aiming to get down to around 50g/l,' he adds.
Testing of Sika's Liquid Plastics water­­-­proofing products is always ongoing – the firm's current R&D facility is full of its Decothane product being stretched, baked, doused or left in water, frozen to -20°C to check for brittleness and pierced in dynamic and static testing. The regime even involves samples being sent to America.

'To check that we're dealing with long term performance effectively, we send samples for live testing to Arizona, where it's hot and dry, and Florida, where it's hot and wet. We even use heliocentric testing machines that follow the sun, exposing the product to the most damaging effects of UVB light,' Byrne adds. Competitors might want to take note: his 11-strong team of scientists tests rival products here too. It's all part of Sika's plan to stay at the cutting edge of a technology that it first developed over a century ago below the Gotthard Massif's uncompromising peaks.

Editorial supported by Sika Liquid Plastics. liquidplastics.co.uk
---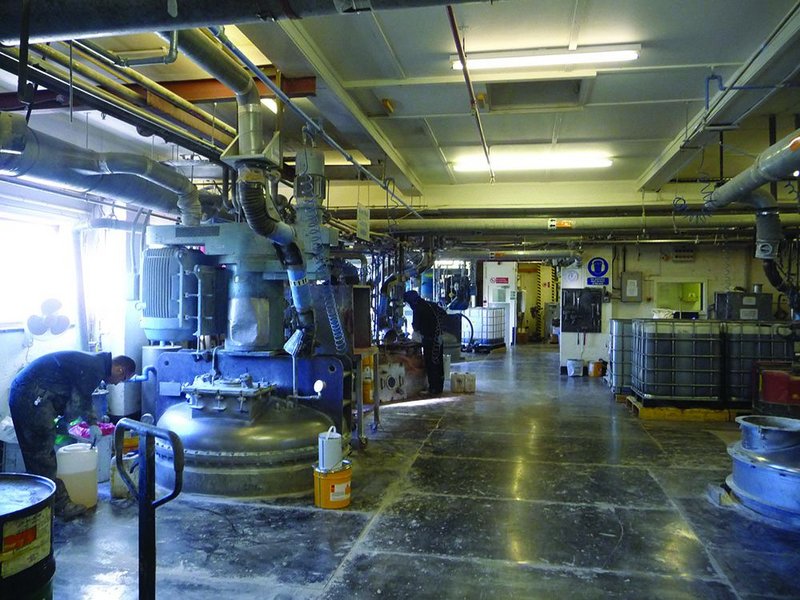 Sika's Preston plant sits within the site of the former Fishwick cotton mill, built in the 18th century. Most of the plant's product storage facilities remain in its original sheds, its north-lit saw tooth roof carried on beams sitting on delicate steel columns. The main factory works are housed in a three-storey brick structure. Sika explains that the production process is gravity fed: the mixing goes on at the higher levels, processing and filtering occur on the level below, and labelling and storage take place at ground level. R&D and testing of its Decothane product are undertaken in labs at the top of the building. Accelerated weathering processes are carried out in a UVB/condensation cabinet, where samples are exposed to temperatures of 50-60°C and regularly sprayed with water to mimic the deleterious effect of weathering. BBA criteria demand testing for only 2000 hours (equivalent to 10 years of normal exposure), but the firm tests samples here for 8000-10,000 hours, to take account of the more challenging South American/Far Eastern climes where its products are used.
2. Mixing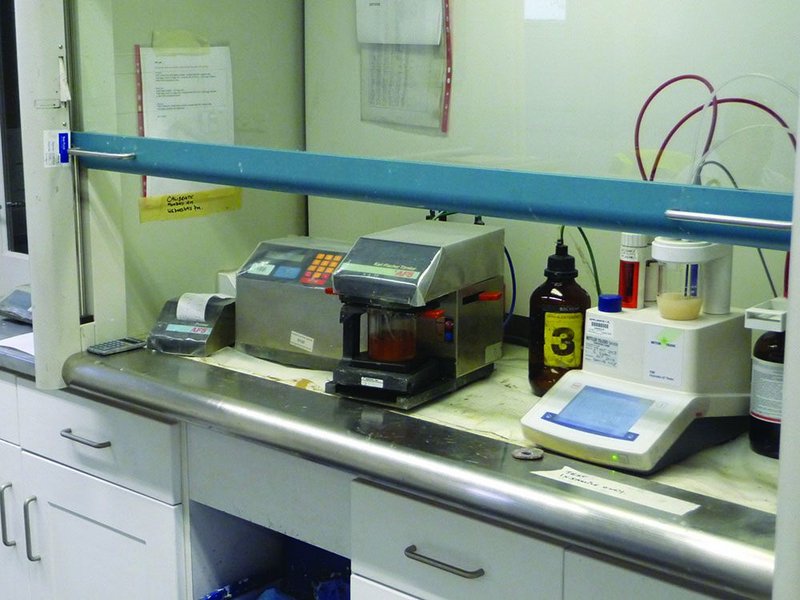 Liquid plastic products are combined in a range of mixer sizes, only the heads of which are visible from the mixing floor (above). It takes eight hours to process base coats, and 12 for the thicker top coat. Pre-polymer chemicals and additives are combined with pigments to create a batch weighing about 5 tonnes. Tanks are double-skinned, allowing steam or water to hold the mixture within 50°-55°C. Agitators working with a blade tip speed of 25m/s create a homogenous mix. As water can trigger hardening, isocyanates are added to keep moisture levels within tight limits.
3. Computer control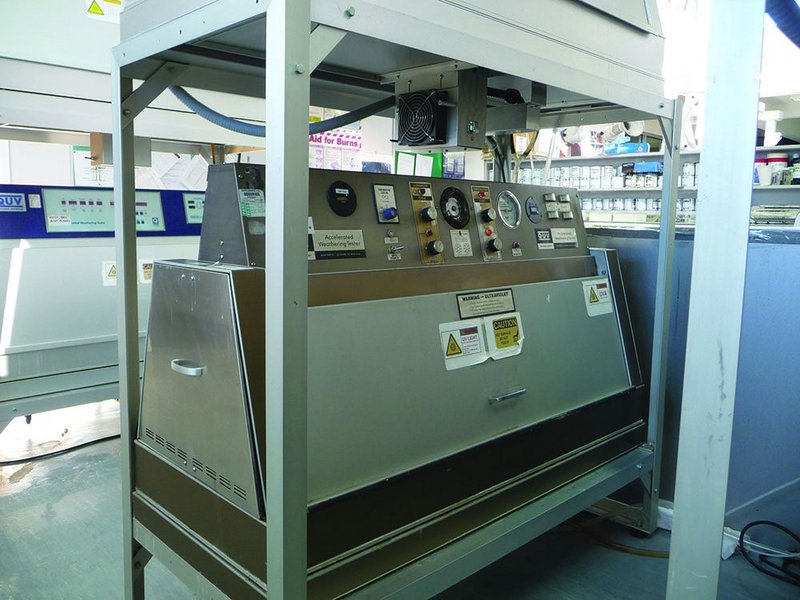 Isocyanates produce carbon dioxide, requiring an extremely strong internal vacuum in the mixing cylinders to remove it. The whole process is monitored via a central control system that can introduce the vacuum, chemicals, steam or coolant to the tanks at any point. Mixing is carried out in an environment of dry nitrogen gas. After every batch is done, tanks are cleaned with solvent sprays to prevent colour cross-contamination. Guaranteed consistency of batch colour is absolutely critical on larger roofing projects and lab testing during production ensures this (above).
4. Quality control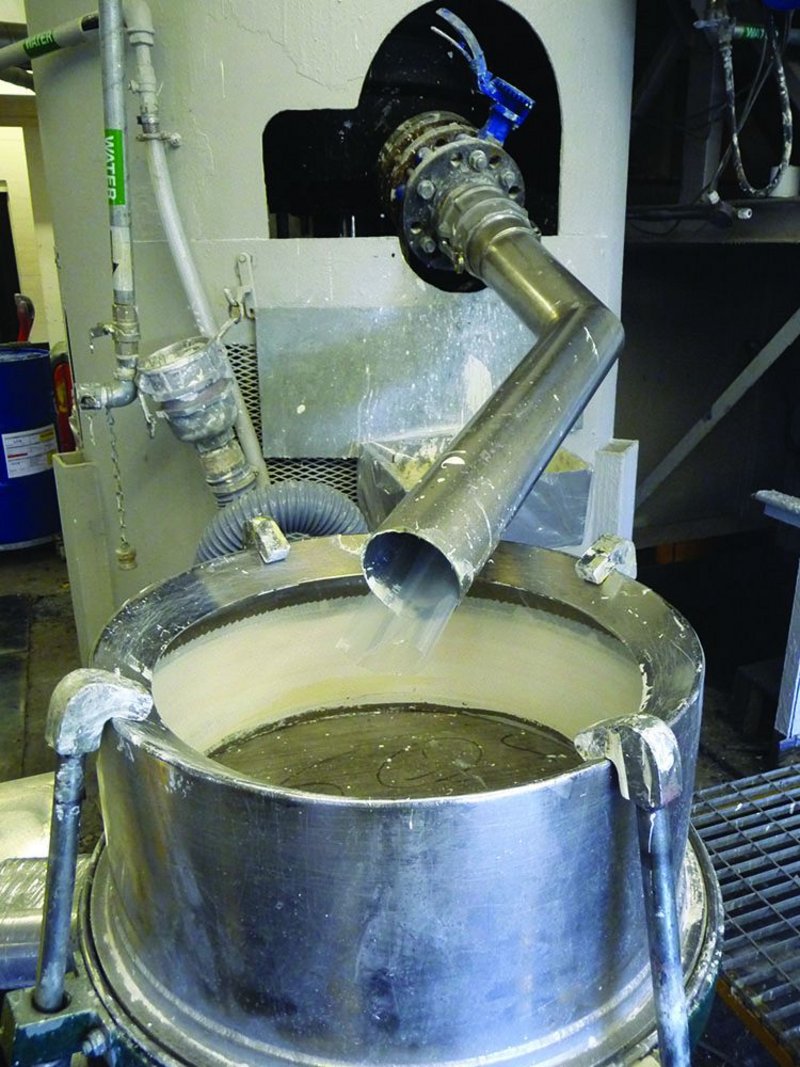 During processing, all Liquid Plastics' products are linked to batch cards that allow every stage to be accurately monitored and audited. In the colour mixing lab accurate chromatic software analyses mix samples and checks that colour consistency and moisture levels are maintained – stating what needs to be added to return them to correct levels if not. The liquid is then vibrated through a sieve to ensure an absolutely consistent, lump-free mix (above). This is delivered to a holding hopper ready for pumping into cans on the floor below.
5. Tinning and labelling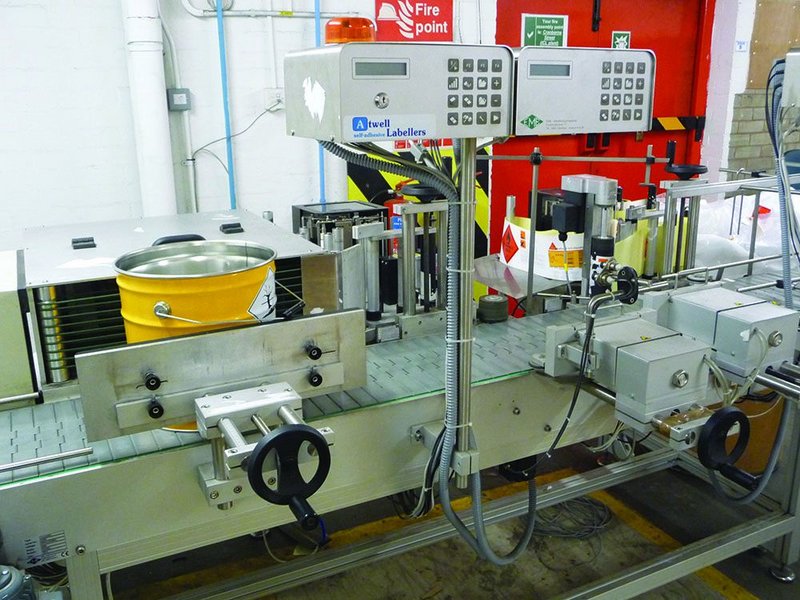 Of all Liquid Plastics' products, 90% are made available to the industry in either 15 or 5 litre tins, with the in-house labelling machine connected to a label data safety system to ensure that the correct instructions are applied to each one. Last year 300,000 tins were processed here (above). After it has been filled, the remaining void space of each tin is blasted with dry nitrogen gas to expel any traces of air that could trigger the hardening process. Tins are then sent to the on-site storage depot to await distribution.