What: Amtico, Where: Coventry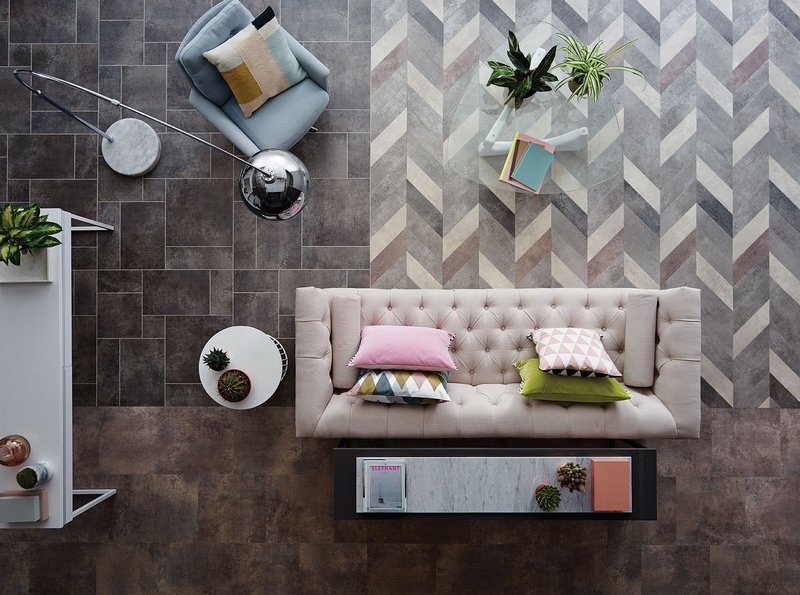 Bespoke Laying Patterns, running clockwise from top left: Flagstone – Kura Anise with Kura Kala Stripping; Pleat – Kura Caraway, Kura Cassia, Kura Anise and Kura Kala; Tile – Kura Cassia.
In a city historically famed first for its ribbon-making, then watches and clocks in the 18th and 19th centuries, and its bicycles and cars in the 20th century, today Coventry's largest manufacturing company is the luxury vinyl tiles manufacturer Amtico. With 400 people at its head office in the north of the city and a further 500 employees worldwide, Amtico stole the title from The London Taxi Company in recent years after a big investment. This followed its buyout by Mannington Mills in 2012 and increasing year-on-year growth.
Sitting on the site of a former Jaguar car production plant, Amtico started life in 1964 as a joint venture between Courtaulds and American Biltrite, with the company name representing the 'American Tile Company'. After a management buyout in 1995, it was sold to Mannington Mills, the carpet, laminate and wood flooring manufacturer. Despite its US heritage, Amtico has always been based in the middle of England and celebrated its 50th birthday in 2014.
Alongside its factory in Atlanta, Georgia, it supplies luxury vinyl tiles across the world, with its products specified evenly between residential and commercial projects – to housebuilders and student housing as well as high street retail, hotels and healthcare. The company is busy developing sales in Russia, China, Brazil and the rest of South America. But what stands out is that it is the only such brand designed and made in the UK.
'Amtico is really three separate businesses in one,' says UK sales & marketing director Phil Southall. 'It is at once a design, manufacturing and sales/marketing business.' As well as undertaking all this completely in house, Amtico has distinguished itself from the very beginning for doing things differently and better.
It is this that has driven the company over the past 51 years, and is in particular responsible for the highly creative and energetic design team. While many other companies have divided different sections of their businesses geographically, Amtico has kept all its parts together on the same site.
The factory is next door to the design studio, and the sales and marketing team sits nearby in Solihull. This self-manufacturing means the company can work up bespoke designs and react quickly to customer demands and trends, as well as properly integrate production processes with design ideas. Prototype surfaces are, for example, tested on the same machines as final saleable products.
In terms of products, Amtico offers eight collections: Signature, Spacia, Click, Access, Marine, Assura, Entryway and First. Signature, Amtico's flagship collection, is available in 163 designs. Spacia is available in 96 designs while Click is a new collection designed for DIY enthusiasts. Within these collections there are three ranges – Woods, Stones and Abstracts – which can be laid in more than 30 patterns.
With its choice of products and design innovations, the company has 20% global market share in the luxury vinyl tile market and sales of £150m a year. Amtico' s customers range from US submarine commanders to Number 10 Downing Street and Buckingham Palace, plus a toy store wanting a Monopoly Board floor.
This editorial is supported by Amtico as part of the Amtico/RIBAJ design charrette challenging seven architecture practices to create a new series of laying designs for Amtico's Signature Collection. The winning designs will be announced in the Journal in September and go into production in late 2016.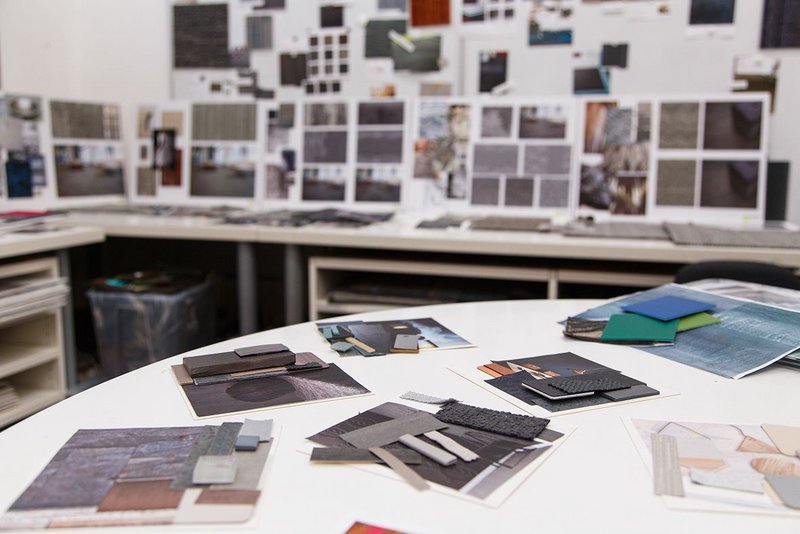 1. DESIGN
Manufacturing starts in the design department. All tile designs and patterns are created in-house by more than 17 designers from backgrounds including automotive, textile, graphic and interior design. The group scours the world for the trends across all industries – anything from fashion and fine art to ceramics and graphics. Natural finishes usually originate from manipulated scans of the original material (manuscript), while others are based on invention and testing with paints, materials and other effects.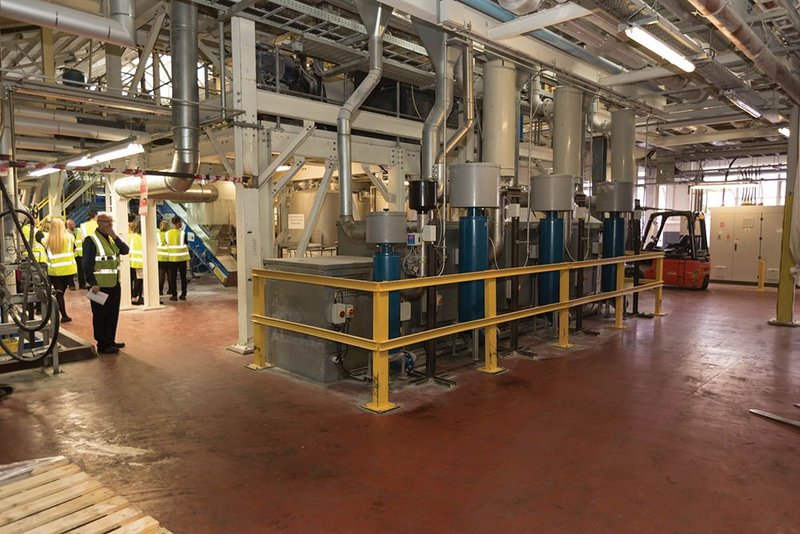 2. RAW MATERIALS
Surface finishes take 18 months per design before they are ready for production. Amtico is continually sourcing raw materials, which include PVC powder, plasticisers and other additives. The first two are primarily produced during the cracking of oil; non-oil ways of producing PVC powder are available but usually more expensive. As a result the purchasing department keeps a close eye on the oil price to determine the best times to buy. Generally raw materials are sourced from northern England, France, Germany and the Netherlands.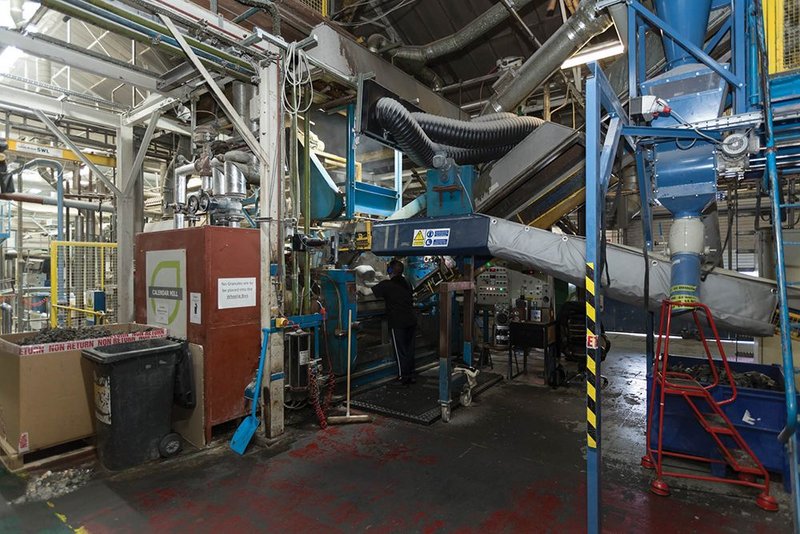 3. MIXING
Materials are stored in silos to the rear of the factory. Once inside though, the material follows one of two production lines, effectively doing the same thing. One line was introduced in 1989 while the other, newer, more streamlined and less work-intensive line was brought in two years ago at a cost of £6m using German and Italian made machines. In the first stage the virgin vinyl powders, plasticisers and additives are mixed using sheer and conductive heat into a dough-like substance in the Kneader or Banbury Mixer.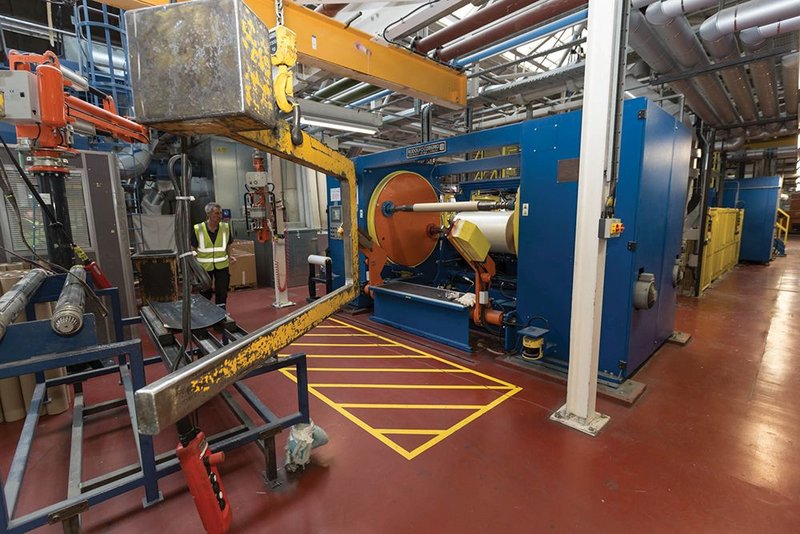 4. ROLL GOODS MANUFACTURE
From the mixers, the melted/gelled PVC material is made into individual calendared rolls. Material is taken from the high shear mixer or extruder and fed onto a large machine called a calendar. At temperatures of about 180ºC, the machine squeezes the material down to a certain gauge and width which starts to resemble the final product. Rolls can be clear when used for the clear wear layer, the actual working surface, or tinted as a different coloured face ply or a backing layer.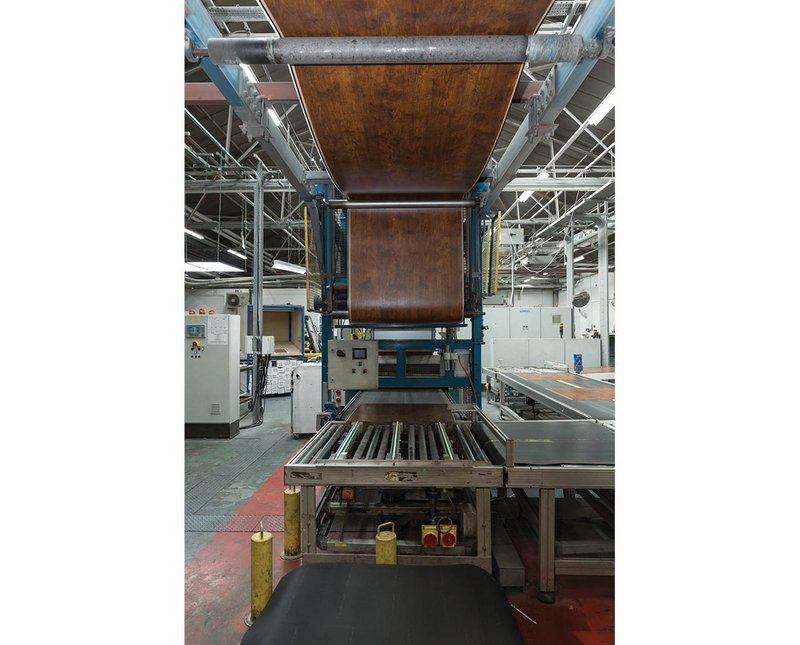 5. LAMINATION
All the rolls made from the calendaring process are then brought together in the continuous lamination process, carried through the machinery on canvas which is pulled off at the end and put back into the cycle. Films are laminated, together with the specified print, under heat and pressure. This process also imparts a corresponding wood or stone emboss, coated with a polyurethane factory finish and annealed. The annealing is key to taking out stresses put into the product during lamination so that when installed it is dimensionally stable.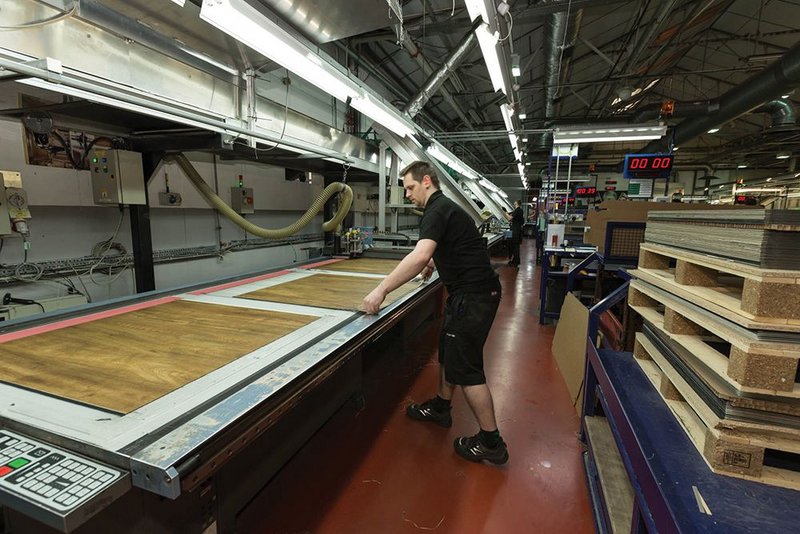 6. CUTTING PROCESS AND DISPATCH
After annealing, material is cut into 1m2 'slabs' that are again individually cut, into standard or custom shapes and sizes. This takes place in two ways: on an X-Y table using an automated CAD bed cutter, or by a metal die-cutting process for standard shapes. All are given bevelled edges to create a more realistic 'tile' appearance. While quality is checked at every stage, boxes of tiles are selected at random after the event to ensure everything leaves the factory in perfect condition. All Amtico's products meet the key international standards, including EN649 and ISO 10582.
---