AL_A creates spaces of reflection and contemplation with privacy boxes, open-plan spaces and ceramic walls within a new densely-planted glade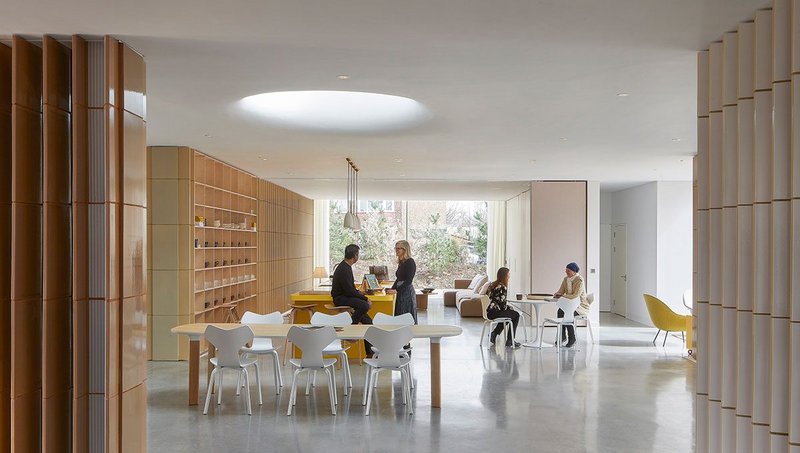 An oculus above the central dining table is at the heart of the open-plan interior.

Credit: Hufton+Crow
'In general, hospitals are not patient-friendly. Illness shrinks the patient's confidence, and arriving for the first time at a huge NHS hospital is often a time of unnecessary anxiety.' So wrote Maggie Jencks in her 1994 text A View From The Front Line, after her diagnosis of returned and new cancers. From her thoughts emerged the Maggie's Centres, adjacent to but separate from hospital buildings, in which anyone affected by cancer can seek support.
AL_A has completed the latest Maggie's at South­ampton General, a typically labyrinthine accretion of wards, services and parking across a swathe of the city's northern suburbs. Having been presented with the small site of a redundant house and garden marooned in a car park, the architect proposed to reconfigure vehicular access, eking out more space to enable its idea of a New Forest glade.
Inspired by a series of photographs of a framed view onto four seasons of foliage in a book by Jencks on Chinese gardens, AL_A composed a form with a similar tight relationship to dense, enclosing landscaping – sinking the site to create a small surrounding mound that buffers it from the cars and monotony outside. Architecturally, the building has two key elements: four rectilinear ceramic walls which penetrate the building envelope, dividing areas of the garden as well as having internal spatial uses; and four small boxes enclosing staff room, counselling room, quiet room and WCs.
Materiality is key to both elements. On those four right-angled walls, a rhythm of glazed fins captures, ripples and reflects light. Formed of structural ceramics, they continue AL_A's use of the material at Lisbon's MAAT museum and London's V&A extension. Working with Cumella of Barcelona, the architect developed four types of ceramic block which simply stack one on another to form external-to-internal walls, with a system allowing insulation where required, structural re-enforcement, and moments of sightline – for instance allowing staff to observe if a visitor enters the building.
The wall grid is offset from the site and carpark, so the entrance directly addresses the route from the oncology ward, architecturally supporting the physical and psychological journey as approaching visitors may still be digesting news of a diagnosis. From the trees, the building is designed to appear in a welcoming light, with the face of the ceramic fins glazed in light pink and blue, set against an Inox-Color manufactured dimpled stainless steel sheet that wraps the external faces of the private boxes. Once inside, a user looking out may see the fins' reverse side, clay tones gently reflecting a ripple of light from the glaze, offering a warming sense of enclosure.
A low-maintenance concrete floor throughout is polished with a radial process that plays with light in a similar way to the external steel cladding. A single oculus light, carefully placed off-centre to maximise the path of the sun, focuses on the central shared table as a space of sharing food and conversation. Elsewhere, the four walls divide the building into various smaller spaces for individuals or groups, while the four boxes offer sound-insulated privacy for separation, contemplation, and counselling. For visitors undergoing long-term treatment, AL_A has created a space of withdrawal that will subtly play with the seasons, using a simple toolkit of elements to carve a reflective space within the tarmac, clutter and anxiety.