Rapid to install and effective in infection control, Trovex products are assisting the combat for hygiene in the UK's healthcare facilities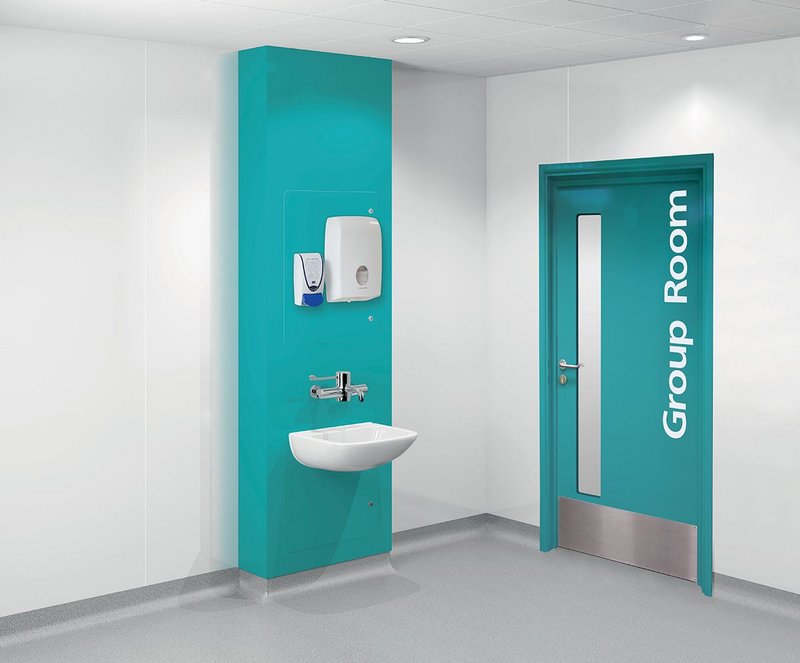 Teddington Memorial Hospital in south-west London has tackled the challenges regarding infection control with a £25,000 refurbishment of its walk-in centre. The hospital building, which includes a walk-in centre, outpatient clinics and two wards, is more than 100 years old and before the renovation, found it was not compliant with key HBN healthcare property requirements.
'Infection control is a big issue within Trust buildings and we're no different,' said Tony Murphy, project manager at Hounslow and Richmond Community Healthcare NHS Trust. 'Our facilities needed to be improved, hence we went down the route of looking at what we could do with our sinks and basins.'
As this hospital is a 24-hour facility, the key concern was to minimise downtime. 'The important thing was to keep the hospital running with minimal disruption, and the least number of rooms out of action during the day,' says Murphy.
The Hygipod from manufacturer Trovex proved the ideal solution. This seamless basin system with a hygienic finish is quick to install and meets stringent HTM64 and HBN guidelines. It is readily available and the modular design replaces workmanship, ensuring consistency in quality of finish.
'We looked at the marketplace and believed the Hygipod offered us the best value, not only in cost but also installation,' says Murphy. 'We had already been involved with Trovex in the installation of the wall cladding in our wards, ward bedrooms, outpatients department and walk-in centre. It was the speed of installation that was the key element for us. All the installer has to do is fix the unit back, assemble the basin and connect hot, cold and waste services.'
The phased installation of 23 Hygipods was carried out on a rolling programme including night work, with rooms closed for just 24 hours to minimise disruption to the surgery. To accommodate this work pattern, deliveries were made to a central storage location nearby from which the Hygipods could be called off as required.
Facilitating hygiene
Trovex specialises in delivering hygienic finishes, particularly for healthcare environments. 'We developed the Trovex Hygipod as a complete prefabricated unit, with no joins, which aids infection control,' says Samuel Kingston, Trovex marketing manager.
Encapsulated in Trovex hygienic PVC, the Hygipod comprises a basin kit and two access panels as standard, and is available in all colours in the Trovex collection, including wood grain finishes. Brackets, fixings and plinths are supplied to make installation quick and straightforward.
Once the products were specified, installation was an uncomplicated process. The clinic and consulting room areas were transformed with the new handwash stations and hygienic wall cladding.
'The products look good and they serve a purpose,' commented Murphy. 'Patients noticed the wall cladding and staff commented very favourably on the Hygipods. We are pleased with the products we received from Trovex and will continue to specify them.' The same products and colours were indeed used for continuity in a later project.
Aiding infection control
Trovex Hygipod was developed with the requirements of healthcare facilities in mind, where all surfaces, fixtures, fittings, furniture and equipment should be designed or selected with easy cleaning and durability as a key consideration. For example, the Hygipod is free of joins, has a smooth surface and rounded corners on the access panels to allow effective cleaning. The tap can also be operated by elbow, avoiding contamination. Applications of the product include doctors' surgeries, commercial kitchens, leisure centres, care homes and pharmaceutical environments, as well as hospitals and healthcare.
The all-in-one solution
Trovex Hygipod is the first and only prefabricated modular unit of its kind – the only pod that has no vertical or horizontal joints. Its modular design reduces time on site spent marking out for sanitaryware and constructing on-site framing. Not just for wash stations, it can be configured as a shower, Doc M WC or bedhead unit. The system perfectly complements Trovex hygienic wall cladding, truly 'making it hygienic'.
For more information and technical support visit: trovex.com
Contact:
01707 254170
---