Offices are changing, in unusual and 'fun' ways. The idea is that happy employees are more productive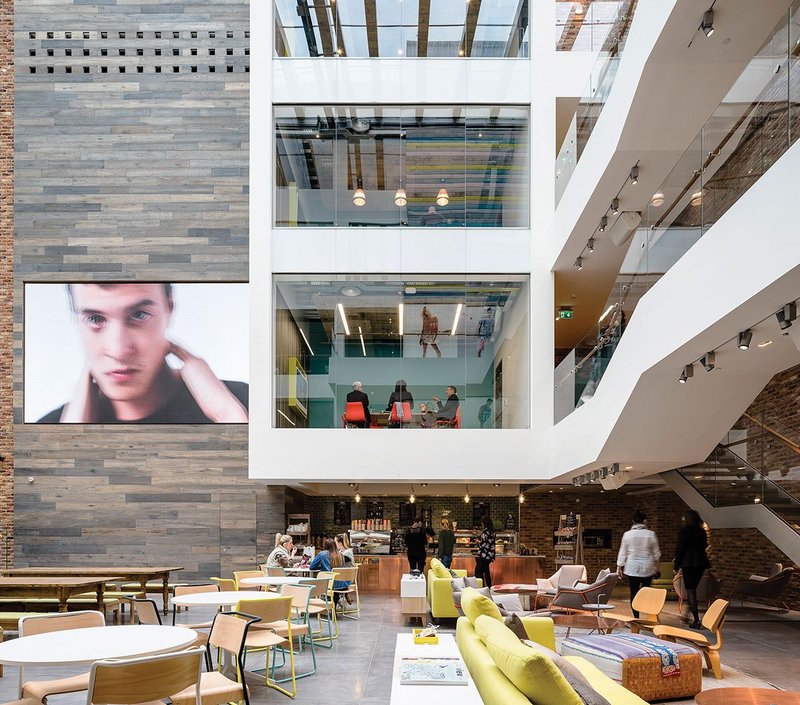 MoreySmith's design for Primark in Dublin picks up on current trends in office design.
There is a huge dichotomy between the everyday reality of office life for the many and the vision of the modern workplace that has been created in trendy tech companies and start ups. Brands like Google have thoroughly disrupted workplace design and practices, turning offices into communities where workers collaborate with colleagues and like-minded businesses, socialise over a latte and pizza, and take a break with a workout or a whoosh down a slide. Even the basic meeting room has been reinvented as huddle space, touchdown space or war room.
Look at Selgas Cano's Second Home in Shoreditch, which provides co-working space alongside a restaurant and event space, Rockwell Group's NeueHouse Hollywood in Los Angeles, which has transformed William Lescaze's CBS Radio Building into a co-working facility and social club, or Alphabeta close to London's Silicon Roundabout (see box, below). These seductive spaces show how the 'high fashion' style of Apple and Google could be filtering through to the high street, perhaps holding out the hope of a happier, healthier working day for office workers.
But the drivers for change in business practices and workplaces are far from altruistic, as Karen Williamson, associate director at property consultant JLL, explains. 'Companies are wanting to provide an environment that attracts and retains the best talent. With that are strategic drivers for sustainability and productivity. They're probably not doing a Google office, but there is a greater focus on workplace design.'
Tickling the imagination
Research by Oxford Economics puts the cost of replacing an average London office worker at well over £50,000 – five times that of renting and servicing the office space for their desk. Tech companies hope to attract the smartest young recruits – the average age of a Googler is around 30 – with games rooms and amenities that keep staff happy, healthy and above all working hard.
'We can look at the slides of Google and Facebook and say that would never work for us,' says Owen King, workplace consultant with Unwork, which helps businesses develop new ways of working. 'The message is who is the workplace for? It is not about a slide. It is about creating workplaces where we can bring in ideas that will change the way we do business.'
King collaborated with property consultant Cushman and Wakefield on The Future of the TMT Workplace, the recent report into the fast-moving technology, media and telecoms (TMT) sector. It shows how the sprawling, amenity-packed campus headquarters of tech giants grew out of their out-of-city locations. King adds: 'Now the move's away from campuses to the city, because that's where the talent is. But that poses challenges of how you recreate campus characteristics in a vertical building in the city.'
In the UK these challenges are already being addressed and the TMT sector seems to be influencing broader workplace design in locations beyond Silicon Roundabout. MoreySmith has given fashion retailer Primark's international HQ in Dublin a makeover, uniting a 20th century listed building and its 14-year old neighbour with an atrium bringing natural daylight into four floors of workspace. Alongside the informal café and flexible work areas, there is a business lounge for visiting suppliers, bicycle storage for sustainable commuters, and a wellbeing zone with exercise suite. The practice is now working on a follow-on project with Primark, reinventing 115,000ft2 in Reading, and has similar projects in London.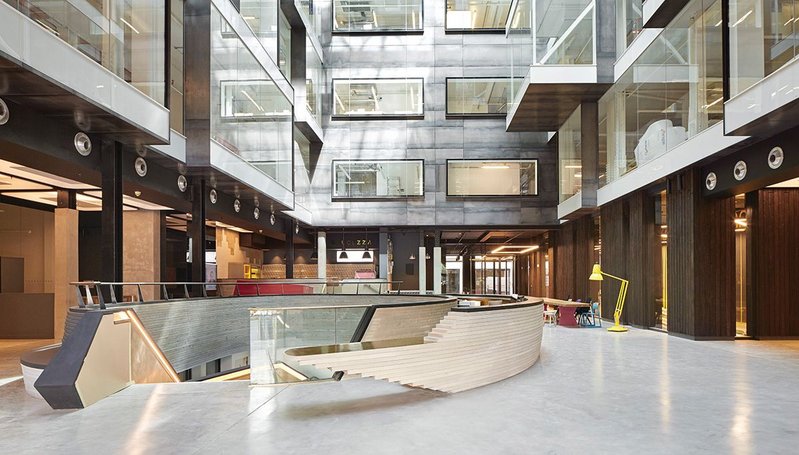 Rather than a 'hero' atrium, Alphabeta's ground floor is designed for casual interaction and working.
Office makeovers
Many existing offices are ripe for a makeover, says Lesley Kelly, director of architecture at MoreySmith. 'There is a lot of opportunity to take the old, soulless buildings of the 1960s, 70s and 80s and make them more engaging and vibrant. They are adaptable, which is inherently more sustainable than knocking them down and starting again.' Wellbeing and movement are key priorities in the design, she adds. 'The nature of office work is fundamentally unhealthy, as it's sedentary. Creating a range of flexible working spaces is therefore a good way to get the most out of staff, allowing people to choose how, where and when they work. Access to natural light is key to a healthy office, and the provision of this and fresh air is feeding into architecture.'
Typically, existing buildings have large floorplates and so poor natural light levels, but that can be remedied by 'cutting and carving' into the existing structure to create atria, says Kelly. In addition to increasing daylight levels, this allows for the integration of a staircase, a feature that has come out of the shadows to take centre stage in the modern workspace, promoting physical activity and the kind of chance interactions that lead to collaborative working.
The World Green Building Council's 2014 report, Health, Wellbeing and Productivity in Offices: The next chapter for green building, made a powerful business case for investing in sustainability and wellbeing, backed by a wealth of evidence. It pointed out that good indoor air quality could boost productivity by up to 11%.
However, John Alker, campaign and policy director at the UK Green Building Council, says businesses still need to take its messages to heart: 'There are relatively few real leaders in the sector. The likes of Google have an enormous profile, but that's one end of the market. The mainstream – representing some of the largest employers in the country – is of interest now.'
Reaping the benefit
A new global standard is aiming to change that. The WELL Building Standard, run by the US-based International WELL Building Institute, has two projects registered in the UK and nearly 100 worldwide. The standard sits alongside existing sustainability standards, focusing on seven factors of occupant health and wellbeing: air, water, nourishment, light, fitness, comfort and mind. Paul Scialla, WELL Building Institute founder, explains, 'The workplace is one of the top three factors affecting performance and job satisfaction. Personnel costs significantly outweigh the costs for design, construction, maintenance and operations.
Addressing occupant health channels resources towards reducing the largest line item in the 30-year costs of a building – the personnel – offering a meaningful return on investment.'
Such a standard might also help identify the healthiest and most effective ways of working, as some of the new approaches are already proving to be passing fads. Open plan hot desk farms are now being equipped with essential quiet zones, or turned into more varied areas that can allow activity based working. Homeworkers are being called back to the office to collaborate with colleagues. In fact, rather than making our homes into workplaces, we could see the reverse. Unwork's King says 'One company we interviewed for the TMT report said, "We don't want a work-life balance because we want them to be the same thing".' That's reason enough to make the office a healthier and better place.
---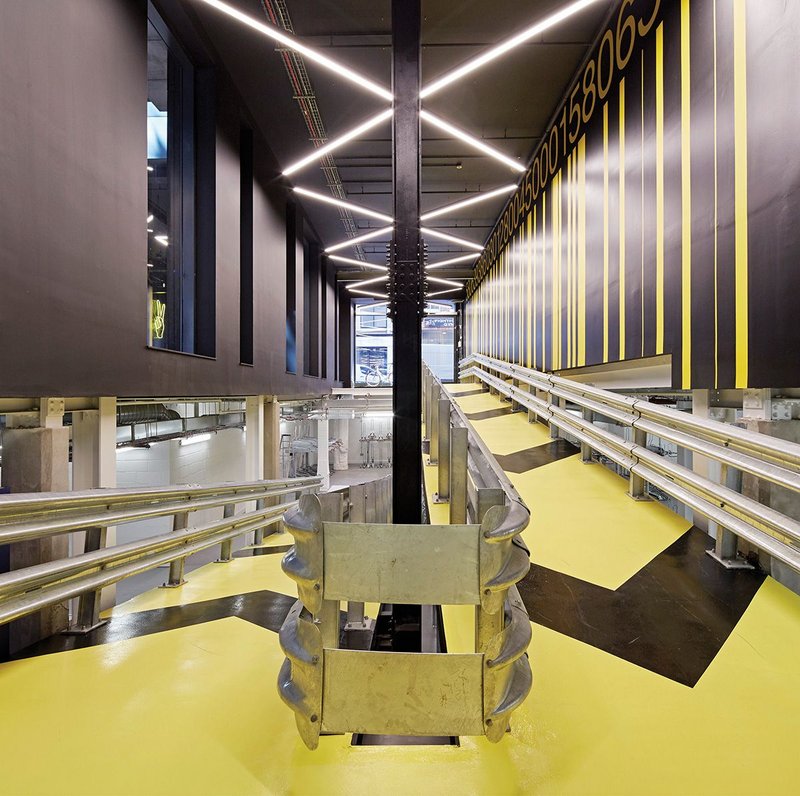 The bicycle ramp to lower level is celebrated front of house rather than consigned to the building's 'service' side.
Free wheeling in the city
New visitors to the Alphabeta office building on the Shoreditch/City of London borders may be surprised to see cyclists freewheeling down a ramp in the entrance atrium on their way to the cycle racks and changing rooms. Not for these the back door – here, they're celebrated and centre stage.
Studio RHE's £48million retrofit – for client Resolution – of the Finsbury Square offices demonstrates what Richard Hywel Evans calls a recent 'sea-change' in workplace design that is becoming increasingly visible as major post-recession developments come to market.
'Workplace culture has changed. Agents say it's all about amenity-value as employers look to attract and retain staff, and wellness at work is central to doing that,' says Richard Hywel Evans. 'Rather than being add-on features, these amenities are now on the primary menu. If you provide people with everything they want in their workplace, it's a happy marriage.'
This attitude manifests itself throughout the 22,172m2 Alphabeta building, which houses multiple tenants as well as a 300-desk co-working space, all with access to shared communal facilities. Central to this vibe is the lively entrance.
'We wanted an active ground floor space rather than a hero atrium,' said Hywel Evans, adding that the redesign reduced the size of the still-considerable atrium, from which meeting rooms project from the surrounding office floors. At ground floor level, the space is animated by a café and by touchdown seating created as a continuation of the reception desk, while quieter working space is created in a library area off reception. Space is given to the cycling ramp, which becomes a key feature as it leads down to bike storage, locker, shower and changing facilities – for some 20% of those working in the building. Hywel Evans expects this percentage to increase in further office developments – in his next building for the same client, the aspiration is to include cycling provision for 50% of the eventual tenants, as well as a full-time mechanic.
There's also a darts club (this is Shoreditch hipster territory after all), gym, basketball court, restaurant, and outdoor terraces. While these facilities are obvious selling points that contribute to the overall wellbeing factor, Hywel Evans was keen to embrace wellness throughout, especially in the lighting and acoustics.
'Wellness starts with what you're breathing and with light. We strive to incorporate areas of chiaroscuro with shadow and contrast, depth and distance so that there's plenty of interest for the eye,' he says.
Client Resolution definitely has a sense of well-being, having sold Alphabeta for £280 million – quite a profit on its £48million redevelopment and £43 mllion original purchase of the property. The building is 100% let – Hywel Evans reckons communal bike storage and shower/changing provision such as that at Alphabeta is now worth £10/ft2 on rental value.
'Tenants are voting with their feet. People buy into the atmosphere of the place,' he says.
Hywel Evans is looking to develop the Alphabeta approach to workplace design further in the eight storey Notting Hill office and residential project for Resolution, which is due to go in for planning this spring.
---