Bespoke canopy systems are about more than shade and shelter. They improve a venue's visibility, add a welcoming, inclusive feel and contribute to community placemaking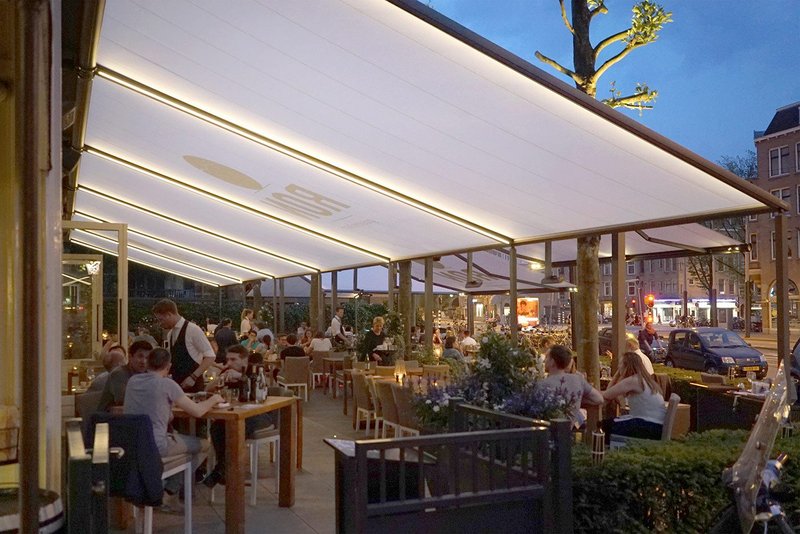 Markilux pergola and awnings at the Ron Gastrobar in Amsterdam. With a width and projection of up to six metres, one awning can shade more than 30 square metres and be used in combination across larger areas.
Well designed outdoor hospitality provides an inviting atmosphere and awning systems are key to keeping tables occupied and guests comfortable whatever the weather.
German shading solutions manufacturer Markilux offers a specialised product line for shading large outdoor areas at hotels, restaurants and other venues.
Its specialist team can provide expert advice from initial idea through to 3D visualisation and collaboration with installation professionals on site.
The all-round service enables restaurant and hotel operators to make their outdoor seating more attractive to guests, boosting business.
All-weather outdoor dining at Ron Gastrobar, Amsterdam
When restaurateur Ron Blaauw opened one of his Ron Gastrobar restaurants in Amsterdam in 2013 he brought in Markilux to help design the outdoor dining space.
The result is an awning combination of track-guided pergolas supported by posts and folding-arm awnings. The awning covers, with Ron Gastrobar branding, can be extended and retracted electrically.
Built-in LED lighting and radiant heaters ensure a cosy, warm feeling in the spaces below into the evening.
Blaauw believes offering his guests more comfort by covering his terrace with heated awnings has been a clear advantage for the business.
'The Markilux awnings allow the large terrace to be used all year round,' he says.
'Even when the temperature drops, you can still eat and drink in a relaxing atmosphere. You can always find a wonderful spot to sit. We are noticing that our guests now stay longer and we have acquired lots of new customers.'
For more information and technical support, visit markilux.com

Contact:
0800 014 9952
info@markilux.co.uk
---