The Marmox riven-surface tiles create non-slip surfaces that are easy to install in commercial and residential wetrooms, leisure facilities and even dog grooming centres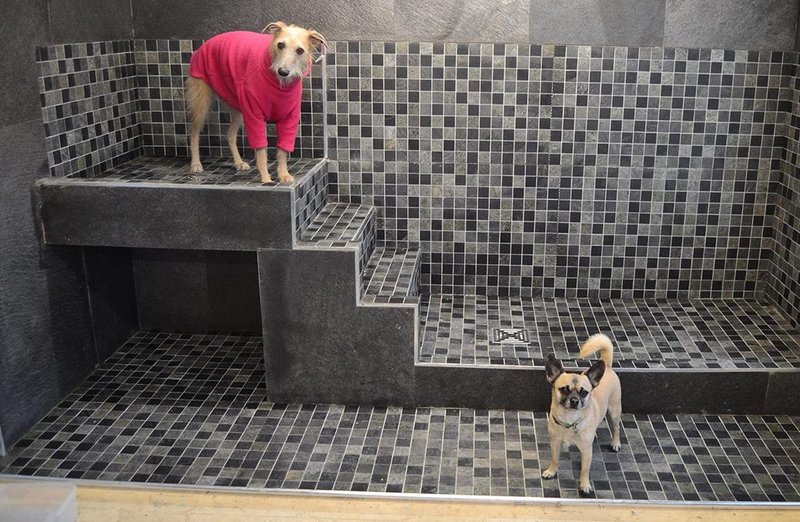 Slicedstone Mosaic 958 Lava Stone/Lauze at the My Rural Activity Centre near Canterbury.
Slicedstone Mosaic tiles are increasingly being specified in areas that need dependable and durable performance, such as hotel bathrooms and wetrooms, sports and leisure complexes and spas and wellness centres.
The range is designed by British bathroom and wetroom solutions company Marmox, which is known for its waterproof Multiboards and adaptable Showerlay membranes for new-build and refurbishment applications.
Slicedstone Mosaic tiles are laser-cut in 4mm slices from Indian sedimentary rock and backed with a decoupling waterproof membrane, which ensures individual tiles are precisely spaced at 3mm for consistent grouting.
The tiles are supplied in easy to handle rolls that are much larger than those used for traditional mosaics. This makes Slicedstone Mosaics up to 80 per cent faster to install. And because they are only 4mm thick, they require 60 per cent less grout than typical 10mm thick tiles.
Slicedstone Mosaics are treated with a clear polycarbonate solution to create a waterproof, stain resistant and UV stable surface that allows for the easy removal of adhesive and grout residue after application. Slicedstone Mosaic tiles come with a 10-year guarantee.
The riven finish of the stone means that it can be used for non-slip steps for shower floors and flooring generally.
Specifiers can choose from 10 natural looking stone finishes: Bronze, Copper, Mars Stone and Sea Stone, Graphite, Autumn Leaf and Beige, as well as Slate, Lava Stone and Slate Lava Stone.
There is a choice of two tile sizes: 25x25mm and 50x50mm. The lightweight rolls measure 50x1000mm or the installer can opt for 300x300mm sheets.
Slicedstone Mosaic tiles offer a range of options for designers. Sizes and finishes can be mixed or matched and the mosaics can be applied to walls, ceilings, floors and shelving. The tiling can be applied over all flooring substrates, including across underfloor heating.
Marmox provides a full technical backup service for the specifier or specialist sub-contractor, from simple design ideas and tips on preparing the substrate to extensive on-site support and guidance for residential and commercial projects.
For more information and technical support, visit marmox.co.uk/products/slicedstone-mosaic
Contact:
01634 835290
---