All-new Altair, Vela, Tritanial and Kreuzberg ranges join supplier Marshalls' existing Proteus collection to maximise architects' design options for paving and landscaping projects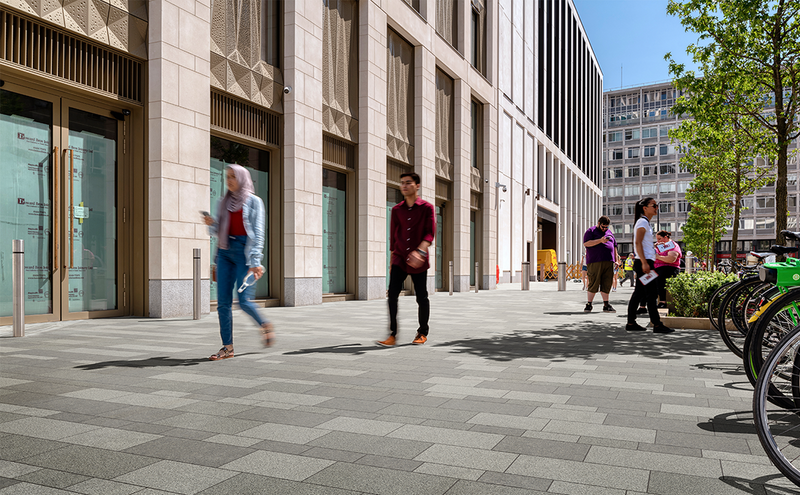 Marshalls Altair black granite: For all product areas, including paving, kerbs, steps, street furniture and other bespoke masonry items such as veneers for planters or furniture.
UK hard landscaping supplier Marshalls has launched a collection of four black granite ranges to provide more choice in this sought-after shade. The collection complements the firm's existing Proteus granite range.
Marshalls has sourced the new ranges from across the globe, working with long-standing suppliers that are committed to consistent quality and guaranteed supply longevity.
Black granite brings a contemporary aesthetic and smart finish to modern design schemes and continues to be a popular choice for the built environment.
The four new ranges offer the best quality stone produced with unique natural patterns and shades:
Each of the granites is available in a variety of finishes, including flamed, fine picked, polished and honed, as well as a new clear blast finish - exclusive to the Altair range - providing lots of design options for specifiers.
'We believe in offering products that will give designers the maximum flexibility, enabling them to achieve their visions,' says Dave Stanger, natural stone trading director at Marshalls. 'Having options in the portfolio that meet all our customers' needs, whether for form or function, opens up so many possibilities.'
The new ranges are available to order now.
For more information and technical support, visit marshalls.co.uk/black-granite
Contact:
0370 411 2266
natstone.sales@marshalls.co.uk
---