You would be hard pushed to find a better reception area than the generous light-filled space at 80 Charlotte Street, Make's mixed-use reimagining of a former post office in Fitzrovia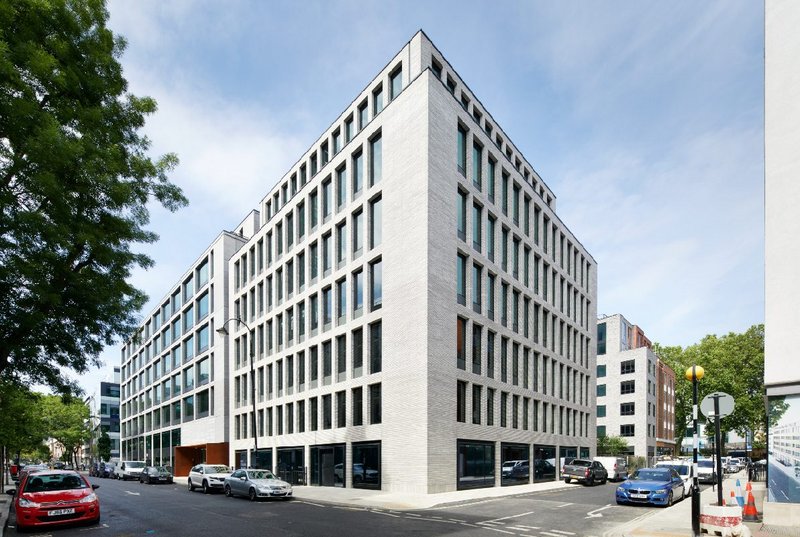 80 Charlotte Street: over 320,000 sq ft of workspace, 55 new apartments, a cafe, restaurant and pocket park. Central to the impressive reception area is an EasyGate SPD-G speed gate entry solution from Meesons.
Mixed-use development 80 Charlotte Street in Fitzrovia is London's largest all-electric building. It was designed by Make architects and completed in 2020.
Its nine storeys occupy an urban block, absorbing adjacent Asta House, and provide 377,000 sq ft of new offices, apartments and retail spaces.
A project with security and sustainability built in
80 Charlotte Street was originally a post office and the architects have retained its existing facades along with the facades and structure of Asta House.
To help control flow-rate and access control, the reception area features a series of EasyGate SPD-G Speed Gates installed by specialist Meesons.
Air source heat pumps provide heating and cooling and the building runs on renewable electricity, operating at net zero operational carbon.
The project features an innovative air distribution design that improves the performance of the building. Three atria at the core of the development pull air down to ventilate the floors with operable windows: when the windows open, the air conditioning switches off.
The atria also have plastic polymer ETFE 'pillows' that allow daylight to penetrate while protecting against solar gain. At night, the pillows purge the stored thermal mass heat.
A newly created Poets Park and rooftop terraces provide fresh air and nature for residents and workers.
The inclusion of 306 cycle spaces and 12 e-bike charging stations help encourage sustainable practices, while the strong sense of safety provided by the Meesons security solution has helped encourage more people to return to office-based working.
Its future-first approach to architecture has brought 80 Charlotte Street BREEAM 'Excellent' and LEED Gold ratings. The project was also winner of the British Council for Offices' Best Commercial Workspace award 2022.
Specifying a solid, compact and discreet security solution
The EasyGate SPD-G speed gate, Meesons' safe and secure entry solution for 80 Charlotte Street, was specified in a black stainless-steel finish to complement the black-panelled reception area. Its sleek, compact design blends well with the setting.
Low-iron glass top lids and wing barriers with energy-saving LED edge lights create a clear view for added security.
Additional specifications included a card collector and user-friendly EasyTouch Control Panel to enhance the system's safety capabilities.
Contact:
For more information about Meesons entrance control products, fill in the enquiry form at meesons.com
---