Architects can contribute to making the virtual realm a positive environment for communities and a new dimension for humanity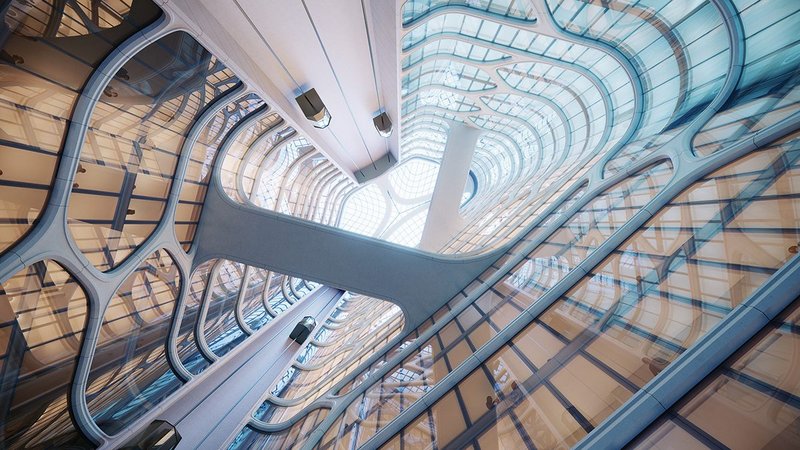 Visualisation of the central atrium of Sasi Studio's GEM Tower design.

Credit: Sasi Studio
The term metaverse was first used by Neal Stephenson in his 1992 novel Snow Crash, to describe a virtual-reality-based successor to the internet. The idea is now gaining attention worldwide, but giving it a definition today is like giving a definition of the internet in the 1980s; the possibilities are endless and thanks to technologies such as spatial computing, blockchain, virtual reality, augmented reality and mixed reality, it will go beyond the current internet. We can visualise it as a network of virtual worlds, built as massive multiplayer online games and powered by blockchain and cryptocurrencies.
In the last few months the term has attracted much attention from media and investors. Millions of dollars have been spent on plots of digital land in virtual worlds like Decentraland and Sandbox. In these virtual worlds, people can organise events, meet other people, invest and monetise. The list of influencers, artists, celebrities and brands buying assets in the metaverse is constantly growing, influencing other people to invest in virtual land plots to become neighbours of these celebrities, hoping that their assets will increase in value over time.
These digital assets are owned in the form of non-fungible tokens (NFTs) – unique units of digital content linked to the blockchain that assigns them a unique identification code and metadata certifying their existence and ownership in the digital environment.
How does this relate to architecture? One of the characteristics of the metaverse is its spatial nature, represented in 3D virtual environments or in augmented reality applications that extend the physical space. Architects are part of those professionals, like game developers, 3D artists etc, who mastered 3D and virtual reality expertise, and this can place them in a good position to contribute to what the metaverse will become. Since people are recognising value in the virtual realm as a platform for connecting people and sharing experiences, we should reflect on how we can contribute, as architects, to make this virtual realm a positive environment for communities and a new dimension for humanity.
Millions of dollars have been spent on plots of digital land in virtual worlds like Decentraland and Sandbox
If we analyse some of the metaverse projects developed so far, we can see spaces and elements that replicate the physical reality, such as roofs, bedrooms and restaurants, although most of these elements can't fulfil their main functions in the digital environment. As architects, we could investigate what the metaverse genius loci is and use our expertise to help build an environment designed in relation to functions and services that the metaverse can offer. This could create new business models for our profession, transforming our 3D digital designs from a tool to express our ideas to the final product experienced by customers.
The metaverse will require a new range of assets and digital experiences. Architects could start developing digital products, experiences, virtual worlds and services that could serve the future evolutions of the metaverse – a digital infrastructure that will connect people.
Another important aspect to consider is the extension of the physical dimension of a building in the digital realm thanks to mixed reality, spatial computing and digital twins. Architects could become the bridge between the physical and the virtual world. Imagine designing a theatre based on physical constraints and then being able to extend it in the virtual realm, allowing millions of people to attend events in that theatre through virtual reality.
I believe the metaverse can be an important opportunity for our profession. And our contribution can help to build a better world both in its physical and virtual dimensions.
---
Mattia Santi is co-founder and director of London-based Sasi Studio
See also: The metaverse: a virtual opportunity or a distraction from 'real' work?