Used in award-winning UK buildings, the Michelmersh clay-facing products offer architects an impressive selection of colours and textures alongside a small ecological footprint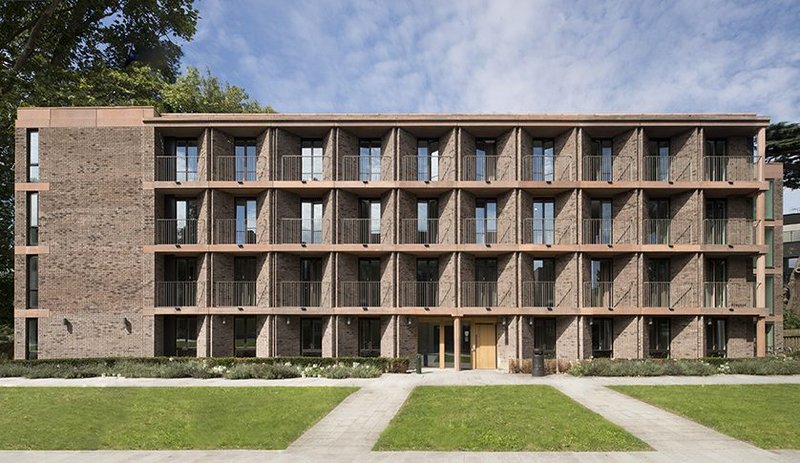 Michelmersh's Floren Vega Rustic brick at Chadwick Hall, University of Roehampton. Architects Henley Halebrown. Silver Fritz Höger Award 2020 for Brick Architecture.

Credit: Beccy Lane
Michelmersh's core range of 20 Floren clay-facing brick and brick products are now available in the UK.
Floren products offer sustainable building solutions tailor made to the customer's exact specification using modernised technologies and created with the smallest ecological footprint.
Floren bricks are made using quaternary clays, which produce a high compressive strength and low water absorption rate.
Founded in 1896 in Brecht, Belgium and acquired by Michelmersh in 2019, Floren has been producing premium crafted products for generations.
At its 120-acre site along the Campine Channel, the brickmaker has created a natural buffer to encourage the reintroduction of habitats and wildlife. Former quarries are now fishing lakes, a solar panel installation delivers a large percentage of its electricity and rainwater harvesting contributes to brick production.
Floren bricks have been specified for prestigious award-winning UK projects, shortlisted for Stirling prizes and have won RIBA National Awards.
The company has developed a collection of popular colours, textures, sizes and finishes for the UK market. Its bricks are available in 90 colours in 11 sizes with a choice of finishes and textures.
Its automated production process and human craftsmanship give Floren the flexibility to deliver a special touch to outstanding designs.