Microsoft experiment placing data centre 117ft deep in the sea reduces server failures and proves highly energy efficient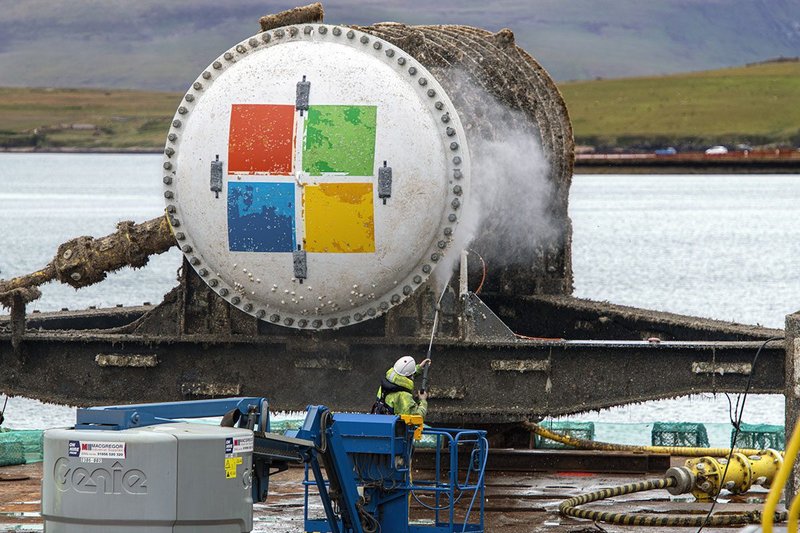 The capsule was retrieved from the seafloor off the coast of the Orkney Islands in Scotland where it operated for two years.

Credit: Jonathan Banks
Plunging data centres to the bottom of the sea could be a viable energy-efficient alternative to building them on terra firma, a radical experiment by Microsoft has revealed.
Project Natick saw a watertight data centre, fitted with 864 servers and related cooling systems, lowered 117ft to the seabed off the Orkney Islands in June 2018.
For two years a research team tested and monitored performance and reliability of servers and found that failure rates were one-eighth of the equivalent on land: just eight servers failed.
According to project lead Ben Cutler, the extended performance was probably down to the fact the capsule was filled with nitrogen, which is less corrosive than oxygen, and no humans were on board to interact with the servers causing damage.
The team has hypothesized that in future more resilient underwater data centres could operate 'lights out' (nobody on site) with very high reliability for the entire life of a deployment, potentially as long as 10 years.
The experiment also demonstrated that data centres can be powered entirely from renewable energy, in this case wind and solar used to supply the Orkneys, which is normally considered an unreliable power source.
In a blog post, Spencer Fowers, principal member of the technical team at Microsoft Research, explained: 'We have been able to run really well on what most land-based data centres consider an unreliable grid. We are hopeful that we can look at our findings and say maybe we don't need to have quite as much infrastructure focused on power and reliability.'
Cooling is one of the biggest costs of running a data centre, and Microsoft's capsule used heat-exchange plumbing, similar to that found on submarines, to pump consistently cool subsurface water through radiators on the backs of server racks before releasing it into the ocean.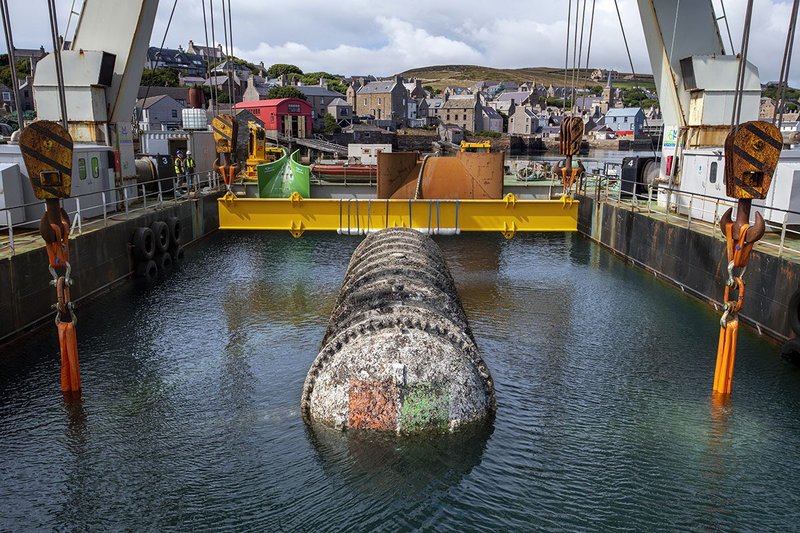 A thin coat of algae and barnacles formed on the steel tube during its two-year mission.

Credit: Photo by Jonathan Banks
There were other benefits for sustainability. Locating data centres underwater near to coastlines, where around half of the global population is concentrated, could reduce the amount of infrastructure required to transmit data as well as the distance it has to travel, resulting in faster and smoother web surfing, video streaming and the like.
This set-up could favour the predicted evolution of data processing hubs, said Fowers: 'As we are moving from generic cloud computing to cloud and edge computing, we are seeing more and more need to have smaller data centres located closer to customers instead of these large warehouse data centres out in the middle of nowhere.'
Data centres are an intensive and growing source of carbon emissions. According to researcher Anders Andrae, at Huawei Technologies, they could produce 1.9 gigatonnes, or 3.2% of the global total, by 2025.